Search
Search Criteria
Products meeting the search criteria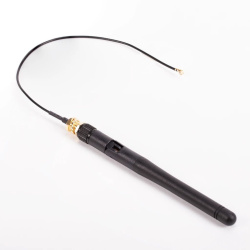 GPS Serial Module APM2.5 Flight Control GT-U7 with Ceramic Antenna (arduino GPS board)
Its high sensitivity, small static drift, low power consumption and compact size makes it suitable for applications in vehicles, handheld devices such as PDAs, vehicle monitoring, mobile phones, video cameras, and other mobile positioning systems.
- Operating frequency: L1 (1575.42 /- 10MHz)
- Operating voltage: 3.3 - 5.2V
- Operating current: normal mode is 50mA, the power-saving mode is 30mA
- Communication interface: TTL serial port, micro USB interface (can be connected to a computer to debug)
- Serial port baud rate: 9600bps
- Communication format: 8N1
- Interface logic voltage: 3.3V or 5V
- External antenna interface: IPX. 

What's in the box?

1 x GT-7U GPS module
1 x Control board
1 x Header

More info available here




Raspberry Pi Dual-Band 5GHz/2.4GHZ USB WiFi Adapter with Antenna (2.4 and 5ghz antenna wifi)
Description
This product no longer works with the provided driver/instructions due to a kernel change in Raspberry Pi OS. You can download an older version of Raspberry Pi OS which works with the provided driver, however you won't be able to update that image. We are working on finding a new driver.

If the on-board WiFi antenna on your Raspberry Pi isn't giving you enough range, this dual-band 2.4GHz/5GHz USB 2.0 WiFi adapter is a great option.
The antenna is dual-band meaning it can connect to a 2.4GHz or 5GHz network, and supports the 802.11ac standard (3 times faster than 802.11n networks).
Note: Currently only works with the Raspberry Pi 4 (we're working on finding a driver for older versions!)
The USB 2.0 adapter features an LED status light and removable antenna.
Installation
The adapter requires driver installation which will take around 5 minutes. See our installation guide here.

Features
Compatible with Raspberry Pi 4 only
150Mbps at 2.4GHz and 433Mbps at 5GHz
The external high gain adjustable & detachable antenna provides wide coverage for your wireless network
Backwards compatible with 802.11n/g/b/a
LED status light
Tech Spec
Chip: Realtek

RTL8811cu

Interface: USB 2.0
Wireless transmit power: 20dBm
Network Speed: 600Mbps
Network Mode: Dual Band
Applicable System: Windows Vista / XP / 2000/7/8/10, Linux, Mac OS
USB Head Size: 4.5 x 2 x 1.2cm
Antenna Length: 10.8cm 
Net Weight: 12g
Package includes:
1 x Dual Band 2.4G/5G USB Wifi Antenna Adapter
1 x CD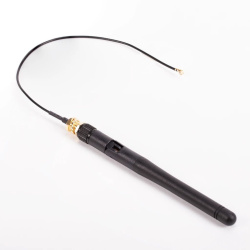 Raspberry Pi Compute Module 4 Antenna Kit (CM4 antenna kit)
Description:
Certified for use with Raspberry Pi Compute Module 4
Antenna specification
Frequency range: 2400-2500/5100-5800 MHz
Bandwidth: 100–700MHz
VSWR: ≤ 2.0
Gain: 2 dBi
Impedance: 50 ohm
Polarisation: Vertical
Radiation: Omnidirectional
Maximum power: 10W
Antenna dimensions: 108 mm × 10 mm
Documents
Compliance
The Raspberry Pi Compute Module 4 Antenna Kit has undergone extensive compliance testing and meets the standards required in many countries. You can find all compliance information and regional certificates at raspberrypi.org/compliance.