Search
Search Criteria
Products meeting the search criteria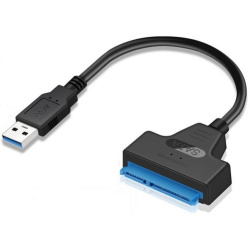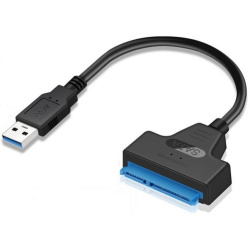 Sata To USB 3.0 Adapter Support 2.5Inch External SSD HDD Hard Drive 22 Pin Sata III A25 2.0 (Sata to USB3 cable)
Please Note: Only for use with 2.5inch notebook HDD and SSD, not for use with 3.5 inch desktop HDD

Description:

Comply with serial ATA2.0 standards.
Compatible with USB port (1.0,1.1 &2.0) & SATA Hard disk (1.5 GB/S & 3 GB/s).
Added USB2.0 independent power supply interface, support 2.5 "high-capacity memory driver.
Compatible with Windows 7 (32-bit/64-bit)/Vista (32-bit/64-bit)/XP (32-bit/64-bit)/server 2003 & 2008 (32-bit/64-bit) system A

Specifications:

1. Adapter SATA III USB 3.0 Cable External Hard Drive USB to Serial ATA 22pin Converter Hard Disk 6 Gbps for 2.5" HDD/SSD.
2. This USB 3.0 to SATA Converter Cable connects any standard 2.5 inch SATA Hard Drive or Solid State Drive (SSD) to a computer through USB 3.0 ports. It's a ideal for you to backup files or upgrade your notebook hard driver.
3. SATA 3 specification Support speed up to 6Gbps;
4. Easy and quick access to external storage;
5. LED activity indicator;
6. Fully compatible with USB 3.0 and backwards compatible with USB 2.0/1.1;
7. Plug and play,hot-swapping;
8. Support Windows 98/2000/XP/Vista/7/8, Mac OS X.
 
What's in the box?

1 x  Sata Cable for 2.5" SSD/HDD
USB 3.0 to M.2 SATA NGFF Case with Cable (CT m.2 usb chassis)
Ever thought of having external M.2 SATA storage?  Or to boot the preferred Operating System for the Raspberry Pi 4 Model B from USB? Here's one great USB 3.0 to M.2 SATA NGFF Case with Cable for you! Equipped with a USB C to USB 3.0 cable, you will not have any problem booting your RPi board from M.2 SATA.
You just have to slot in your M.2 SATA with preloaded Raspberry Pi OS and plug it into your RPi board. No driver is needed. Plug and play, straight out of the box. :)
The chipset used is from JMicron Technology Corp. The M.2 case also supports UASP.
Features and specifications:
Material: aluminum-magnesium alloy
Interface: Type-c (on case)
Colour: Space grey
Hard disk protocol: NGFF
Input interface: Type-C (on case)
Hard disk interface: M-key, B+M Key
Note: Even though the labeling on the packaging stated NVME, we have only tested it with NGFF/SATA III M.2 SSD.
What's in the box
1 x USB 3.0 to M.2 SATA NGFF Case
1 x USB-C to USB 3.0 cable
1 x Thermal paste
2 x Extra fasteners