Search
Search Criteria
Products meeting the search criteria
IOT Cricket - Wi-Fi module (IOT cricket)
Very easy to use, ultra-low power Wi-Fi module, which can run directly on batteries. Designed for developers at all skill levels from advanced to those just starting to build IOT devices.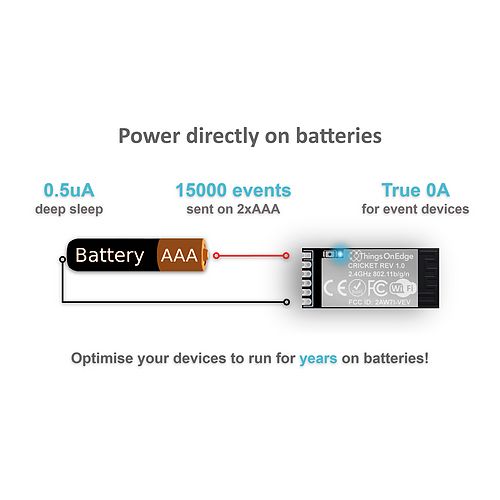 Cricket is a perfect choice if you want to build IOT end nodes such as sensors, alarms, buttons, switches,  etc. to report data and events instantaneously from remote locations. What is really cool is the ultra-low power feature, which will make your devices to run on single batteries for a very long time (for years in many use cases).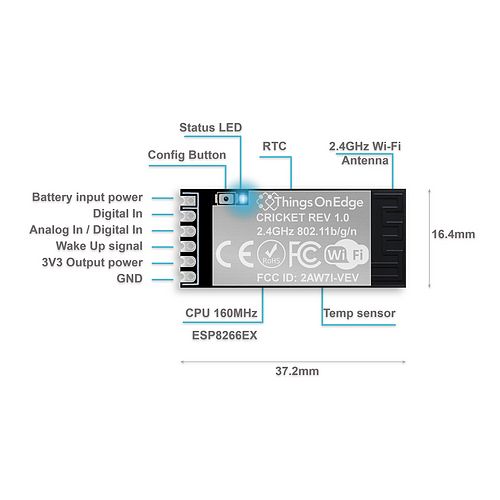 With Cricket you can connect various peripherals to Wi-Fi out of the box; send data and events either within your local network or to the internet. Simply attach a battery and peripheral(s) to Cricket and your device is ready to go.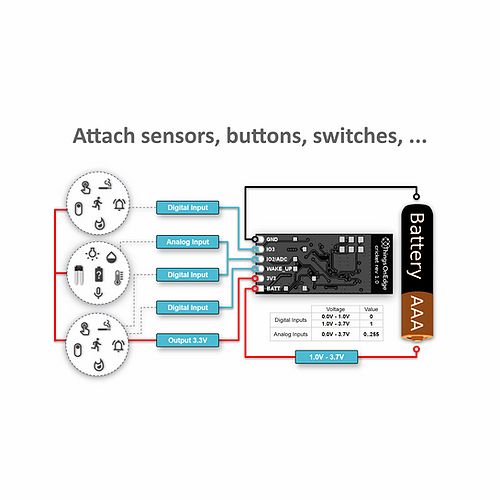 Cricket comes with a native support of MQTT and HTTP POST / GET protocols that allow you to integrate your devices to a huge ecosystem of software and internet services such as e.g. IFTTT, Zapier, Blynk, Home Assistant, Node-RED, automate.io, Google Docs, Emails, Mobile Apps, etc.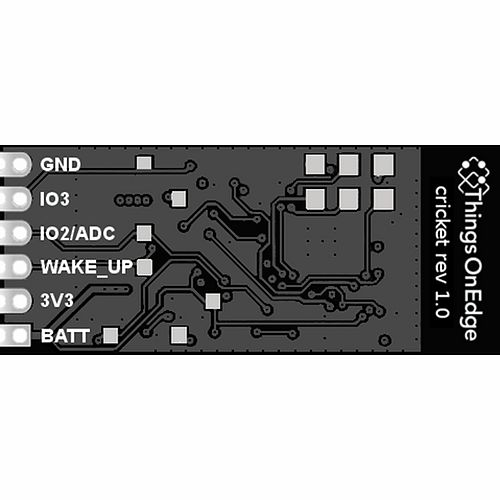 Cricket works with all standard Wi-Fi routers and it doesn't require IOT hubs. No coding/programming is required as it comes with pre-installed software. You configure Cricket entirely over the air either from a smartphone or a laptop (without fiddling and troubleshooting toolchains). It can be done either locally (toe_device WiFi hotspot) or remotely from COTA cloud service (http://cota.thingsonedge.com)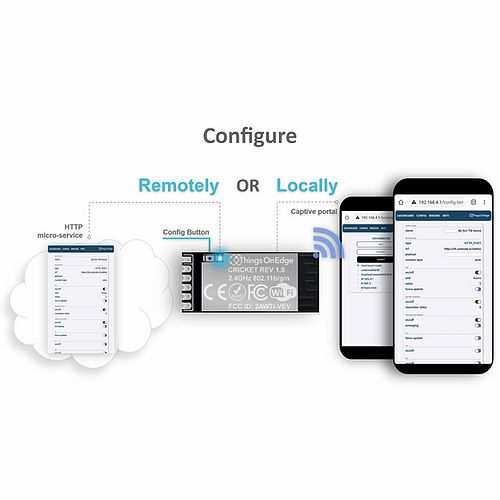 FEATURES:
* Ultra-low power, deep sleeep 0.5uA, true 0A (i.e. in a button device)
* Operates directly on batteries 1.0V-3.5V (AA, AAA, AAAA, ...)
* Sends data and events with ~3 seconds latency
* Configurable Real-Time Clock (RTC) for regular wake ups
* Configurable MQTT brokers
* Configurable secure / non-secure HTTP POST/GET requests
* Configurable a battery monitor
* Configurable Analog or Digital inputs (for sensors)
* Built-in configurable temperature sensor
* Local configuration (directly on a Cricket over captive portal / WiFi hotspot)
* Remote configuration from the Cloud (optional)
* OTA firmware updates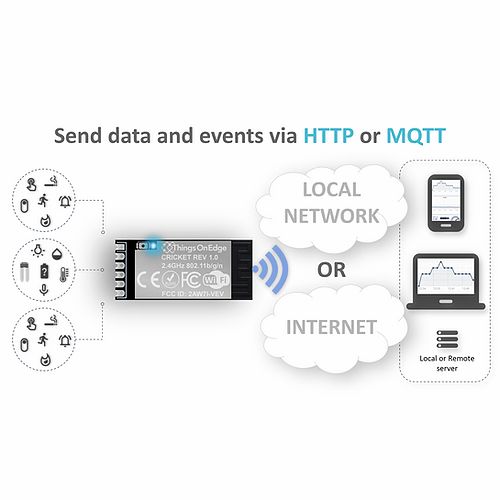 Few examples of what you can build with Cricket:
IoT Alams
IoT Water leak detector
in general analog or digital sensors ...
Endless possibilities to build broad range of devices which report data in various forms to the internet / services / smartphones
Please check some of our projects (HERE) to get started with Cricket.
AVNET SmartEdge Industrial IoT Gateway Solution (AVNET gateway)
Bring your IoT solutions to life with Avnet's SmartEdge Industrial IoT Gateway, powered by Raspberry Pi. With best in class pricing, this gateway offers a level of simplicity, capability, and accessibility unique in the industry, thanks to its Raspberry Pi-based solution.
The gateway is based on the popular Raspberry Pi's Broadcom BCM2837 SoC, a 64-Bit quad-core ARM Cortex-A53 that delivers better performance with power efficiency. It comes with on-board 8GB eMMC flash, makes it more robust for an industrial volatile environment, and features RS485/RS232, CAN & Modbus industrial communications interfaces, supports from -20°C to 70°C temperature range. The gateway also comes with on-board Trusted Platform Module (TPM 2.0) encryption to offer comprehensive end-to-end security protection to safeguard data transmission securely from edge devices to Avnet's IoTConnect Cloud solution (Microsoft Azure certified).
Avnet's IoTConnect Platform is an enterprise-ready IoT Platform to build, deploy, and manage connected assets efficiently. It comes with a powerful device management system and built-in analytics that allow you to connect and manage devices with little to no coding. Its interface enables enterprises to create applications faster than through laborious coding, saving time and money.
Avnet's SmartEdge Industrial IoT Gateway comes with a free 30-day trial of the complete Avnet IoTConnect platform upon registering your product to experience the most powerful, intuitive, and intelligent IoT platform for industrial applications.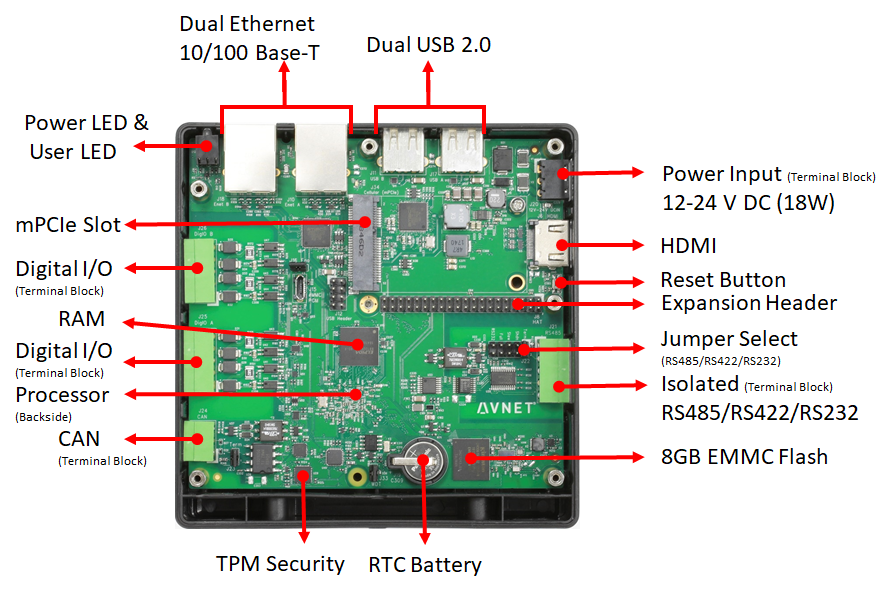 Specifications
                                                                   
| | |
| --- | --- |
| Processor | 64-bit, Quad-core ARM SoC, running up to 900 MHz |
| RAM | 1GB LPDDR2 SDRAM |
| Flash | 8GB eMMC Flash |
| Interface | 2 USB Ports, Isolated RS-232/485/Modbus, CAN, and Digital I/O, mPCIe slot (Cellular) |
| Real-Time Clock | Embedded RTC, with battery backup |
| Wireless | WiFi 2.4GHz, Bluetooth (BLE) 4.2 & Dual 10/100 Ethernet |
| On-Board Security | TPM 2.0 |
| Power Input | 12 - 24V DC (terminal block) |
| Display | 1080p HDMI |
| Expansion/GPIO | 40-pin GPIO header for HAT interface |
| Antenna | Internal/External |
| Operating System | Raspbian |
| Cloud Solution | Avnet IoTConnect |
| Certifications | Global Microsoft Azure Certified |
| Environmental | - 20°C to +70°C Ambient |
| Mounting Type | DIN rail, wall mounting, or free standing |



Resources
SIM7020E NB-IoT Module For Raspberry Pi Pico, for Asia, Europe, Africa, Australia (Sim for pico)
SIM7020E NB-IoT module for Pico
B1/B3/B5/B8/B20/B28 frequency band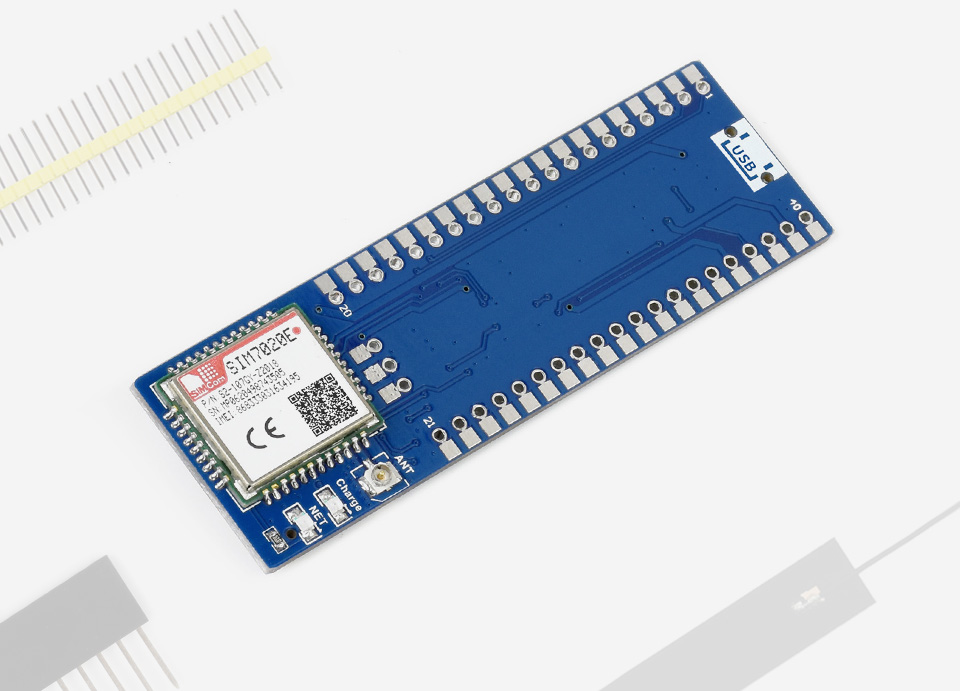 Features at a glance
The Pico-SIM7020E-NB-IoT is an NB-IoT (NarrowBand-Internet of Things) module designed for Raspberry Pi Pico. It supports multiple NB-IoT frequency band, can be controlled via serial AT commands, and supports communication protocols like HTTP/MQTT/LWM2M/COAP, etc. Due to the advantages of low delay, low power, low cost, and wide coverage, it is the ideal choice for IoT applications such as intelligent instruments, asset tracking, remote monitoring, and so on.
Standard Raspberry Pi Pico header, supports Raspberry Pi Pico series boards
UART communication, serial AT commands control, multiple communication protocols support, multiple cloud platform support
Integrates 3.7V Li-po battery connector and recharge circuit, allows being powered from external rechargeable Li-po battery, or recharging it in turn
2x LED indicators, for monitoring the module operating status
Onboard Nano SIM card slot for NB-IoT specific card
Comes with development resources and manual (MicroPython examples)
Specifications
Communication
Frequency band
LTE-FDD: B1/B3/B5/B8/B20/B28
Data rate
26.15kbps (DL) / 62.5kbps (UL)
Communication interface
UART
Baudrate
300bps~921600bps (115200bps by default)
Communication Protocol
TCP/UDP/HTTP/HTTPS/MQTT/LWM2M/COAP/TLS/DTLS/DNS/NTP
Applicable region
Asia, Europe, Africa, Australia
Operating
Power supply
External Li-po battery OR Raspberry Pi Pico USB port
Battery interface
3.7V ~ 4.2V
Logical level
3.3V
Module standalone current
Idle mode: 5.6mA
Sleep mode: 0.4mA
PSM mode: 3.4uA
Dimensions
73.5 × 24.00mm

Raspberry Pi Pico header compatibility
the Pico can be SMD-mounted (left), or attached via female header (right)



connecting with other expansion module and antenna





Raspberry Pi Pico and other boards shown are NOT included.
The pin headers are NOT soldered by default.


Cloud Communication
Supports communication protocols including: TCP/UDP/HTTP/HTTPS/MQTT/LWM2M/COAP/TLS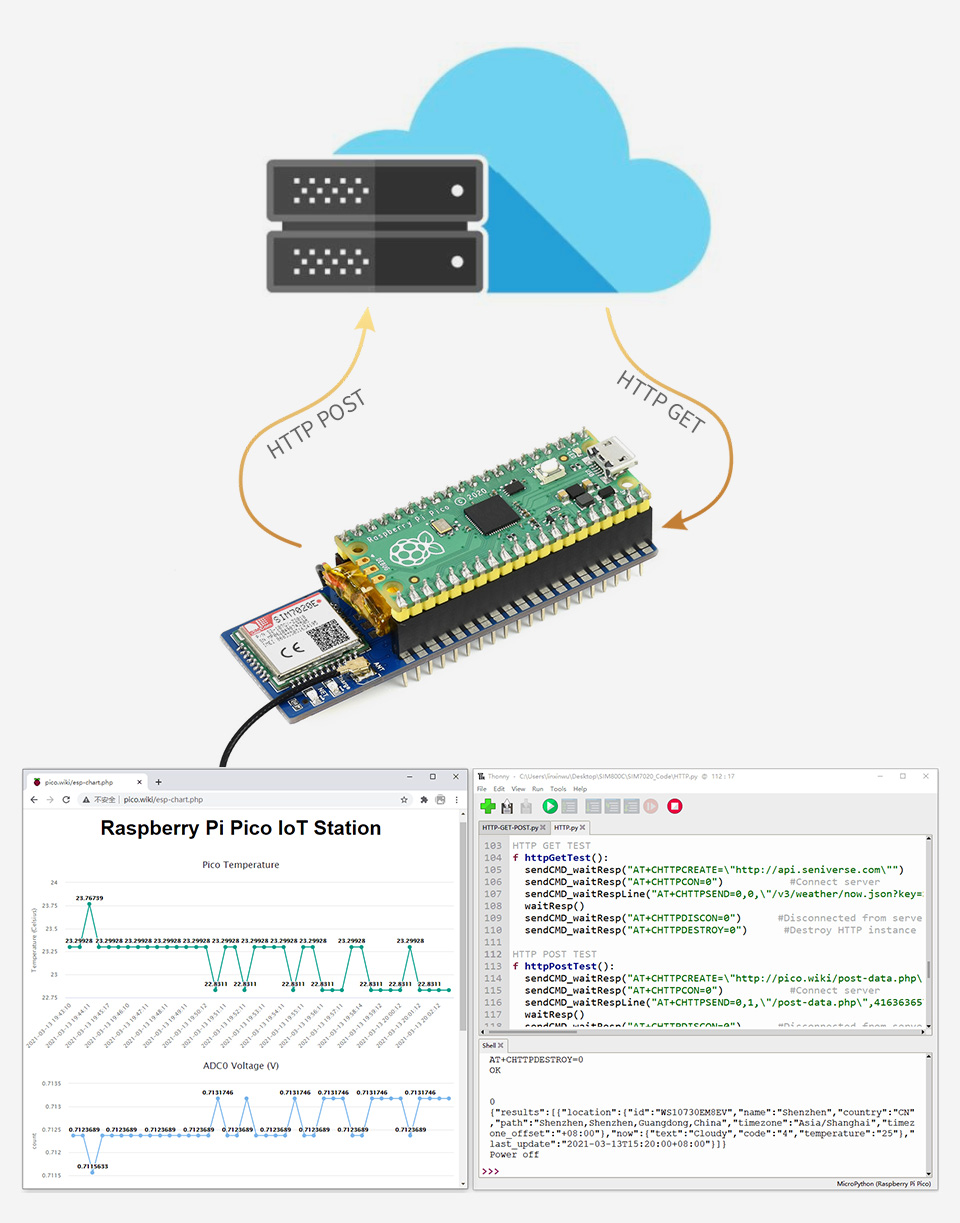 Pinout definition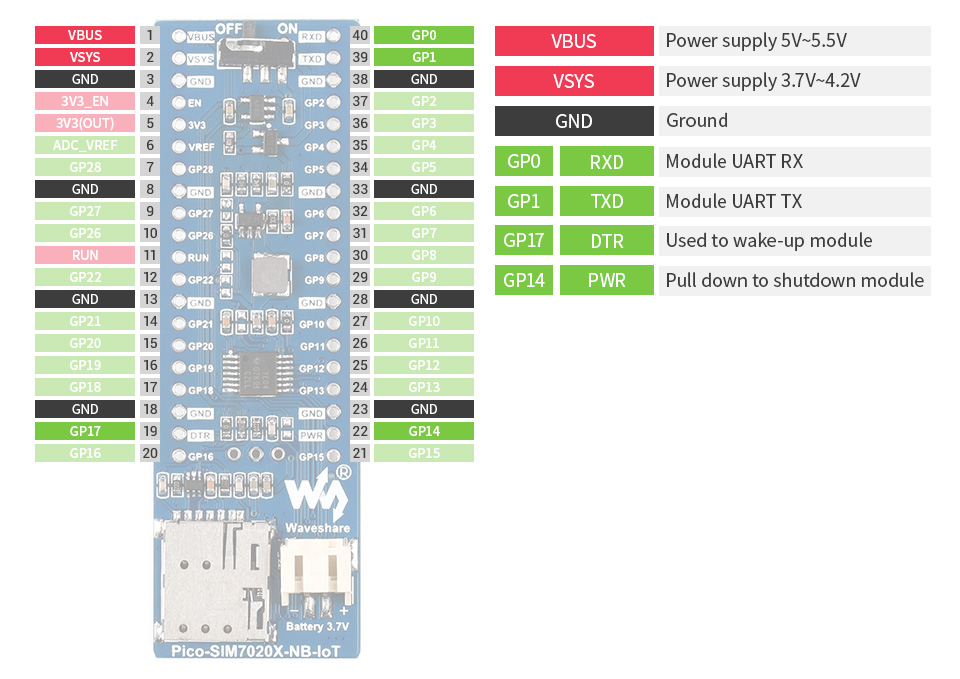 Outline dimensions