Search
Search Criteria
Products meeting the search criteria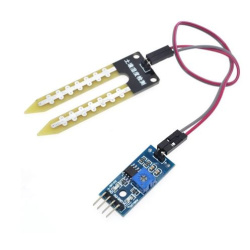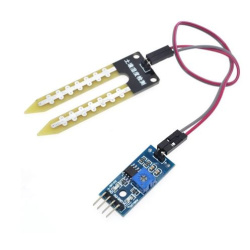 Soil Hygrometer Humidity Detection Moisture Sensor (moisture probe hygrometer)
This is a summary of the soil moisture sensor that can be used to detect moisture, when the soil is dry, the module outputs a high level. Use this sensor to build an automatic watering system.

Operating voltage: 3.3V~5V.
Adjustable sensitivity (blue digital potentiometer adjustment)
Dual output mode,analog output more accurate.
A fixed bolt hole for easy installation.
Power indicator (red) and digital switching output indicator (green).
LM393 comparator chip, stable.
PCB Dimension: 3cm x 1.5cm.
Soil Probe Dimension: 6cm x 2cm.
Cable Length: 21cm.

VCC: 3.3V-5V.
GND: GND.
DO: digital output interface (0 and 1).
AO: analog output interface.

Setup with Raspberry Pi

Package Includes:

1 x Soil moisture detector module
1 x Probe
5 x Jumper Cables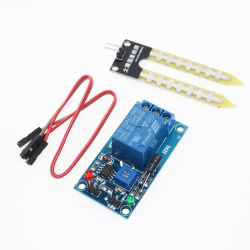 Soil Moisture Sensor 12V DC Relay Control Module Automatic watering switch (automatic water relay sensor)
When the soil moisture is lower than preferred setting, the relay will automatically pull in, start the sprinkler, water pump etc. until the moister reaches the desired humidity level and automatically stop.
Product use:
Through the potentiometer, adjust to the desired soil moisture level

Supply voltage: 12VDC
Input current: more than 100mA
Relay Load Max: 10A 250V AC or 10A 30V DC

1 sensors applied to the detection of soil moisture;
Module
2. Blue potentiometer is used to adjust soil moisture level, clockwise adjustment and control the humidity will be bigger, counterclockwise smaller;
3. Due to module delay function, adjust the humidity value, wait about 5-8 seconds, see if the the relay state changed, the green LED lamp will also have corresponding change, until adjusted to meet the requirements.
Package Includes:
1 x Soil moisture control module
1 x Soil sensor

2 x 20cm long DuPont lines