Search
Search Criteria
Products meeting the search criteria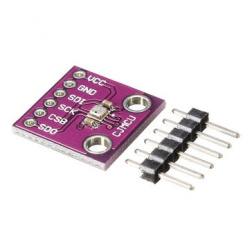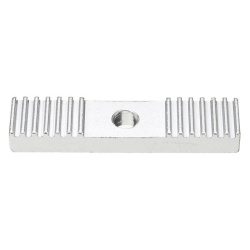 BMP180 Digital Barometric Pressure Sensor Board Module (Barometric sensor)
Description:
This digital barometer has some interesting applications. By measuring the absolute pressure of the environment and converting this into altitude. you will have a reliable sensor for determining the height of your robot, plane or projectile. This sensor is capable of achieving an accuracy of 1m, with noise of only 17cm in ultra-high resolution. The device will operate at only 0.3uA meaning low current draw for battery powered applications.
Specifications:
1.8V to 3.6V Supply Voltage
Low power consumption - 0.5uA at 1Hz
I2C interface
Max I2C Speed: 3.5 MHz
Very low noise - up to 0.02hPa (17cm)
Fully calibrated
Pressure Range: 300hPa to 1100hPa ( 9000m to -500m)
Weight: 1.18g
Size: 21mm x 18mm
Package includes:
1 x BMP180 Digital Barometric Pressure Sensor Board Module
1 x Male to Male 4 pin header
Resources:
Using the
BMP180
with Raspberry Pi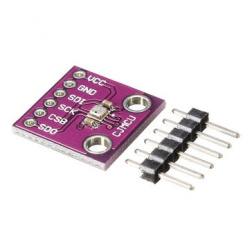 BME280 1.8-5V High Precision Atmospheric Pressure, Temperature, humidity Sensor Module (BME280 pressure temp humid)
Description:
The BME280 is a humidity sensor especially developed for mobile applications and wearables where size and low power consumption are key design parameters.
BME280, the precision sensor from , is soldered onto PCB.
Not only the pressure and the temperature, this sensor can measure humidity.
It uses both I2C and SPI (supports 3-, 4-wire SPI) interface 
    Specifications:
    Supply Voltage: 1.8 - 5V DC
    Interface: I2C (up to 3.4MHz), SPI (up to 10 MHz)
    Operational Range:
    Temperature: -40 to 85°C
    Humidity: 0-100%
    Pressure: 300-1100 hPa
    Temperature: 0.01°C
    Humidity: 0.008%
    Pressure: 0.18Pa
    Accuracy:
    Temperature: -1°C
    Humidity: -3%
    Pressure: -1Pa
    I2C address
    SDO LOW : 0x76
    SDO HIGH: 0x77


What's in the box?

1 x bme280 sensor
1 x header


The Raspberry Pi Foundation Project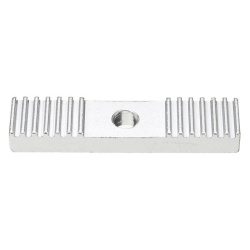 9 x 40MM GT2 Aluminium Fixed Pressure Belt Holder (Aluminium gt2 belt holder)
Description:

The GT2 belt clamp is used with open ended GT2 belt to form a loop. It is manufactured from Aluminium with a 2mm pitch and can be used with 6 and 9mm belts.

Features:
Best suitable for the synchronous belt of 2GT model
Specifications:
1. Size: 9x40mm
2. Material: aluminum
3. Teeth space: 1.1mm
4. Tooth width: 0.85mm
5. Tooth depth: 0.9mm
Package includes:
1 x Fixed Piece