Search
Search Criteria
Products meeting the search criteria
500W Spindle motor with chuck, power supply and speed controller for CNC.
Machifit ER11 Chuck CNC 500W Spindle Motor with 52mm Clamp and Power Supply Speed Governor (500w spindle motor kit)
It only can be used with AC220V±10% 50/60Hz, not110V.



Here are the links of  the CE Certification and the Environmental Certification:



CE Certification: 
https://www.dropbox.com/s/x937yu696g449o2/CE Certification .pdf?dl=0
Environmental Certification: 
https://www.dropbox.com/s/38ncgzktlsxlhvw/Environmental Certification .pdf?dl=0
Description:
If your project is not aiming to be the most heavy duty CNC machine out there, but is meant to be easy and inexpensive to build so that anyone can get a hand on a precise CNC, machining in many materials including metal. Then this is the perfect starting point for you.
Specifications:


Brand: Machifit
Dimensions
140mm×110mm×48mm (L*W*H)
Input
AC220V±10% 50/60Hz
Spindle Motor
500w
Spindle Speed
3000-12000r/min
Motor Diameter
52mm
Motor Length
208mm
Operating Voltage
100V DC
Current
6A
Speed
Up to idle up to 15,000 rev / min
Torque
5000G/CM
Insulation Resistance
> 2 megohms
Dielectric Strength
400V
High precision spindle runout 0.01-0.03
Chuck size:
Style: ER11
Material: High Grade 45 Carbon Steel
Total height: 18mm
Outer diameter(Max.): 11.5mm
Gripping Range: 3mm
Small diameter: 7.8mm
Fits metric shank size(s): 3mm metric shank
Nut Size: 
Inner Diameter: 8.7mm
Height: 13mm
Hex Diameter: 17mm
Outer Diameter:19mm
The Usage of "Don't pipe":
Its function is to inhibit the switched source. If they are open, the source does not give tension. 
If the short circuits, for example with a relay, the source generates the voltage to which it is regulated with the potentiometer.
There will be no problem in controlling the motor using these pins. 
Package Includes:
1 x 500W Spindle Motor
1 x Power Supply
1 x 52MM Mount Bracket
1 X ER11 Collect
4 x Screws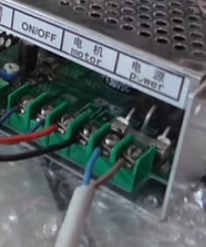 500W Spindle motor with chuck, power supply and speed controller for CNC.
3018 3 Axis Mini DIY CNC Router Standard Spindle Motor Wood Engraving Machine (mini milling machine)
Specification:
General Specification
 Model
 Mini CNC3018 (Without Laser Module)
 Frame Material
 Aluminum Alloy
 Color
 Silver
 Table Area
 Approx. 340x160mm
 Working Area
 Approx. 340x160x40mm
 Product Weight
 7.5kg
 Control Software for Spindle
 GrblControl
 Control Software for Laser
 Litefire
 System Requirements
 Windows XP SP3, Win7, Win8, Win10.
 Adapter Plug
 2-Pin US Plug
 Adapter Input Voltage
 AC 110-240V 50/60Hz
 Adapter Output Voltage
 DC 24V 4A
 Features
 1. Aluminum Profile Stable Construction
 2. 3 Axis Movable, Powerful Spindle Motor
 3. Contains Quickstart Guide of GRBL Software
 4. 340x160x40mm Working Area, Meet Most Amateur DIY Needs
 5. Engrave Wood, Plastic, Acrylic, PCB, or Similar Material
     Can Not Engrave Metal, Steel, Aluminum.
 Technical Parameters
 Working Voltage
 DC 24V
 Interface
 USB
 Stepper Motor
 42 Stepper Motor, Voltage: 12V, Phase Current 1.3A, Torque 0.25N.m
 Spindle Motor
 775 Spindle Motor (12-36V) 24V: 7000r/min, 36V: 9000r/min
 Spindle Motor Shaft Diameter 
 5mm

Features:
- Assembly requires a certain mechanical skill. All assembly components are included.
- Engraving Materials: The machine can carve wood, plastic, acrylic, PCB, or the like materials.
- Can Not Engrave: Hard metal (such as brass, steel, iron, etc), jade and other very hard texture items.
Note:
2. This item contains the spindle motor, but no laser module. If you want to use laser for engraving, you can buy it 
additionally. Thanks for your understanding, and p
lease note that the input interface (Should be XH2.54-3P or XH2.54-2P) and input voltage (Should be DC 12V) of the laser module should be compatible with the control board on 3018. Besides, the original motor holder is round, please make sure the shape of your laser module is suitable for installation.
Now we recommend the laser module (2500mW Blue Laser Module) produced by the
 original 
manufacturer.
Package Includes:


1 x Wood Engraving Machine Full Set (Unassembled Delivery)