Raspberry Pi Pico with presoldered headers
Visit our blog to get more info on
what you can do with your Pico


This is an official Raspberry Pico that has had headers professionally pre-soldered on by a South African electronic manufacturing company.
Raspberry Pi Pico, a microcontroller board built on silicon designed by Raspberry Pi.
Whether you choose to use our C/C SDK, or the official MicroPython port, everything you need to get started is here. You'll also find links to the technical documentation for both the Raspberry Pi Pico microcontroller board and our RP2040 microcontroller chip.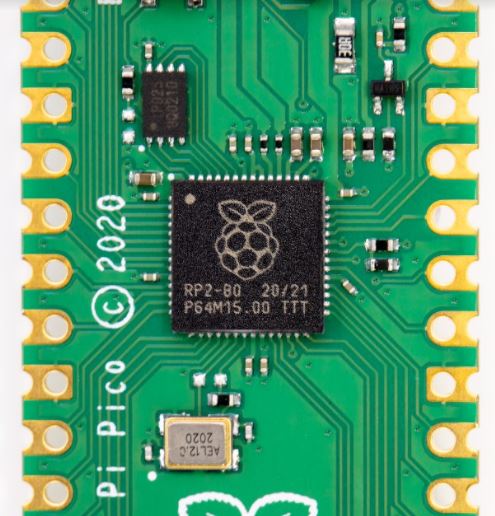 Board Specifications:
RP2040 microcontroller chip designed by Raspberry Pi in the United Kingdom
Dual-core ARM Cortex M0 processor, flexible clock running up to 133 MHz
264kB of SRAM, and 2MB of on-board Flash memory
Castellated module allows soldering direct to carrier boards
USB 1.1 Host and Device support
Low-power sleep and dormant modes
Drag & drop programming using mass storage over USB
26 multi-function GPIO pins
2×SPI, 2×I2C, 2×UART, 3×12-bit ADC, 16×controllable PWM channels
Accurate clock and timer on-chip
Temperature sensor
Accelerated floating point libraries on-chip
8×Programmable IO (PIO) state machines for custom peripheral support
Download Pinout Diagram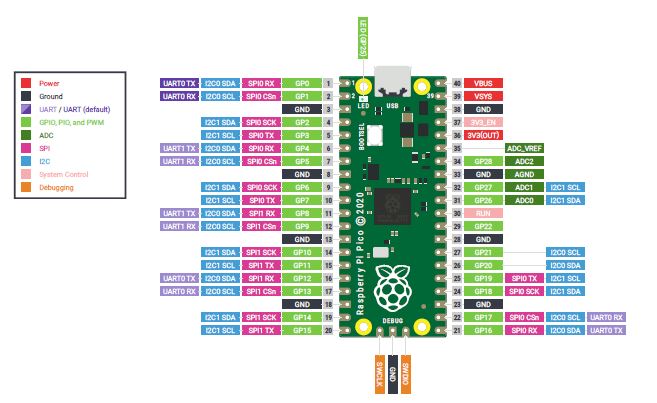 Documentation
Documentation for the Raspberry Pi Pico board and the RP2040 microcontroller:
An RP2040-based microcontroller board

A microcontroller by Raspberry Pi

Using the RP2040 microcontroller to build boards and products
C/C development with the Pico and other RP2040-based microcontroller boards

Libraries and tools for C/C development on the RP2040 microcontroller

A MicroPython environment for the RP2040 microcontroller
The API level Doxygen documentation for the Raspberry Pi Pico C/C SDK is available as a micro-site.
While Raspberry Pi Pico does not come with anything soldered to its pads, we will recommend that users fit
2.54mm pitch male pin strip
headers.
Resources:
https://www.raspberrypi.org/blog/raspberry-pi-silicon-pico-now-on-sale/
https://www.raspberrypi.org/products/raspberry-pi-pico/

https://www.youtube.com/watch?v=ZY-HrRGCQ4w
Add wifi to Pico using
Cricket
https://www.thingsonedge.com/post/pico-cricket-blynk-phone-alerts
YouTube video on
Pico by Jeff Geerling
https://projects.raspberrypi.org/en/projects/getting-started-with-the-pico/1