Ages 10 and up
STEAM/STEM - Digital making for Young Makers. Never too young to learn....

The main difference between STEM and STEAM is STEM explicitly focuses on scientific concepts. STEAM investigates the same concepts, but does this through inquiry and problem-based learning methods used in the creative process.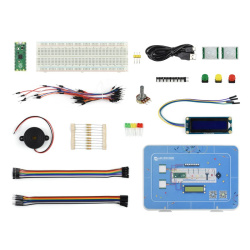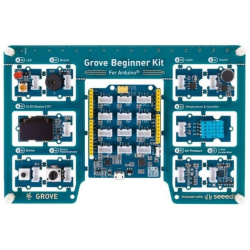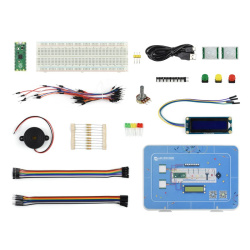 Raspberry Pi Pico MicroPython Programming Learning Kit(excluding book) (pico begin kit parts)
Description:
Basic entry-level kit prepared for Pico. All the parts you need to complete the tutorials in the MicroPython beginners book (not included)
Tested and selected by professional engineer, with rich tutorials and resources
fast getting started with Raspberry Pi Pico and MicroPython programming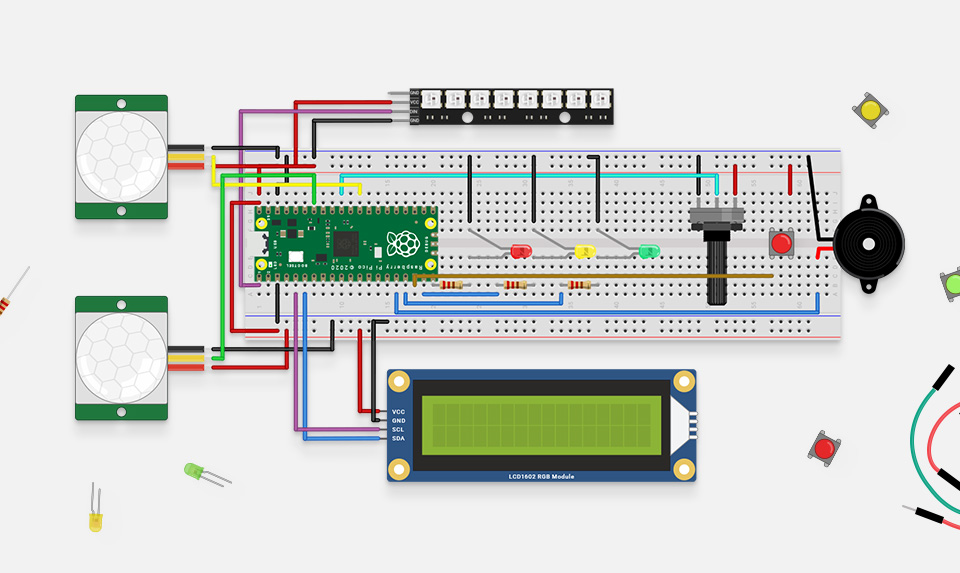 What's in the kit

Raspberry Pi Pico with pre-soldered header
A Low-Cost, High-Performance Microcontroller Board With Flexible Digital Interfaces
RP2040 microcontroller chip designed by Raspberry Pi in the United Kingdom
Dual-core Arm Cortex M0 processor, flexible clock running up to 133 MHz
264KB of SRAM, and 2MB of on-board Flash memory
Castellated module allows soldering direct to carrier boards
USB 1.1 with device and host support
Low-power sleep and dormant modes
Drag-and-drop programming using mass storage over USB
26 × multi-function GPIO pins
2 × SPI, 2 × I2C, 2 × UART, 3 x12-bit ADC, 16 × controllable PWM channels
Accurate clock and timer on-chip
Temperature sensor
Accelerated floating-point libraries on-chip
8 × Programmable I/O (PIO) state machines for custom peripheral support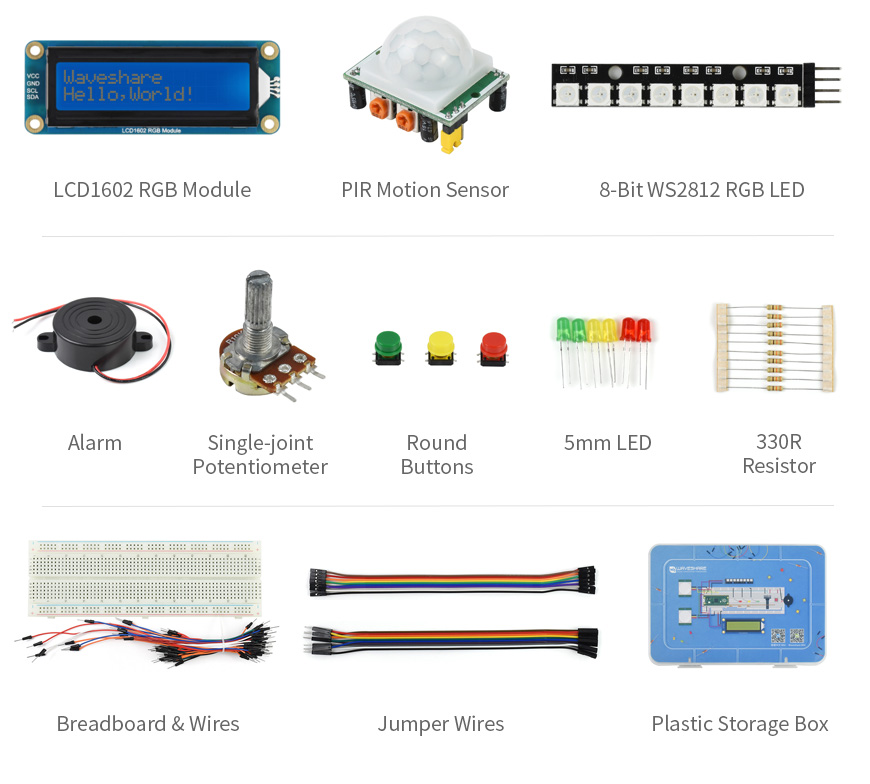 Item
Description
LCD1602 RGB Module
LCD1602 RGB backlight character LCD, using I2C bus to display text or adjust RGB backlight
PIR motion sensor
Pyroelectric IR sensor, outputs electric switch signal when IR array from human/animal body is detected
8-Bit WS2812 RGB LED
8x RGB LED, play around with cool light effects by programming
Alarm
Quality active announciator, used for alarming or playing music
Single-joint potentiometer
Adjustable potentiometer, 0~10K range, used for ADC test, volume/brightness adjustment, etc.
Round buttons
Three colors, for button/switch detection
5mm LED
Three colors, for experiments like traffic light, PWM adjusted light, etc.
330R resistors
Providing current-limit protection when connected with LED in series
Breadboard and wires
Jumper wires
Quality 830 breadboard and sorts of wires, easy for connecting components
Plastic box
Customized box for storing the modules and components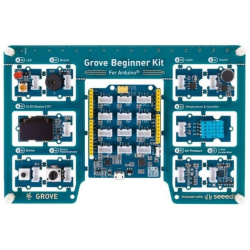 Grove All In One Beginner Kit for Arduino (Grove Kit for Arduino)
Description:


Note: This kit comes with the Seeeduino -Lotus, Arduino UNO compatible board.
Note: The All In One Beginner Kit is now compatible with Scratch 3.0 graphical programming and there are 16 FREE lessons :) Check it out.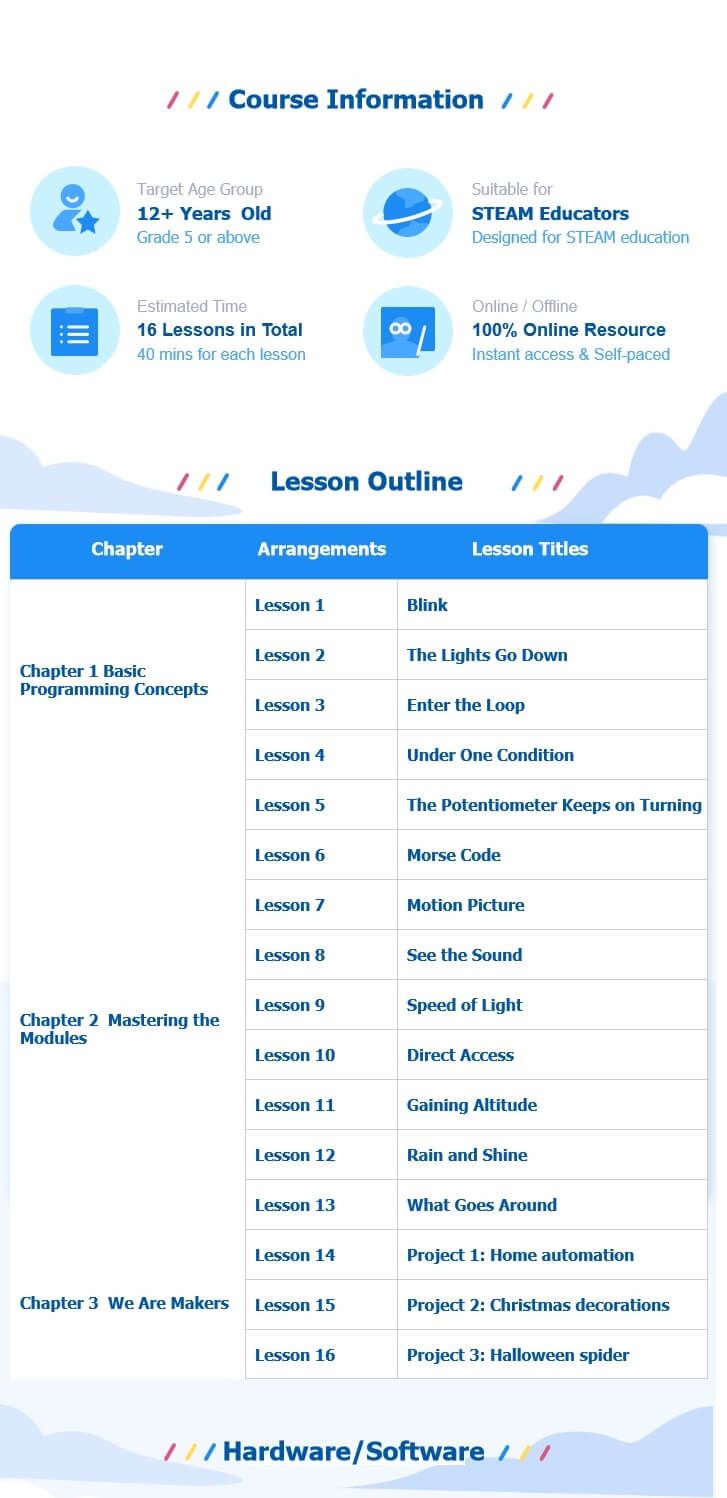 Here is a Video on getting Started :

YouTube : Easy way to start with Arduino


Learning new things is always difficult, and it's the same for Arduino beginners.  You need to learn hardware knowledge, programming code, need to know connection methods of various complex interfaces, and even need to master welding skills. Tons of things are needed before you actually start learning Arduino programming. Well, we feel your pain, so we carry the Grove Beginner Kit for Arduino® from SeeedStudio, it is one of the simplest ways to get started with Arduino.





Unlike most kits, the Grove Beginner Kit for Arduino is an all-in-one kit, no breadboard, no soldering, even no wiring is needed. The kit cuts all those muss and fuss, aiming to give you the best experience, you only need to focus on coding and Arduino Learning. The kit is powered by one Arduino compatible Board (Seeeduino Lotus) together with 10 additional Grove Arduino sensors all in one piece of the board.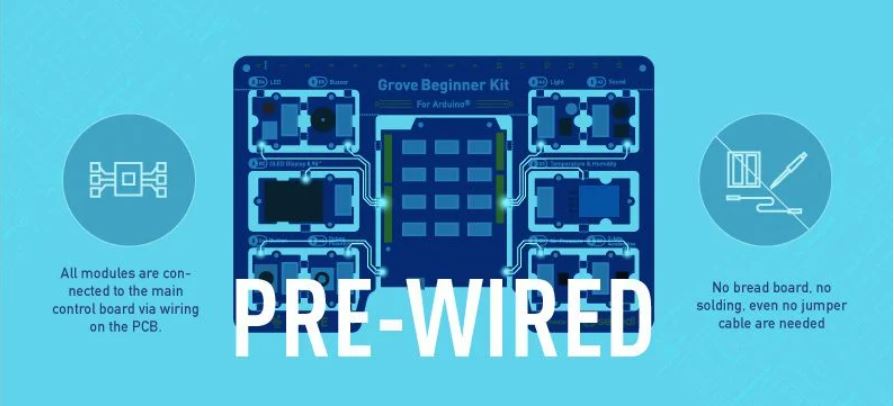 All the modules have been connected to the Seeeduino(Microcontroller) through the PCB stamp holes so no Grove cables are needed to connect. This is perfect for educational fields where frustrating wiring and soldering is no longer needed.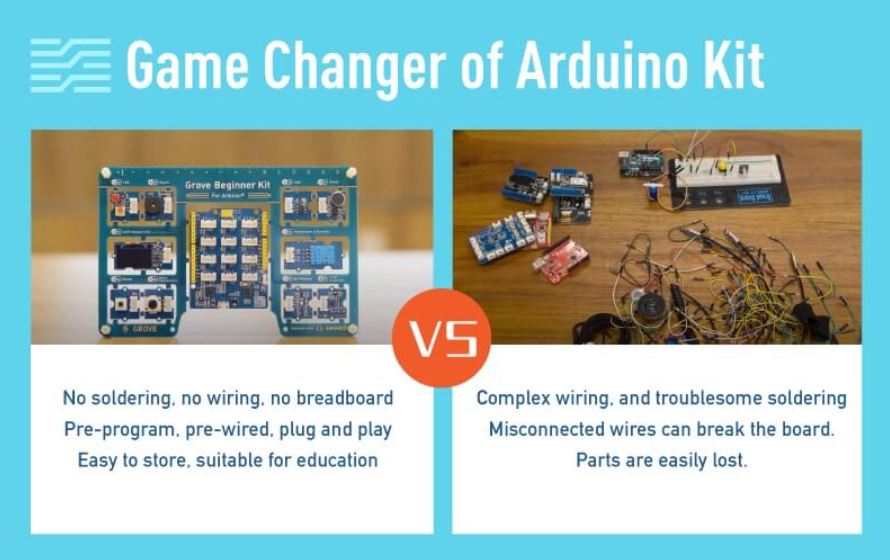 Of course, you can also take the modules out and use Grove cables to connect the modules. You can build any Arduino project you like with this Grove Beginner Kit For Arduino®.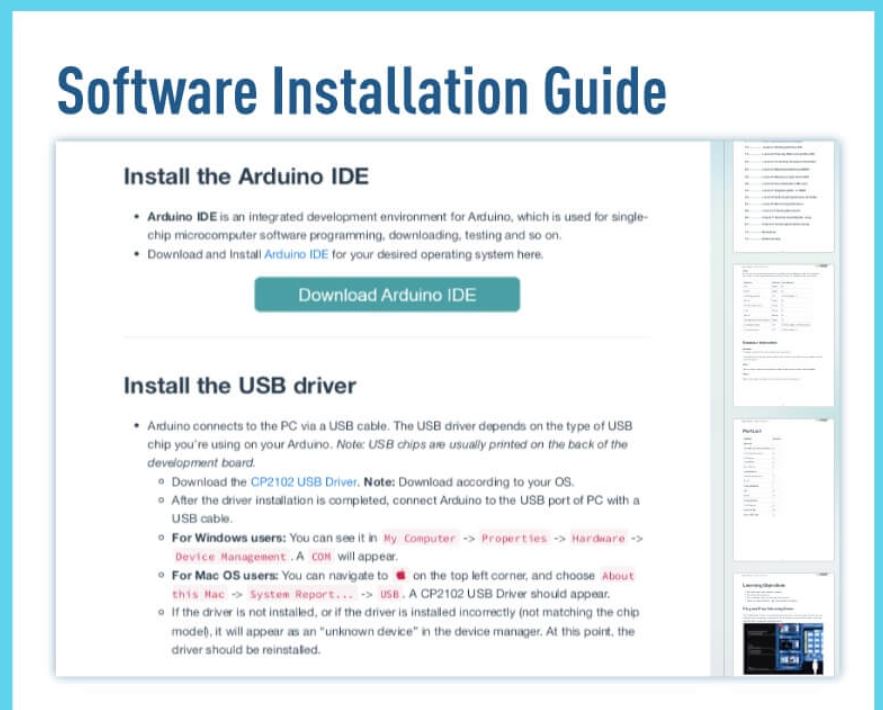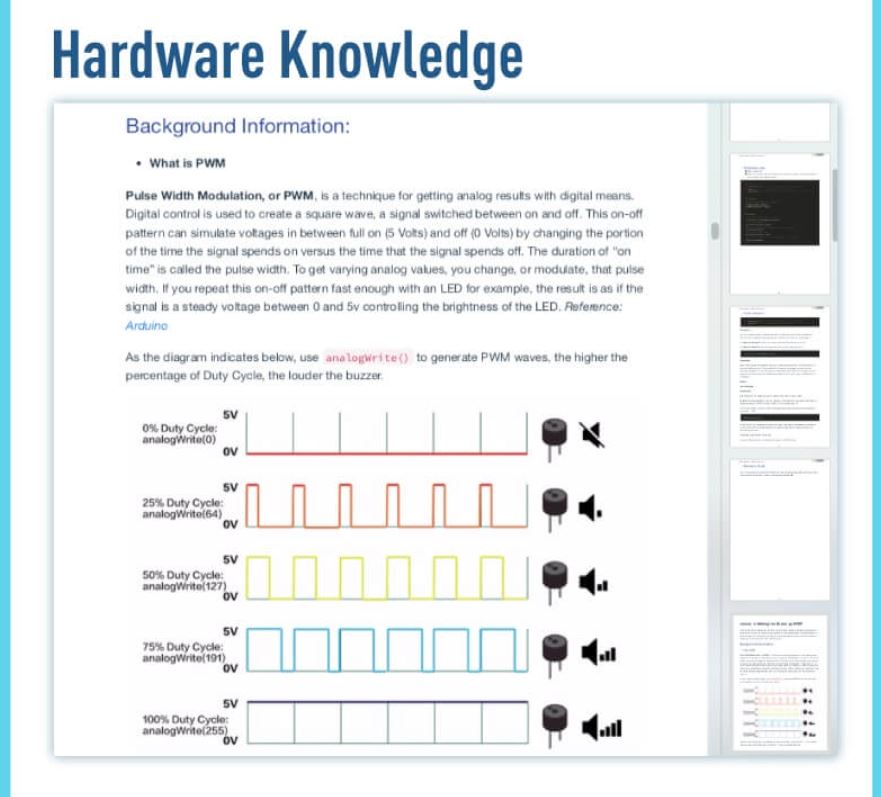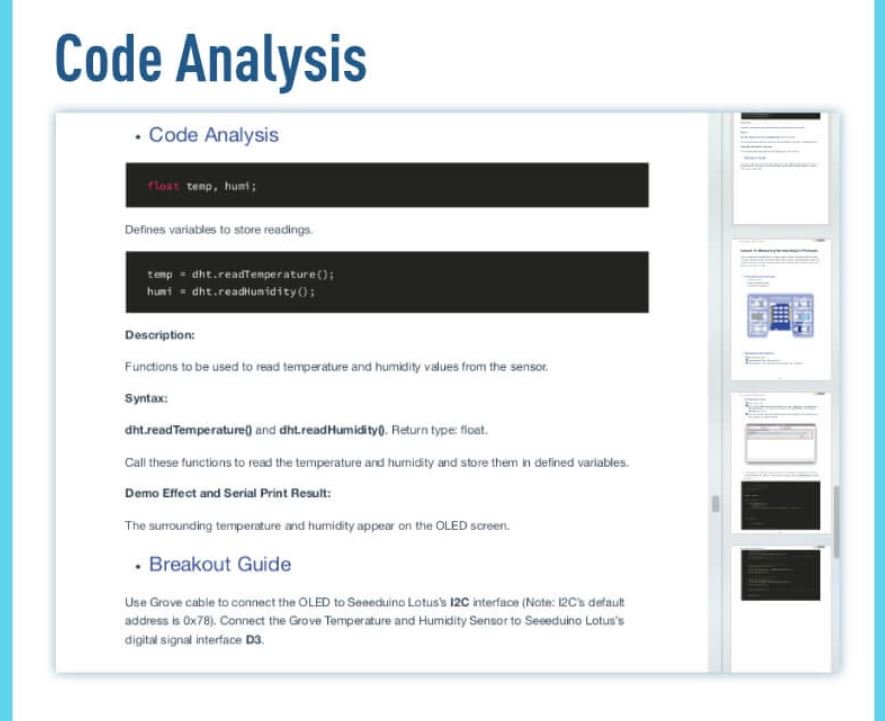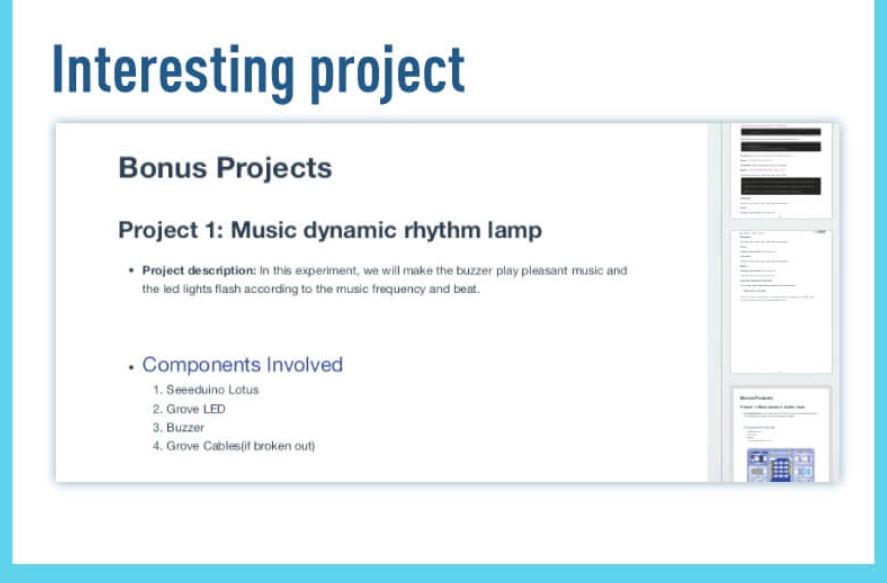 What is Grove?
Grove makes it easier to connect, experiment, and simplify the prototyping process. No jumpers or soldering required. We have developed more than 300 Grove modules, covering a wide range of applications that can fulfill a variety of needs. Not only are these open hardware, but also have open-source software.


Note: SeeedStudio also prepared example code and software libraries to help you running 12 different demos in just a few lines of code. Check this Wiki to get started now!


Features:
Arduino UNO compatible board(ATmega320p based Seeeduino Lotus)  10 most commonly used Arduino modules
All modules are pre-wired, no breadboard and jumper cables required
74 pages PDF wiki 12 step by step project tutorials
Super friendly to beginner and STEAM education
Compatible with over 300 Grove modules
Hardware Overview :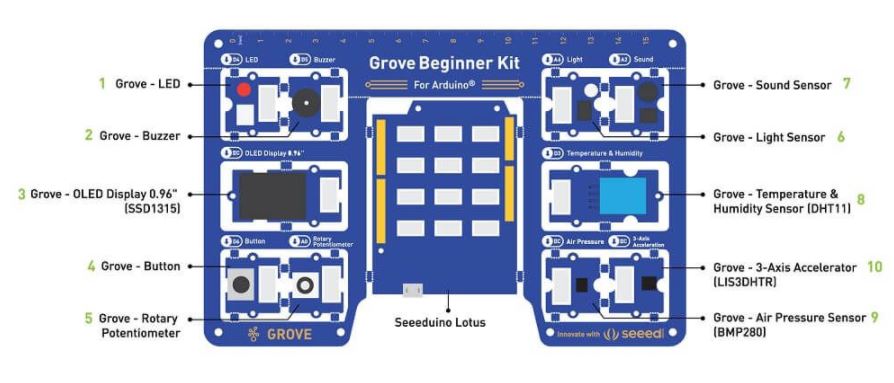 What's in the box?
Included in Kit:

Grove Beginner Kit For Arduino Board x 1
Micro USB Cable x 1
Grove Cables x 6

Included on the board:

Grove - LED x 1
Grove - Buzzer x 1
Grove - OLED Display 0.96" x 1
Grove - Button x 1
Grove - Rotary Potentiometer x 1
Grove - Light x 1
Grove - Sound x 1
Grove - Temperature & Humidity Sensor x 1
Grove - Air Pressure Sensor x 1
Grove - 3-Axis Accelerator x 1
Seeeduino Lotus x 1
Resources:
DIY Laser Alarm System STEM Kit (diy laser alarm STEM)
Description:
Note: Not suitable for children under 10 years old!
Warning: Laser is used in this project, take proper precautions and avoid direct eye exposure!
Note: Download the softcopy instruction manual (English) here. 

The DIY (Do It Yourself) Kit for Children Age 10 and above


A laser-based Security System is a type of security and alarm system that uses laser light and a light sensor. In this kit, you will learn how to connect an alarm circuit and allows it to trigger when the laser beam is blocked.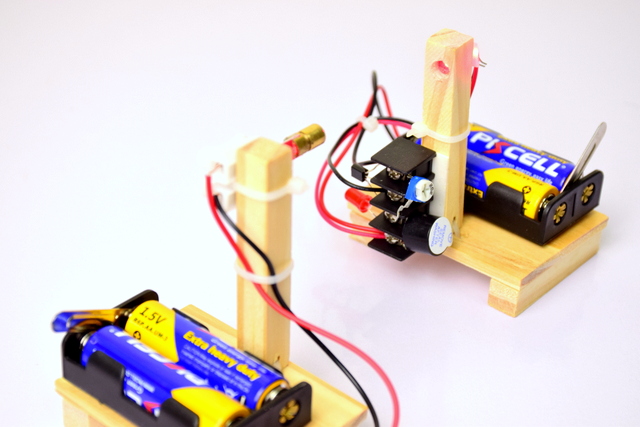 This DIY kit is simple enough to be built by 10 years old children. Let them explore the capability of a laser and a light-dependent resistor (LDR) sensor.
Features:
Do It Yourself Laser Alarm System
Simple and yet educational
Suitable for age 10 years old and above
Come with everything needed to assemble a laser alarm system
No soldering is needed
Learn about laser, LDR sensor, and connecting an electronic circuit!
Packing List:
2 x AA battery holders
1 x Screw block terminal
1 x Connector with wires
1 x Laser diode
1 x Push block connector
1 x LDR sensor
1 x Variable resistor
1 x Transistor
1 x LED
1 x Buzzer
Wooden parts for the laser alarm system
Some double-sided tape
Some cable tie
Note: Kit does not include a screwdriver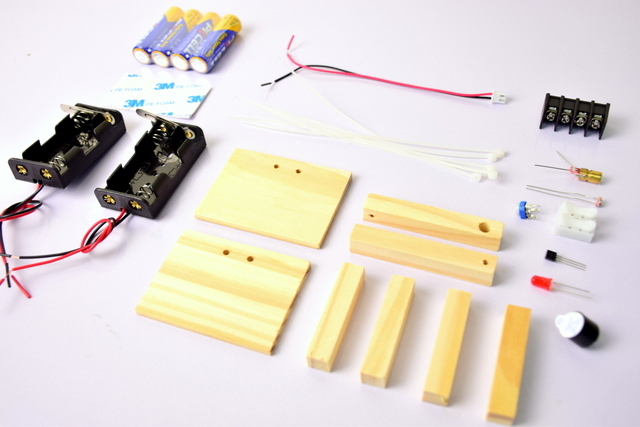 Resources: