Jetson Nano
Jetson Nano kits
Coming Soon. Login and add this item to your wishlist to be notified when stock arrives. Pricing is estimated at this stage
Jetson Nano Development Kit (Type C), with Display, Camera, TF Card, EU Power Supply (Jetson nano cam kit)
This is a development pack (Type C) designed for NVIDIA Jetson Nano,

It includes:

1 x Jetson Nano Developer board
1 x 7inch IPS capacitive touch display
1 x IMX219-77 camera board
1 x 64GB class 10 TF card
1 x EU power adapter

This pack is almost a robot in embryo, you can even "see" via its "eye", now it's your show time to bring the superior AI robot to life.



Introducing Jetson Nano
NVIDIA Jetson Nano, Bringing the Power of Modern AI to Millions of Devices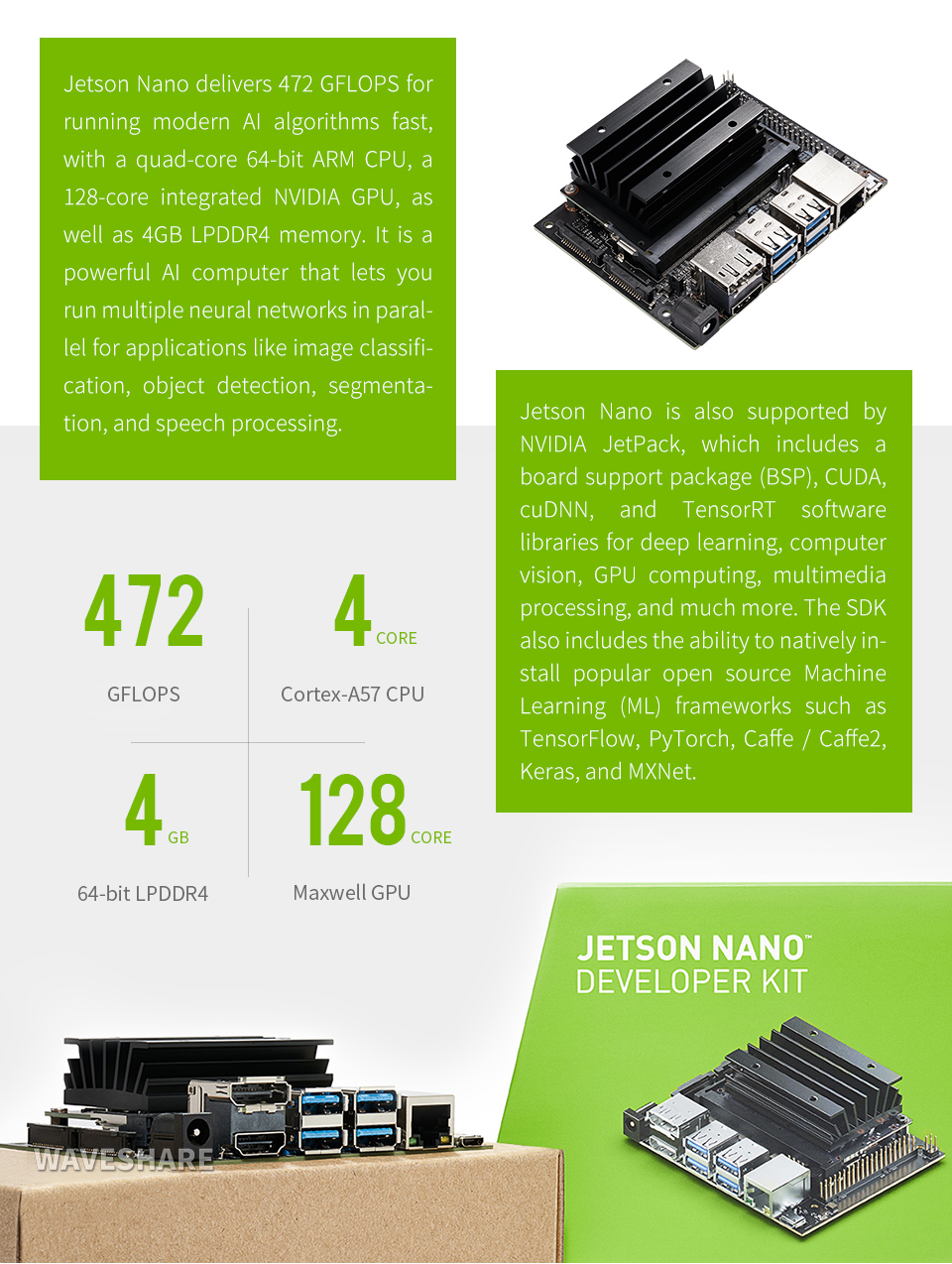 7" HDMI Touch Display
IPS screen, 1024x600 hardware resolution, configurable by software (up to 1920x1080)
Supports popular mini PCs such as Raspberry Pi, Jetson Nano, BB Black, Banana Pi, as well as general desktop computers

When works with Raspberry Pi, supports Raspbian/Ubuntu/Kali/Retropie/WIN10 IOT, driver free
When work as a computer monitor, supports Windows 10/8.1/8/7, five-points touch, and driver free

Supports popular game consoles like Microsoft XBOX360, Sony PS4, and Nintendo Switch, etc.
Multi languages OSD menu, for power management, brightness/contrast adjustment, etc.
3.5mm audio jack, speaker connector, supports HDMI audio output
Also supports VGA input

(specific cable is required and should be purchased separately)
8MP Camera
Supports NVIDIA Jetson Nano Developer Kit, Compute Module 3/3+
8 Megapixels
Sensor: Sony IMX219
Resolution: 3280 × 2464
Lens specifications:

CMOS size: 1/4inch
Aperture (F): 2.0
Focal Length: 2.96mm
Angle of View (diagonal): 77 degree
Distortion: < 1%
Lens dimensions: 6.5mm × 6.5mm

4 screw holes

Used for attachment
Provides 3.3V power output

Dimension: 25mm × 24mm
What's On Board?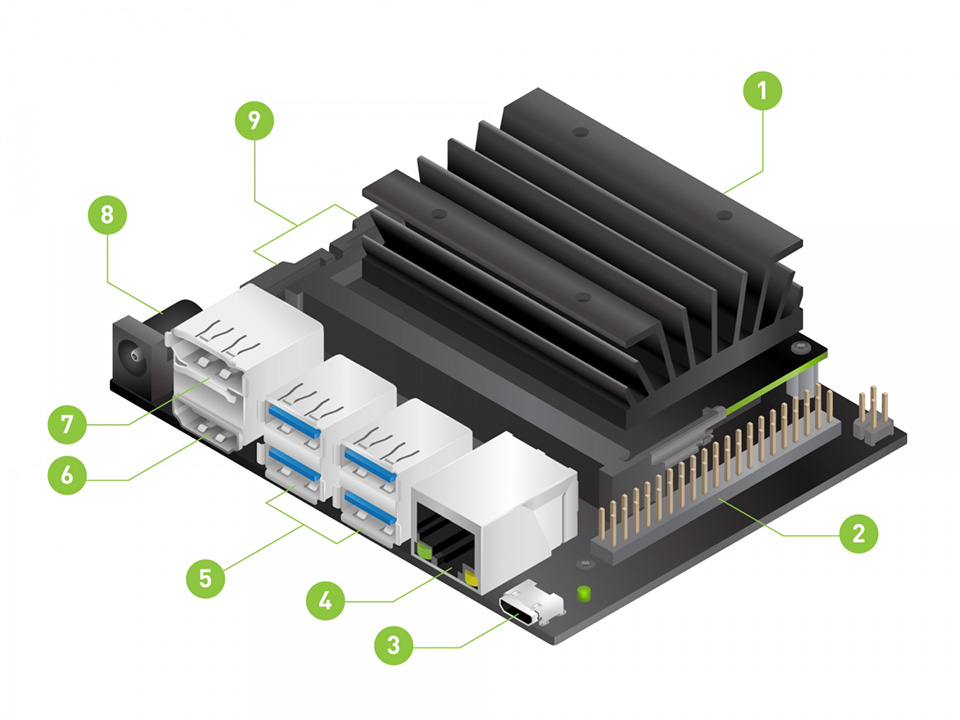 Micro SD card slot: insert a 16GB or larger TF card for main storage and writing system image
40-pin expansion header
Micro USB port: for 5V power input or for USB data transmission
Gigabit Ethernet port: 10/100/1000Base-T auto-negotiation
4x USB 3.0 port
HDMI output port
DisplayPort connector
DC jack: for 5V power input
2x MIPI CSI camera connector
Specifications:
| | |
| --- | --- |
| GPU | 128-core Maxwell |
| CPU | Quad-core ARM A57 @ 1.43 GHz |
| Memory | 4 GB 64-bit LPDDR4 25.6 GB/s |
| Storage | 64GB Class10 Micro SD card |
| Video Encoder | 4K @ 30 | 4x 1080p @ 30 | 9x 720p @ 30 (H.264/H.265) |
| Video Decoder | 4K @ 60 | 2x 4K @ 30 | 8x 1080p @ 30 | 18x 720p @ 30 (H.264/H.265) |
| Camera | 2x MIPI CSI-2 DPHY lanes |
| Connectivity | Gigabit Ethernet, M.2 Key E expansion connector (Recommendation: AC8265 Dual-mode NIC) |
| Display | HDMI and DP |
| USB | 4x USB 3.0, USB 2.0 Micro-B |
| Extension Interfaces | GPIO, I2C, I2S, SPI, UART |
WIKI:
https://www.waveshare.com/wiki/Jetson_Nano_Developer_Kit_Package_C
Coming Soon. Login and add this item to your wishlist to be notified when stock arrives. Pricing is estimated at this stage