Arduino Cases
Arduino Cases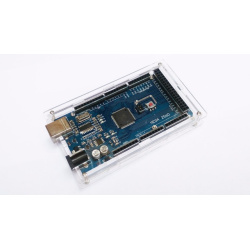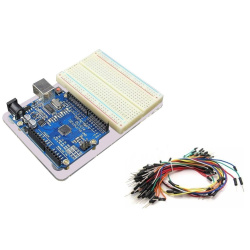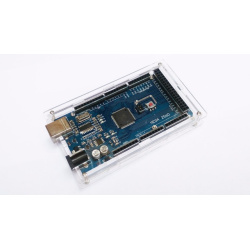 Transparent Acrylic Case For Arduino MEGA2560 R3 Module Board(Arduino is not included) (Mega Acrylic case)
This product is protective case of Arduino MEGA2560 R3. It p
rovides easy connection to other components.
It is made by high grade acrylic providing protection for your Arduino
Features
Name: Arduino MEGA2560 R3 DIY acrylic case
Dimensions: 118 x 72 x 18mm
Weight: 72g
Material: A level acrylic
For Arduino MEGA2560 R3 Development Board only
Please Note:
Arduino Mega is not included.
Don't forget to remove the protective film from the acrylic parts.
What's in the box
1 x Transparent Acrylic case
Case for Arduino UNO - Black (case uno black)
Description:
If you own an
Arduino UNO
, you might need this case/enclosure :) This is pretty simple yet practical casing designed for Arduino UNO. It offers plenty of inner space, and if you need to access the GPIO of Arduino UNO, the top cover has an opening for it. It is perfect casing for educator, beginner, or maker that need to access the GPIO. With its transparent color and build using ABS to provide rugged protection to your Arduino UNO.
The case comes in two parts so you can simply snap it together, no screws or nuts needed. There is a base plane, where you should place the Arduino UNO board. Arduino UNO fit into the base plane nicely, no screw is needed to secure the Arduino. The best part for this enclosure is you can access all the pins and ports on the Arduino UNO. This case suitable for Arduino Uno Rev3 and also Uno Compatible (CH340).
Note: If you want to use this case with Arduino Uno Rev3, you need to remove the base first before putting it into this case.


Features:
Protective case designed specifically for Arduino Uno R3.
The case is a two-piece injection-molded that snaps together around for Arduino. Holds the board firmly in place.
It provides tough protection for Arduino UNO while providing access to all connectors.
Easy access to each header, USB port, power jack, the reset button, etc.
Includes reset key for use with the Uno's reset button. Secondary screw-mounting points for securing for Arduino.
Note: Arduino UNO board not included in the packing list.
Specifications:
Color: Transparent
Material: ABS
Product Size: Approx. 7.5cm x 6cm x 1.7cm
Weight: About 25g
Note: Not Suitable to open and close the case frequently (Clip may break easily). It may be softer than normal ABS casing.
What's in the box?


1 x Enclosure for Arduino UNO - Black