Tools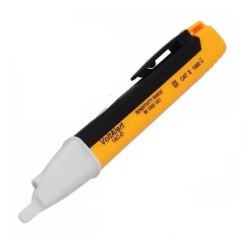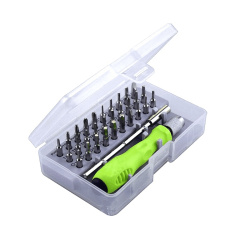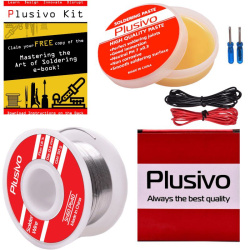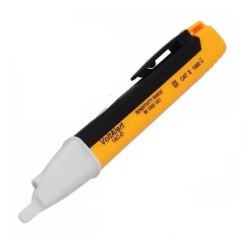 Non-Contact Voltage Detector, 90-1000VAC (non contact voltage detector)
Description:
Everyone need a test pen to make sure if the line is clear from high voltage electricity, especially when you are working with AC (Alternating Current) line. This is alternative to test pen where it can detect AC voltage without touching the wire/contact itself :) And Yes! It works.
Get it near to your AC wire or plug (few millimeter) and if there is AC voltage, the LED will start to blink and the on board buzzer will also buzz. And there LED (another LED) activation push button if you need eatra helping light when you work :)
It is powered by 2 x AAA (1.5V) battery, not included in the package.
Specifications:
Sensitivity Range: 90V-1000V AC 50-60Hz
Voltage Indication: Beeper, LED Flashing
Power Requirement: 2 AAA batteries (not included)
Dimension: 160 x 17 x 18mm
Auto power-off:Yes
Low Battery Power Indication:Yes
Features:
Wide Testing Range,within 90-1000V AC (Malaysia is 240VAC), All Electric Appliances in Your Family can be Tested by it.
High Efficiency. As long as voltage is detected, the LED in the tester pen will illuminates. It is easy to notice. And this voltage pen detector is powered by 2 AAA batteries(not included).
100% Safe. The Voltage Pen Tester detects Voltage in a non-contact way, so do not worry about there could be any possibility of being shocked by the electricity.
High Quality. Being a home electrician , you will do the job better with it.
Easy to use. LED in the voltage tester pen can illuminate the working environment. You can use the Non Contact Voltage Detector in circuit breakers, lighting fixtures, switches, outlets, wires and anywhere you need it.
Whats in the box:
1 x Voltage Test Pen
Resources:
Pen Style Non Contact Alarm AC Voltage Detector with LED illumination (90V~1000V/2*AAA)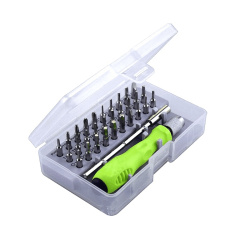 32 in 1 Precision Screwdriver Set (32 screwdriver set)
Description:
A tool for all DIYers :) Screwdriver set with 30 types of bits. With the magnetic socket, the bit will be magnetized and hold the screws and nuts when you are using it, super handy!
Features:
Tools and sizes: 30 x bit (length: 2.7cm), 1 x handle( length: 10.5cm), 1 x extension bar (length: 10.1cm)
Screwdriver type:

Pentacle: 0.8, 1.2, 2.0
Flathead: 1.5, 2.0, 2.5, 3.0, 4.0
Tri-wing: 2.0, 3.0
Triangle: 2.0, 2.3
Hexagon: 1.5, 2.0, 2.5, 3.0, 3.5, 4.0
U-shaped: 2.3
Philips: PH000, PH00, PH0, PH1, PH2
Torx: T4, T5, T6, T8, T9, T10;

Complete specifications screwdriver bit can adapt to a variety of areas of operations.
The bit with high-quality chromium-vanadium alloy steel, durable and wearable.
The handle is designed according to the shape of a hand, which is helpful to increase torque.
Specifications:
Steel Material: Chromium-vanadium Alloy Steel
Magnetized socket to help hold screw and nuts during assembly or disassembly
Screw Head Type: All-in-One
Special function: Disassembling or Repairing Mobile Phone, PC or Toy
Application: Household Appliances, Mobile phone, Tablet PC
Package size (L x W x H): 12.20 x 7.50 x 3.30 cm or 4.84 x 3.00 x 1.3 inches
What's in the box:
30 x Bit
1 x Handle
1 x Extension Bar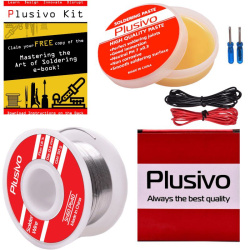 Basic Soldering Wire and Rosin Paste Kit (basic solder wire rosin paste)
Description:
This is a Basic Soldering Wire and Rosin Paste Kit. It contains a set of soldering accessories including solder paste, solder wire and other bonus items for hobbyists, electronics and electrical learners, enthusiasts, beginners, and professionals. It is suited for purposes such as DIY soldering projects, electronics repairs, home crafts-making, and many more.
Specifications:
Solder wire and rosin paste kit

It includes the most commonly used diameter for lead solder and high quality soldering paste as accessories for electrical soldering.

0.6mm diameter solder alloy and high-quality rosin flux that is essential in electrical soldering.
Bonus items included

Black and red wires and mini screwdriver and other bonus included inside.

Durable box included

It helps in keeping the contents organized, secured and for easy transport of the kit anywhere.
What's in the box:
1 x 50 g of 0.6mm diameter 60-40 Sn/Pb solder wire
1 x rosin paste
Bonus items:

1 x black AWG 22 tinned copper silicone wire
1 x red AWG 22 tinned copper silicone wire
2 x mini screwdriver