Arduino Power
Arduino Power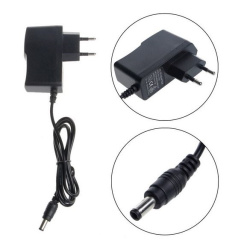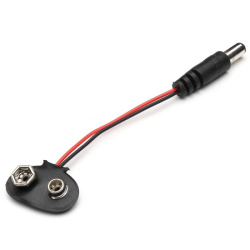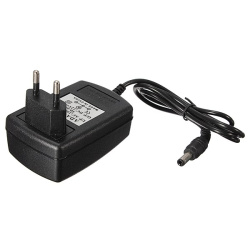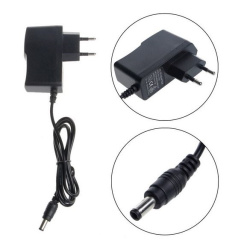 9V 1A AC to DC Power Supply for Arduino (power 9V arduino)
There are  four different ways in which we can power up the Arduino. The most convenient of which, after programming it with your USB cable is the 9V DC
2.1mm barrel connector.

Specifications
Wide input range, high precision voltage.
Overload protection
Short circuit protection
Over temperature protection
Input:100-240V AC 50/60Hz
Output: DC 9V 1000mA
Plug: EU Plug
Dimension: 70mm x 80mm x 28mm
Cable length: about 100cm
DC Plug Dimension: 5.5mm x 2.5mm
Colour: Black
EU type
What's in the box?
1 x 9V 1A AC to DC Power Supply
You will also need a
euro plug adapter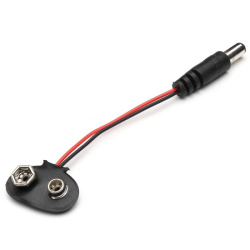 DC 9V 1A Battery Button Power Cable Tieline For Arduino (9VDC Batt arduino power clip)
This is a very useful connector, on one end is snap for the 9V battery, and another end is the standard DC jack (2.1mm). If you are using 9V battery to power your Arduino board, this cable will be handy and perfect for you. The "center pin" of the DC barrel plug is positive and the outer barrel is negative meaning it is compatible with Arduino's DC barrel jack. The battery snaps into the connector and has 110mm wires – just long enough to give you flexibility in battery placement, but not so long that the wires take up all of your extra space in your enclosure!
Features
    Custom made to deliver power from 9V battery to DC socket (2.1mm)
    One end is 2.1mm DC jack (center positive) and another end is snap for 9V battery
    Cable length ~ 12cm
    Hard plastic I-type connector
    5.5 x 2.1mm connector
    15cm stripped and tinned leads,
    1 red and 1 black for easy identification and soldering Snap-on terminal connector for 9-volt battery or for DIY project
What's in the box?
1 x 9V Battery Connector to DC Jack Arduino 
Need batteries? You will find our battery selection
here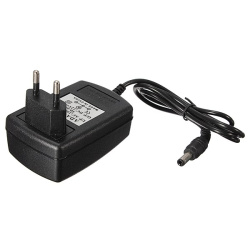 AC to DC 12V 2A Power Supply Adapter (12V 2A EU power supply)
Universal 12v adapter for any 12v power requirement. For Small 12v DC equipment like a router, 12v fan, desk led lamps, DSTV boxes, small DC pumps, LED strip lights etc. Ideal for your
Arduino UNO R4
.
Features

This item is a Universal 12V 2A external switching  power adapter.
Power supply polarity : Inside positive outside negative, inside x(+) outside i(-).
Input : 100-240V AC 50/60Hz
Output : 12V 2A
Cable length : 90 cm
DC Plug Dimension : 5.5mm * 2.5mm
Plug :

EU Plug