Keypads
Keypads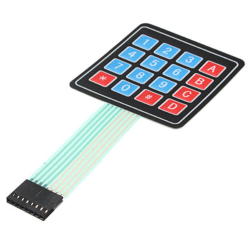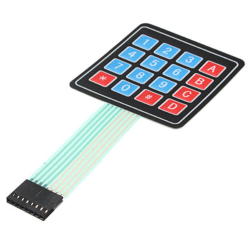 4X4 MATRIX ARRAY MEMBRANE KEYPAD (4x4 keypad matrix)
Description:
This flexible 4x4 matrix keypad is connected to an 8 pin DuPont Female connector. It can be attached to a surface via the adhesive back by removing the white protective paper backing.
Specifications:
Contact Resistance: 10Ω-500Ω
Insulation Resistance: 100MΩ 100V
Key Operating Force: 150-200N
Circuit Rating: 35V DC, 100mA, 1W
Dielectric Strength: 250V RMS (50-60HZ/Min)
Electric Shock Jitter: ï¼ÂÂœ5ms
Operating Temperature: -40 deg. C ~ 80 deg. C
Storage Temperature: -40 deg. C ~ 80 deg. C
Vibration: 20G, max
Size: 68mm x 76mm
Contents:
1 x 4x 4 Matrix Array Membrane Keypad
Resources:
K11 Wired Gaming Keyboard 28 Keys LED Backlit Usb Ergonomic Pro Gamer Left/Right Hand Single-hand Control Keypad for PC Laptop (Gamer keyboard)
MINI PORTABLE. 28 keys, portable size so you can carry everywhere anytime, and with Wrist Rest, perfect for one hand control, left or right hand, convenient to control, humanized design.
1 RAINBOW BACKLIGHT. "Fn Esc": Turn on/off the light. "FN 3": Increase the backlight; "FN 4": Weaken the backlight, and the backlight will turn off when it is weakest. "Fn Alt/Ctrl": Switching to the Breathing Light.
MULTIMEDIA KEYS & SHORTCUTS. Easy-access dedicated multimedia controls, it is convenient and easy to switch between gaming. "Fn 1" equals to F1; "Fn 2" equals to F2; "Fn 5" changes to "m".
ERGONOMIC DESIGN. Delicate appearance, humanized design, large and soft rubber palm rest ensures you long time using without feeling tired, perfect for single hand user, convenient to control.
BROAD COMPATIBILITY. Plug and play support, compatible with Windows 8/los/android and other systems. Used with Notebook / Desktop PC. Perfect for the home office or workplace.


Specifications:
Working voltage :5V

Type: wired single-handed gaming keyboard

Model : K11

Apply For Windows XP, Windows Vista, Windows 7, Windows 8, Windows 10, Mac OS X

Key-press force: 55±10g

Keystroke lifetime: :≥50 million

USB Cable Length: 1.2m

Product weight:350g

Interface: USB

Keys : 28 Keys

Size : 155mm x 185mm x 28mm


Packing Includes: