Keypads
Keypads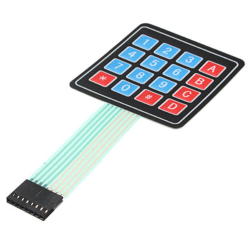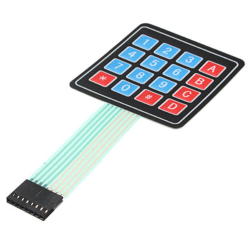 4X4 MATRIX ARRAY MEMBRANE KEYPAD (2A3 4x4 keypad matrix)
Product information
This flexible 4x4 matrix keypad is connected to an 8 pin DuPont Female connector. It can be attached to a surface via the adhesive back by removing the white protective paper backing.
Specifications
Contact Resistance: 10Ω-500Ω
Insulation Resistance: 100MΩ 100V
Key Operating Force: 150-200N
Circuit Rating: 35V DC, 100mA, 1W
Dielectric Strength: 250V RMS (50-60HZ/Min)
Electric Shock Jitter: ï¼ÂÂœ5ms
Operating Temperature: -40 deg. C ~+80 deg. C
Storage Temperature: -40 deg. C ~+80 deg. C
Vibration: 20G, max
Size: 68mm x 76mm
Package Includes
1 X 4x 4 Matrix Array Membrane Keypad
4 x 3 Matrix 12 Key Array Membrane Keypad Keypad (2A3 12 key keypad)
Description:

Pad Size: 68.9 x 76 x 0.8mm
Cable length: 85mm (including connector)
Connector: dupont 7 pins, 0.1 inch (2.54mm) Pitch
Mount style: Self-Adherence
Max. circuit rating: 35VDC, 100mA
Insulation spec.: 100M Ohm, 100V
Dielectric withstand: 250Vrms (60Hz, 1min)
Contact bounce: ≤5ms
Life expectancy: 1 million closures
Weight: 7g
1X4 Matrix Membrane Keypad (AW 1A3 1X4 Membrane Keypad)
Product information
Punch your secret key into this numeric membrane keypad. This keypad has 4 buttons, and since every key has its own wire line, no matrix code is required - just treat these like every day switches. The membrane is soft and has a removable paper backing to expose a strong adhesive so you can stick this on an enclosure and feed the cable through a slot. Its a simple keypad but that's why we like it.

Specifications
Contact Resistance: >= 100Ω
Insulation Resistance: 100MΩ 100V
Key Operating Force: 150-200N
Circuit Rating: 12V DC @ 30mA
Dielectric Strength: 250V RMS (50-60HZ/Min)
Electric Shock Jitter: ï¼ÂÂœ5ms
Operating Temperature: -40 deg. C ~+80 deg. C
Storage Temperature: -40 deg. C ~+80 deg. C
Size: 68mm x 20mm
Cable Length: 91mm