Buzzers
Buzzers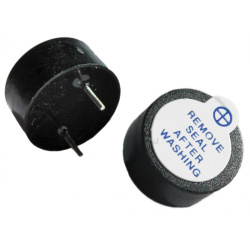 Piezo Transducer - Mini 5V Buzzer (4000Hz) (piezo buzzer 5V)
If you want to add beeps, tones or alerts to your Raspberry Pi project, you require a Piezo Buzzer! This mini transducer is small but loud, and can be driven with a 1-20V peak-to-peak square wave. To use, connect one pin to ground (either one) and the other pin to a square wave out from a timer or microcontroller. For the loudest tones, stay around 4 KHz. For extra loudness, you can connect both pins to a microcontroller and swap which pin is high or low ('differential drive') for double the volume.
This one plops perfectly into a breadboard and has short legs, so can also easily be mounted on a PCB! Please Note. This item is externally driven, e.g. requires a microcontroller to produce a tone.
This Mini Piezo Transducer Features:
Mini 5V Piezo Transducer

PCB & Breadboard Mountable

Wave Solderable and Washable
Rated Voltage (Vp-p Square Wave) 5Vp-p

Operating Voltage 1 to 20Vp-p

Rated Current at Rated Voltage 1mA

Sound Output at 4000Hz at 10cm, at Rated Voltage ≥80dB

Resonant Frequency 4000 ±500Hz

Operating Temperature -20 to +70°C

Storage Temperature -30 to +80°C

External Diameter: 13.8mm

External Height: 6.8mm

Capacitance: 0.013µF

Capacitance Max: 16.9nF

Weight: 1g

Model No.:

ABT-402-RC
3-24V Piezo Electronic Tone Buzzer Alarm 95DB Continuous Sound (piezzo buzzer 3-24VDC)
Description:
Color: Black
Quantity:1 pc
Alarm Diameter:22mm/0.86"
Alarm Height:10mm/0.39"
2 Mounting Holes distance:30mm/1.18"
2 Wires length:90mm/3.54"
Buzzer Type: Piezoelectric
Sound Pressure Level 95 dB
Rate Voltage: 12V DC
Operating Voltage: 3 - 24V
Max Current Rating 10mA
Frequency 3900±500Hz
Drive Method: Drive Circuit Built in Mounting Holes  
Package Includes:
1 X 95DB Piezoelectric Buzzer Alarm