Robotics/Sensors/Automation
Robotics boards, sensors and automation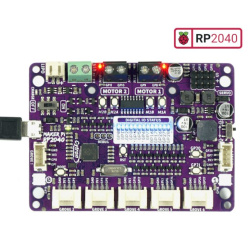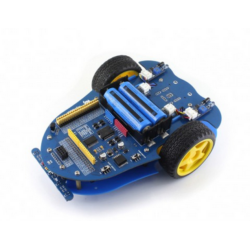 Mobile robot development platform, compatible with Raspberry Pi/Arduino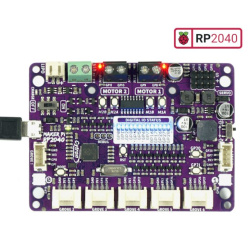 Maker Pi RP2040 - Simplifying Robotics with Raspberry Pi RP2040 (Maker Pi RP2040 robotics)
Description:

Cytron Maker Pi RP2040 features the first microcontroller designed by Raspberry Pi - RP2040, embedded on a robot controller board. This board comes with dual channel DC motor driver, 4 servo motor ports and 7 Grove I/O connectors, ready for your next DIY robot / motion control project. Now you can build robot, while trying out the new RP2040 chip.

The DC motor driver onboard is able to control 2x brushed DC motors or 1x bipolar/unipolar stepper motor rated from 3.6V to 6V, providing up to 1A current per channel continuously. The built-in Quick Test buttons and motor output LEDs allow functional test of the motor driver in a quick and convenient way, without the need of writing any code. Vmotor for both DC and servo motors depends on the input voltage supplied to the board.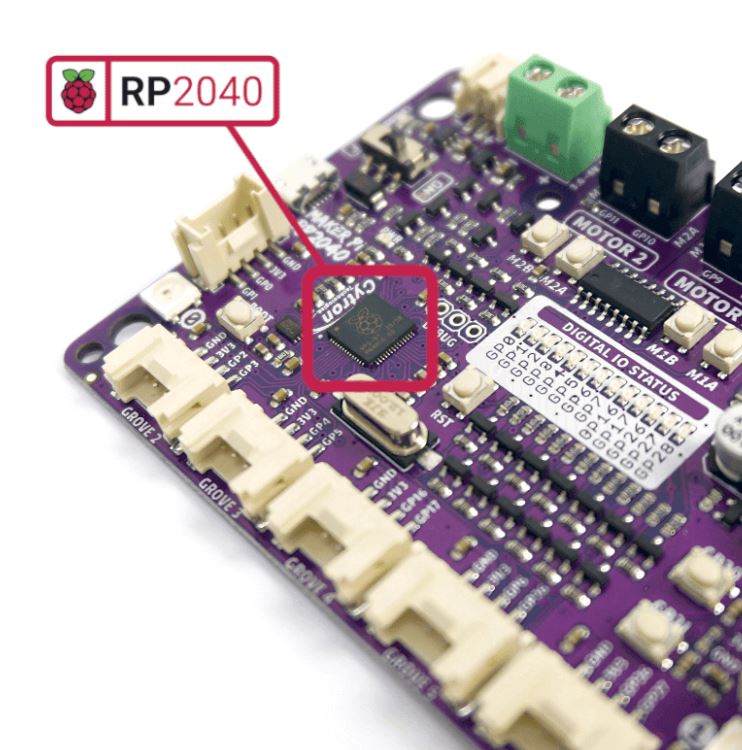 Features:
Powered by

 

Rapberry Pi RP2040

Dual-core Arm Cortex-M0 processor
264KB internal RAM
2MB of Flash memory
the exact same specifications with Raspberry Pi Pico

Robot controller board

4x Servo motors
2x DC motors with quick test buttons

Versatile power circuit

Automatic power selection: USB 5V, LiPo (1-cell) or Vin (3.6-6V)
Built-in 1-cell LiPo/Li-Ion charger (over-charged & over-discharged protection)
Power on/off switch

13x Status indicator LEDs for GPIO pins
1x Piezo buzzer with mute switch
2x Push button
2x RGB LED (Neopixel)
7x Grove ports (flexible I/O options: digital, analog, I2C, SPI, UART...)
Preloaded with

 

CircuitPython by default
Mouting holes

4x 4.8mm mounting hole (LEGO® pin compatible)
6x M3 screw hole
What's in the box ?


1x Maker Pi RP2040
4x

 

Grove to Female Header Cable
1x

 

Mini Screwdriver
1x Silicone Rubber Feet (Pack of 4)
Resources:
Powering the Maker Pi 2040

There are three ways to supply power to the Maker Pi RP2040 - via USB (5V) socket, with a single cell LiPo/Li-Ion battery or through the VIN (3.6-6V) terminals. However only one power source is needed to power up both controller board and motors at a time. Power supply from all these power sources can all be controlled with the power on/off switch onboard.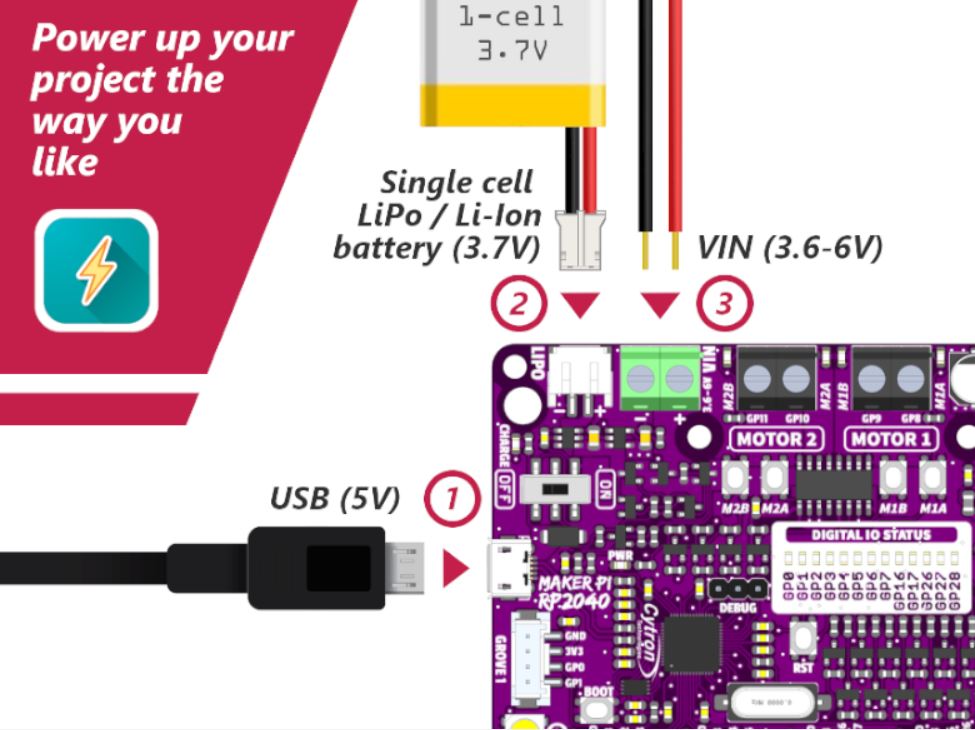 Maker Pi RP2040 features all the goodness of Cytron's Maker series products. It too has lots of LEDs useful for troubleshooting (& visual effects), is able to make quite some noise with the onboard piezo buzzer and comes with push buttons ready to detect your touch.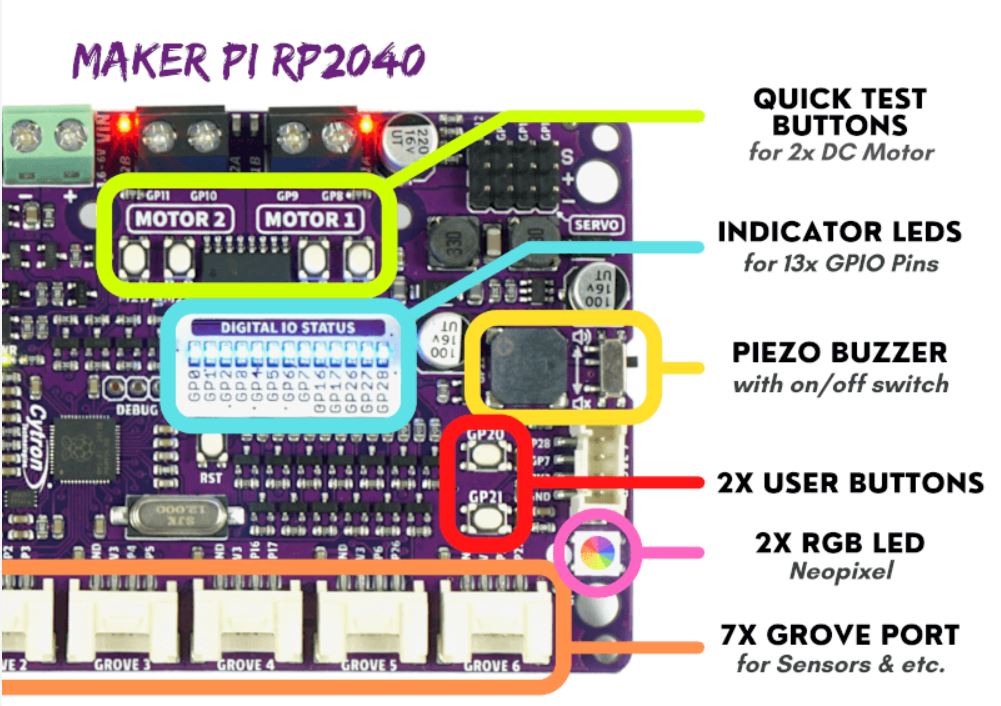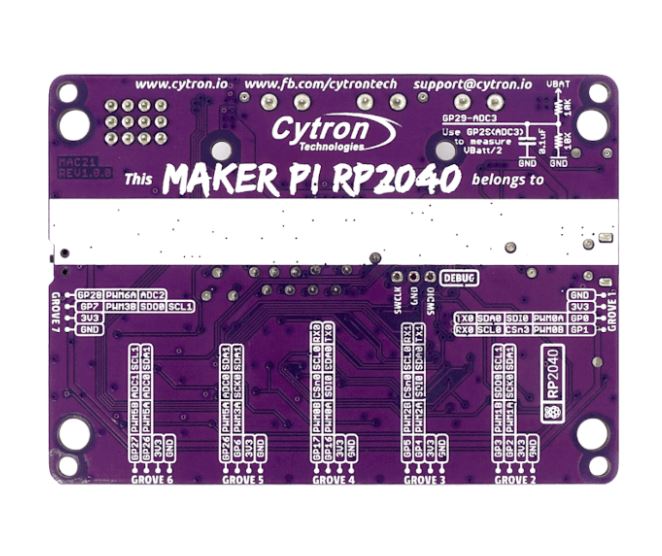 Simple Robotic projects done



(* Only includes the Maker board - All other contents are for idea / advertising purposes only*)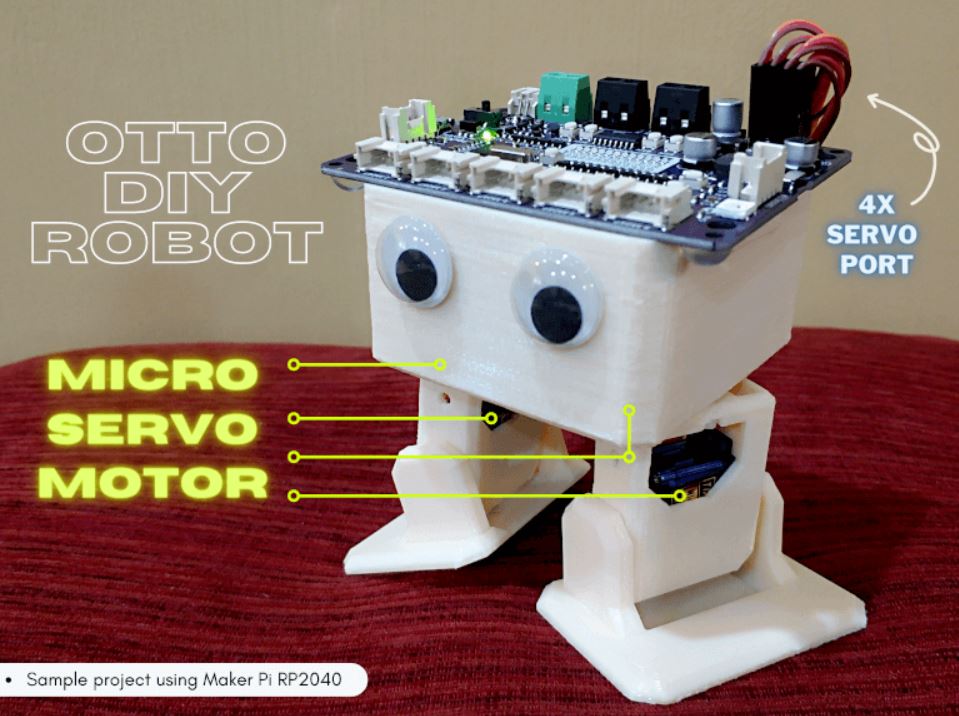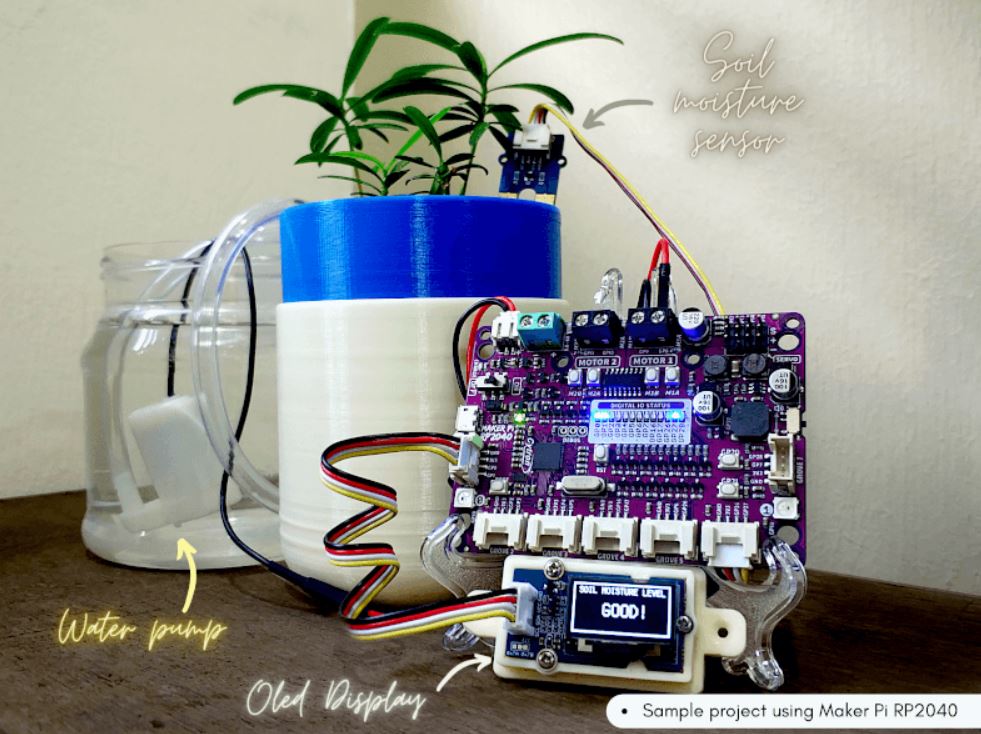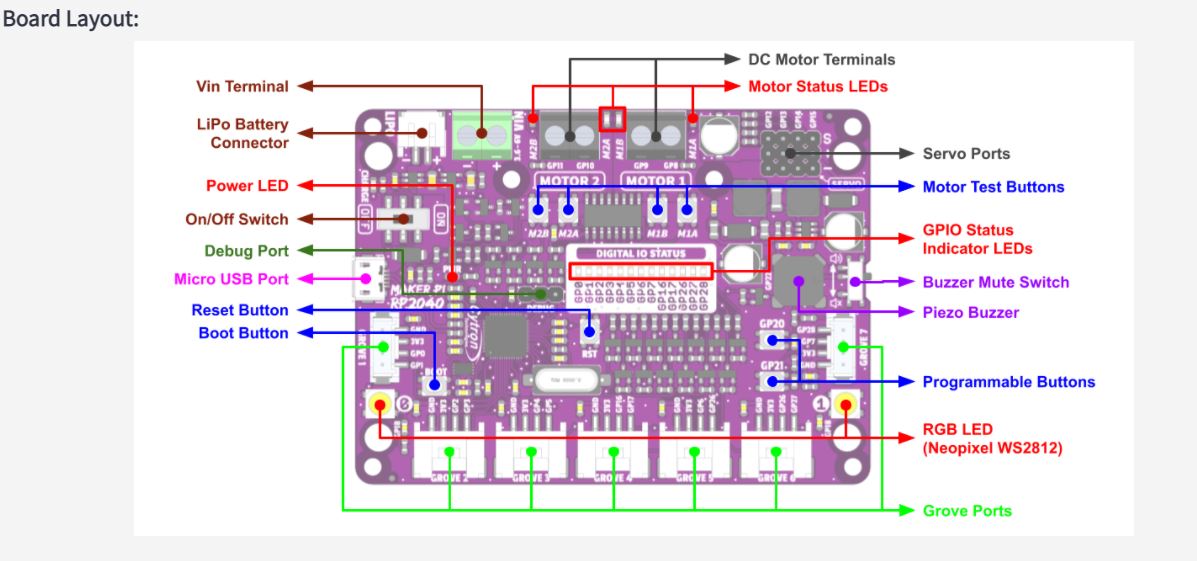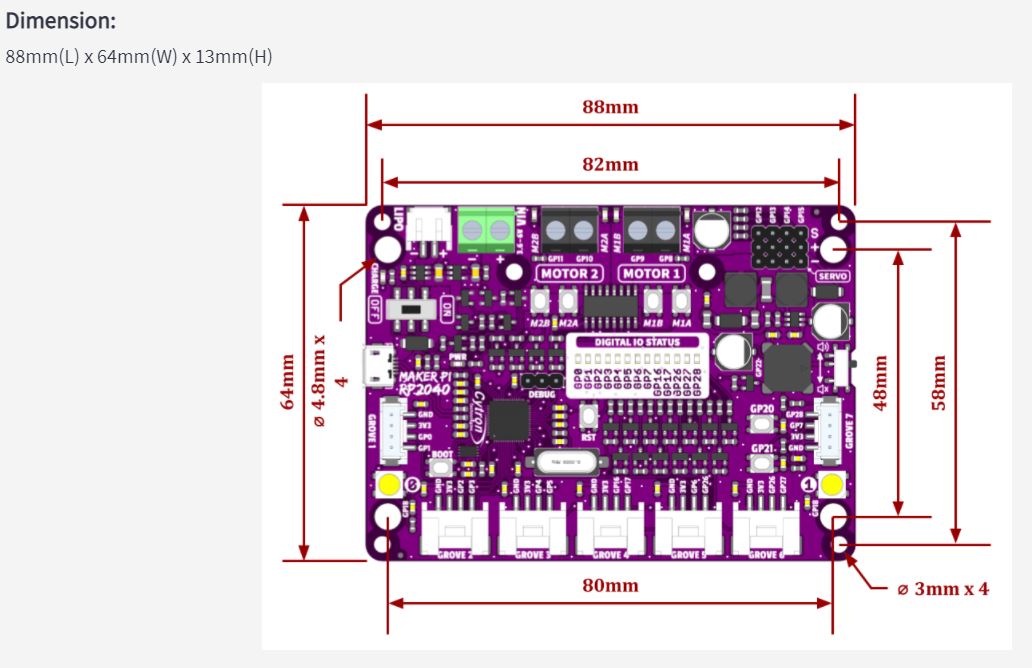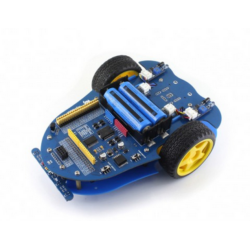 AlphaBot, Mobile robot for Raspberry Pi or Arduino (alphabot robot pi/arduino)
Description:

AlphaBot is a robotic development platform compatible with Raspberry Pi and Arduino. It consists of the AlphaBot mainboard, the mobile chassis, and everything required to get it moving.
Just connecting a controller board, Raspberry Pi or Arduino, and combined with our open source example code, now it's all ready to start your robotic exploration: line tracking, obstacle avoidance, video monitoring, WiFi/Bluetooth/ZigBee/Infrared remote control, etc.
Features
Raspberry Pi/Arduino interfaces, works with either one separately, or both
Arduino extend header, supports Arduino shields
Modular design, plug-and-play modules like line tracking, obstacle avoidance, speed measuring, etc. eliminating the trouble of connecting mess wires.
LM298P motor driver with diode protection circuit, more safety
LM2596 voltage regular, provides stable 5V power to the Raspberry Pi/Arduino
TLC1543 AD acquisition chip, allows the Pi to use analog sensors
What's on the AlphaBot Mainboard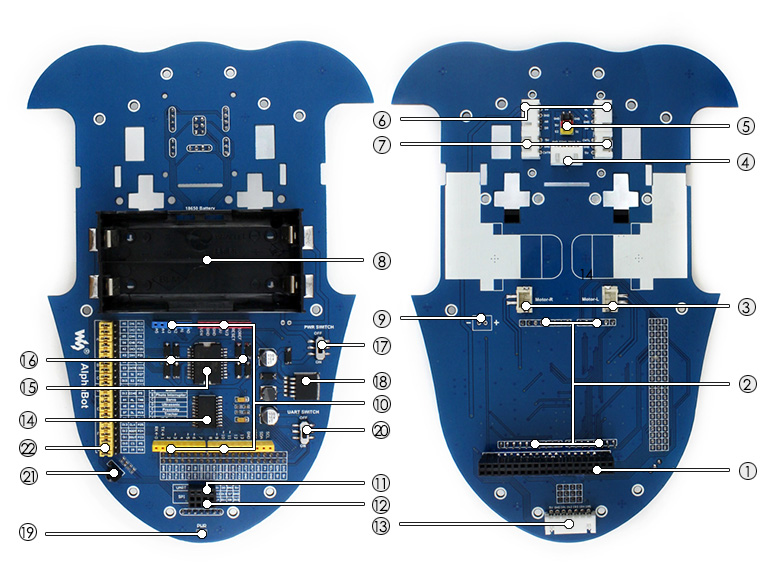 Raspberry Pi interface: for connecting Raspberry Pi
Arduino interface: for connecting Arduino
Motor interface
Ultrasonic module interface
Servo module interface
Obstacle avoidance module interface
Speed measuring interface
Battery holder: supports 18650 batteries
Reserved power input (not soldered): for connecting other external power supply
Arduino expansion header: for connecting Arduino shields
UART interface: for connecting Bluetooth module, to control the robot remotely via Bluetooth
SPI interface: for connecting NRF24L01 wireless module
Line tracking module interface
TLC1543: 10-bit AD acquisition chip, allows the Pi to use analog sensors
LM298P: dual H bridge motor driver chip, up to 2A current
Anti-reverse diode
Power switch
LM2596: 5V regulator
Power indicator
UART switch: turn on to enable serial communication between Raspberry Pi and Arduino
IR receiver: control the robot remotely via infrared
Raspberry Pi/Arduino selection: select the Raspberry Pi or Arduino to control the robot peripherals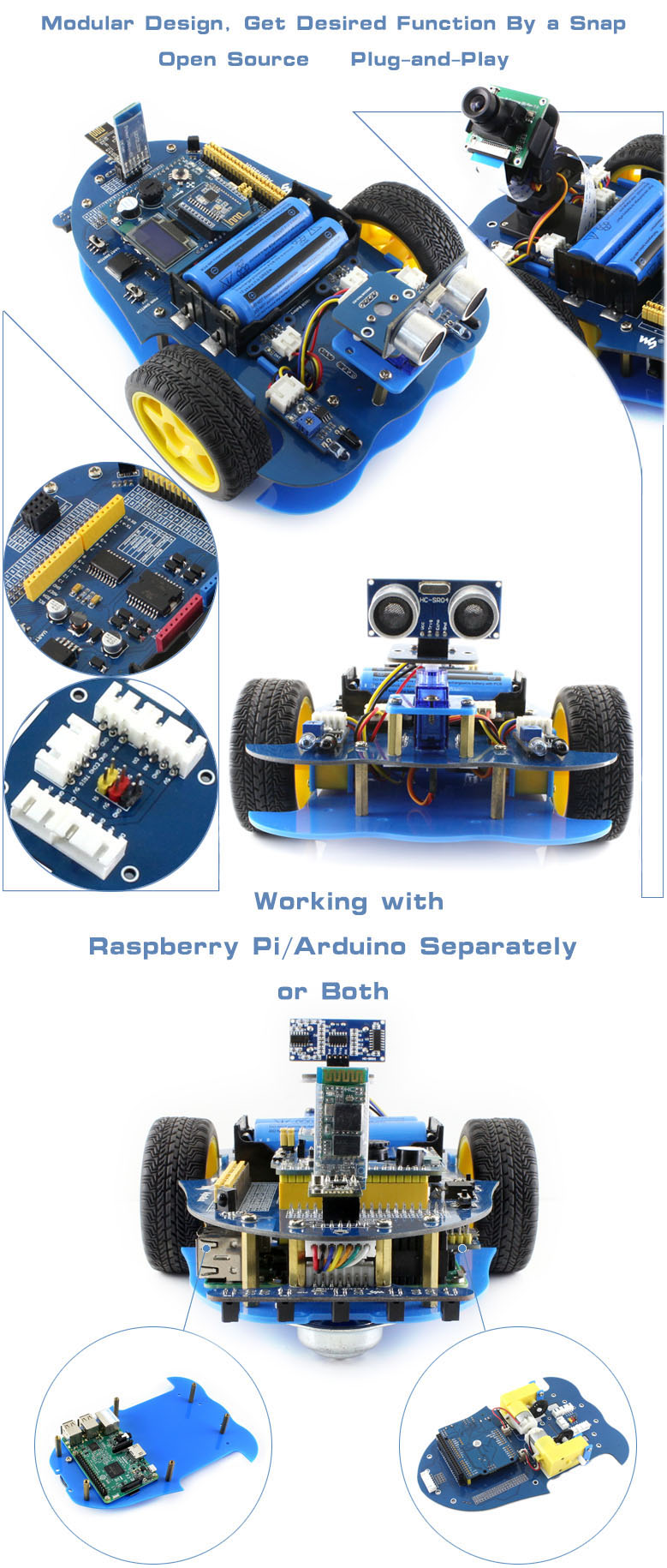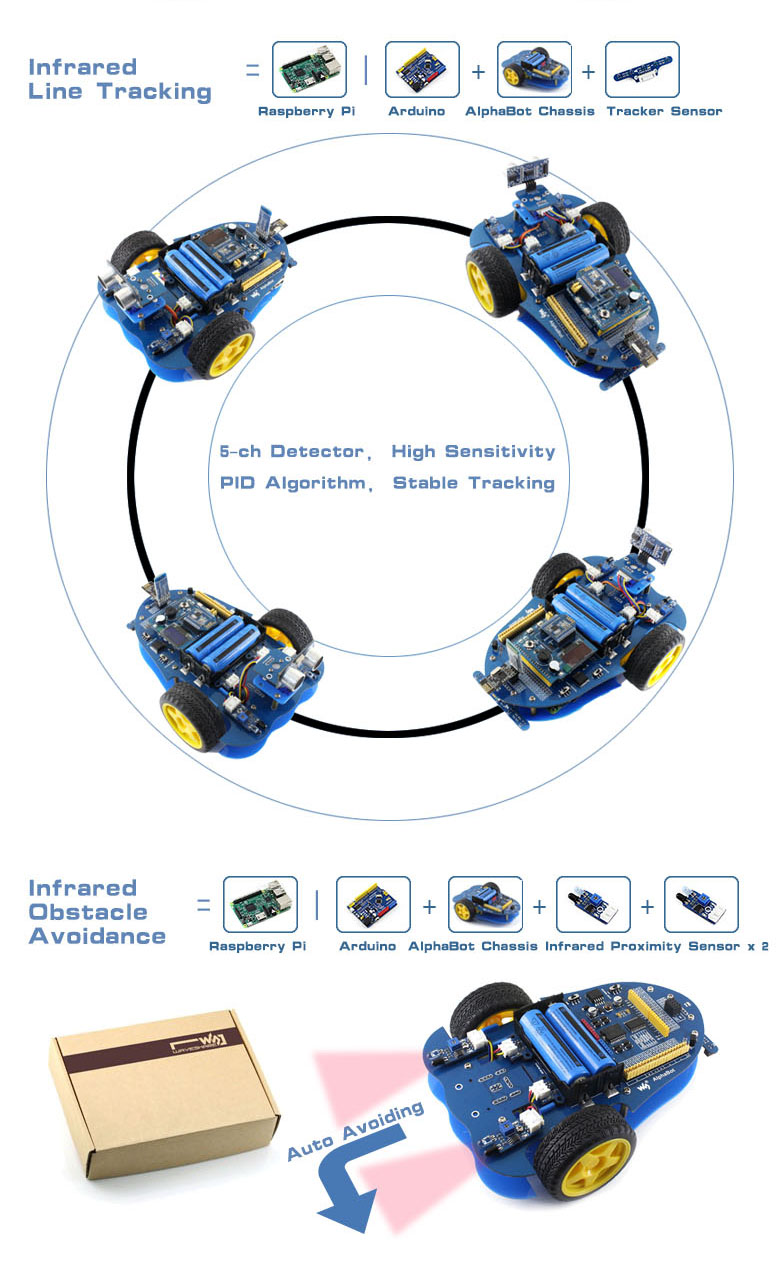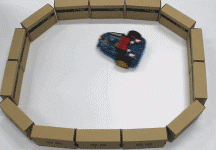 Development Resources
Mobile robot development platform, compatible with Raspberry Pi/Arduino