Search
Search Criteria
Products meeting the search criteria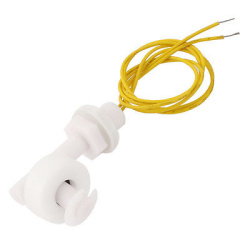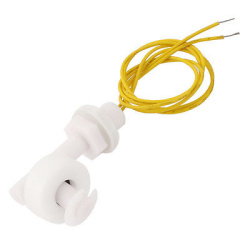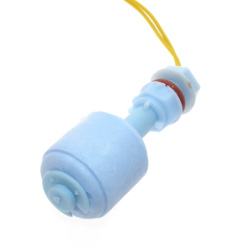 PP Liquid Water Level Sensor Vertical Float Switch Down White (straight float level)
Description :

A compact vertically mounted float switch which can be mounted at either the top or bottom of a tank (by the supplied 'O' ring and nut) to either rise or fall for activation (internal magnet) of a sealed reed relay.
The sensor is supplied pre-wired with flying output leads.
Float switch is a used to sense the level of liquid within a tank, used to activate a pump, an indicator, an alarm or other device.

Use them with hydroponics, saltwater tanks, freshwater tanks, gardening, aquariums for power head control, pet bowls, fish tanks, filtration, heating, or what ever your project may be
Contains no mercury
Down float switch

Specifications :


Maximum Load: 50 W
Max Switching Voltage: 100V DC
Minimum Voltage: 250V DC
Maximum Switching Current: 0.5 A
Max Load Current: 1.0 A
Max Contact Resistance: 0.4 Ω
Temp Rating: -20~ 80℃
Net Weight: 12g
Material: PP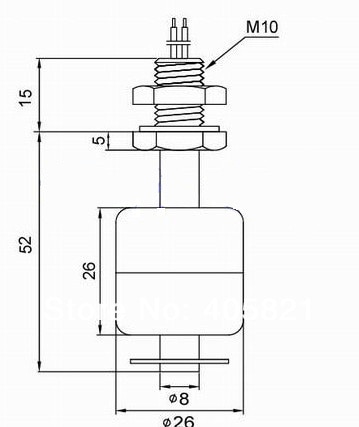 Package includes :
1 x Liquid Float Switch
Resources:
Python library
Introduction to Buttons and Switches
Types of buttons and switches
Tank Float Switch Water Level Controller Sensor (Tank Float switch)
Description:
A float switch detects the level of a liquid in a tank or container. It floats on top of the liquid surface and acts as a mechanical switch as the liquid level goes up or down. They control devices like pumps (pump water in or out), valves (open or close inlet/outlets), or alarms to notify users.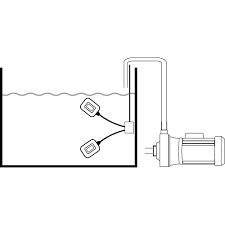 Specifications:
Shape: Square
Contacts: NO NC
Rated voltage: 250V(380V)
Rated current: 8A(4A)
Working temperature: 0℃<=water temperature<=65℃
Mechanical endurance: ≥100,000times
Electrical endurance:≥50,000times
Cable length: 1.9m / 74"
Environment: pool, water tank/dam
Control level difference > 40cm
Features:
Easy to use, easy to install,
Safe, reliable, maintenance-free, non-toxic and environmentally friendly.
Package includes:
1 x Float Switch Liquid Level Controller Sensor