Search
Search Criteria
Products meeting the search criteria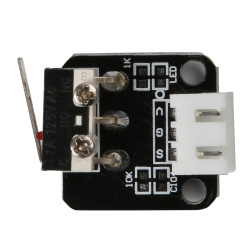 Limit Switch AC 250V 5A Adjustable Rotary Roller Lever (limit switch adjustable)
Description:
A limit switch is an electromechanical device operated by a physical force applied to it by an object. Limit switches are used to detect the presence or absence of an object. These switches were originally used to define the limit of travel of an object, and as a result, they were named Limit Switch.
Limit switches are used to prevent a machine from running into the end of its travel and getting damaged. On a small hobby mill, limit switches can also be used for homing a machine. Most commonly used in a variety of CNC machinery
Specifications:
| | |
| --- | --- |
| Name | Overtravel-limit switch |
| aterial | Resin, Plastic, Metal |
| Total Length | approx.4.92' |
| Lever Arm Length | approx.10cm / 3.93" |
| Voltage Rating | AC 250V 5A; DC 115V  0.4A |
| Color | Blue |
| Actuator Type | |
| Actuator Action | Momentary |
| Features | Waterproof, dustproof. |
Application:
Widely used in various types of machine tools and lifting machinery, to control the distance of run, and
protect the terminal limit.
Package Includes:
1 x Limit Switch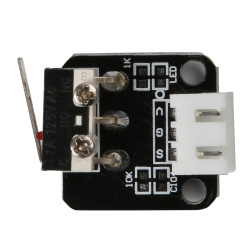 Creality Limit Switch 3D Printer part (creality limit switch)
High Quality Limit Switch for CNC machines or 3D Printers. These End Switch Modules are Creality Original spares to replace broken or faulty limit switches on all three axes
Compatible printers:
Creality
RepRap
Makerbot
Prusa
Mendel
RAMPS 1.4 Board
What's in the box?:
1 x Creality Limit Switch