Search
Search Criteria
Products meeting the search criteria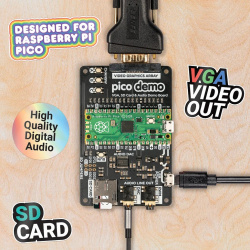 Pimoroni Explorer HAT PRO (Explorer hat pro)
Please note: Raspberry Pi not included

The Explorer HAT and Explorer HAT Pro are the perfect prototyping side-kicks for your Raspberry Pi!
We've added a heap of useful input and output options that will take your projects to the next level. Great for driving motors, using analog sensors, interfacing with 5V systems, and touch (even fruit based!) interfaces.
It's compatible with Raspberry Pi 2, Pi 3, B , and A and comes fully assembled.
Features:
Four buffered 5V tolerant inputs
Four powered 5V outputs (up to 500mA!)
Four capacitive touch pads
Four capacitive crocodile clip pads
Four coloured LEDs
PRO ONLY Four analog inputs
PRO ONLY Two H-bridge motor drivers
PRO ONLY A heap of useful (unprotected) 3v3 goodies from the GPIO
A mini breadboard on top!
5V tolerant inputs - Hook up your Pi to accept input from 5V systems (like Arduino Uno/Leonardo or 5V Trinkets). We've used a 5-channel buffer that will accept anything from 2V-5V as logic high.
5V powered ouputs - The onboard darlington array can supply up to 500mA per channel (but you'll be limited to driving around 1A total from the board). Ideal for stepper motors, solenoids, and relays.
Eight capacitive inputs - Four along the front edge for touch input (labelled 1, 2, 3, 4) and four up the side for attaching crocodile clips to objects (such as fruit, or tin foil) for experimentation!
Four coloured LEDs - Independently controllable LEDs (red, green, blue, and yellow) that make great status indicators.
Four analog inputs (pro only) - A tidy way to integrate analog signals into your project.
Two H-Bridge motor drivers (pro only) - Drive two 5V motors bidirectionally with up to 200mA per channel. Ideal with our micro-metal gear-motors to create the perfect little buggy! You can even soft-PWM for full speed control.
Full Python library, documentation and examples - Head on over to our GitHub to find a Python library, examples, documentation and a brief introduction to Explorer HAT: https://github.com/pimoroni/explorer-hat
Pimoroni - Coupé 7" Touchscreen Display Frame (Stand Display Red Coupe)
Description:
Protect your new 7" Raspberry Pi Touchscreen with this lovely little display frame from Pimoroni! Designed with a slimline profile, it's perfect for keeping your Raspberry Pi screen upright, and at an ideal viewing angle!
Please note: Raspberry Pi Touchscreen and Raspberry Pi are not included
Pimoroni's Touchscreen Display Frame Features:
Slim profile made up of only 3 layers keeps the screen protected
2 Legs hold the screen at an ideal viewing angle
Provides support and protection to the back of the screen
All Raspberry Pi Ports accessible
Leaves touchscreen free for touching
No tools required for assembly
What's in the box?:
1 x touchscreen Display Frame
Assembly screws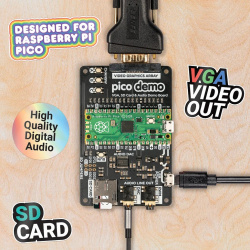 Pimoroni Pico VGA Demo Base (Pico VGA Demo Base)
Description:
Built especially to showcase the low cost, feature-rich RP2040 chip on the Raspberry Pi Pico, this board has VGA output, an SD card slot, digital I2S audio output, and more!
Based on the reference design by Raspberry Pi, our Pimoroni Pico VGA Demo Base is a great way to start experimenting with Raspberry Pi Pico/RP2040. It's the perfect way to demo of some of the fun things you can achieve with the RP2040 microcontroller such as generating a solid VGA output without taxing the CPU at all!
Amaze your friends by showing them you still own a D-sub cable!
Bask in the glory of 15-bit analog video!
Get teary eyed over the warm, authentic, RC filtered PWM audio!
This board will run the various video example programs that Raspberry Pi have put together to demonstrate features of the RP2040.
Please note that VGA Demo Base only currently works with the C/C Pico SDK!
A Raspberry Pi Pico is not included - click here if you'd like to buy one!
Your Pico will need to have male headers soldered to it (with the pins pointing downwards) to attach to our add-on boards.
Features
15-pin VGA (D-sub) connector
PCM5100A DAC for line out audio over I2S (datasheet)
PWM audio output
SD card slot
Reset button
Female headers to install your Raspberry Pi Pico
Three user-controllable switches
Rubber feet
Compatible with Raspberry Pi Pico
No soldering required (as long as your Pico has header pins attached)
Programmable with C/C
Getting started
The pin-out of our board is the same as Raspberry Pi's reference board, you can find it in chapter 3 of Hardware Design with RP2040 along with more general info about the VGA reference board.
To run the audio and video examples in Raspberry Pi's experimental repos, first make sure you have up to date versions of pico-extras and pico-playground. When building the examples, you will need to specify the board configuration so that the examples use the correct pins. You can do this by creating a new build directory and then specifying the board definition when using cmake:
cmake -D"PICO_BOARD=vgaboard" ..
There's more details on about how to build applications with custom board configurations in Appendix D / page 267 of the C/C SDK documentation.
Pinout