16 in 1 Building:bit Programmable Building Block KitsDescription:
The Building:bit comes with the Super:bit Expansion board and it works with both micro:bit V1 and micro:bit V2
(micro:bit not included)

16-in-1 superkit programmable building block kit is designed based on BBC micro:bit, which is composed of Super:bit expansion board, building block servo, Building block motor, battery, and 358 building block parts.
We combine building blocks with electronic devices to bring your building blocks to life, and they can also play music and realize colorful lights. On the one hand, it allows children to learn to program. On the other hand, it can also cultivate children's practical ability and stimulate creativity by assembling building blocks.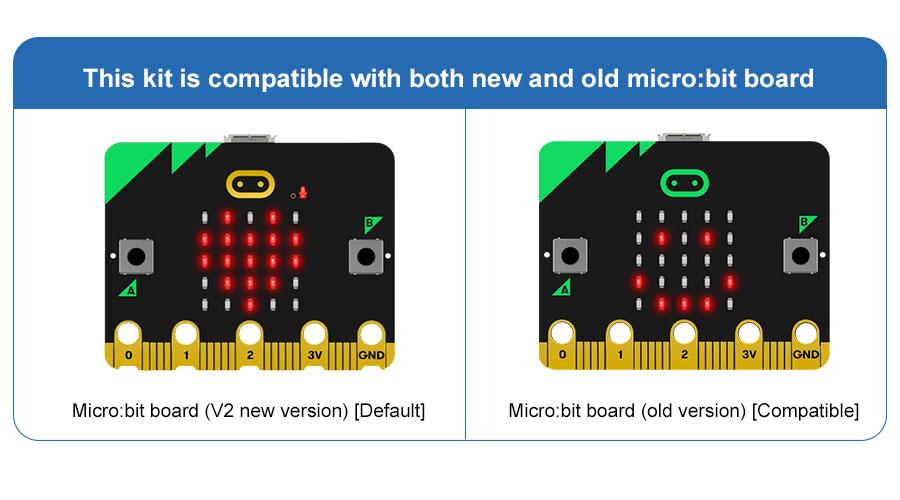 Features:
Compatible with both micro:bit V1.X and V2.
The building:bit kit is designed based on BBC micro:bit, equipped with Super:bit professional expansion board.

The most popular microcontrollers for children are suitable for STEAM education.
Super:bit expansion board specially designed for micro:bit can perfectly integrate with building blocks, build any shape, and drive building block servo, motor, RGB lights and other devices.

16 kinds of building block models full-color printing project instruction manual

The building block parts of this kit are dominated by blue and white, the whole is full of science and technology, which can be assembled into N models.
The manual includes assembly steps of 16 kinds of models and basic instruction content for programming.

MakeCode programming Python programming, suitable for users of different ages.

MakeCode programming: It can effectively reduce the learning threshold and improve children's interest in learning by dragging and splicing colorful building blocks
Python programming: A string of character commands control the building blocks, writing a wonderful chapter belonging to the Makers and building block enthusiasts.

Support App/game handle remote control

When using different equipment to interact with the building blocks, the user can experience the fun brought by technology.

Compatible with Lego building block, various gameplays

16 kinds of models with up to 80 gameplays, such as spider walking, helicopter propeller rotation, car wriggling, cannonball shooting, etc.
Users can also expand through more Lego bricks and build more interesting shapes.

Programming language: MakeCode graphical programming / Python programming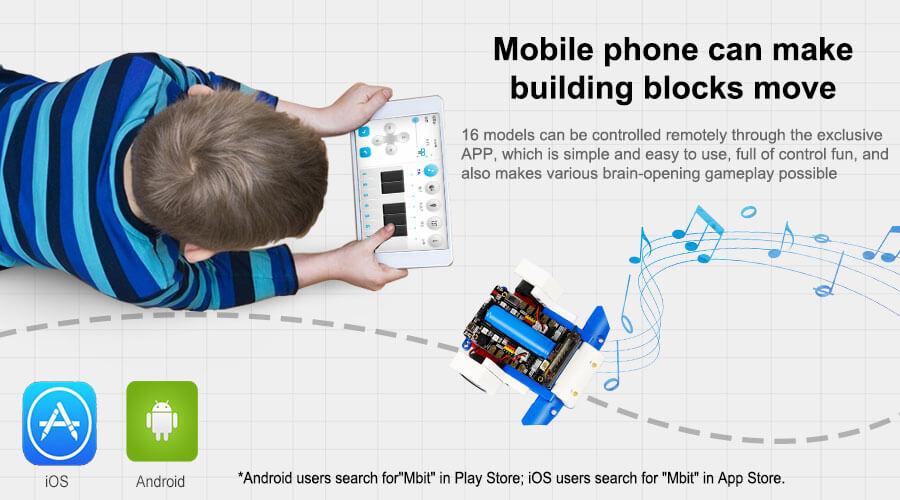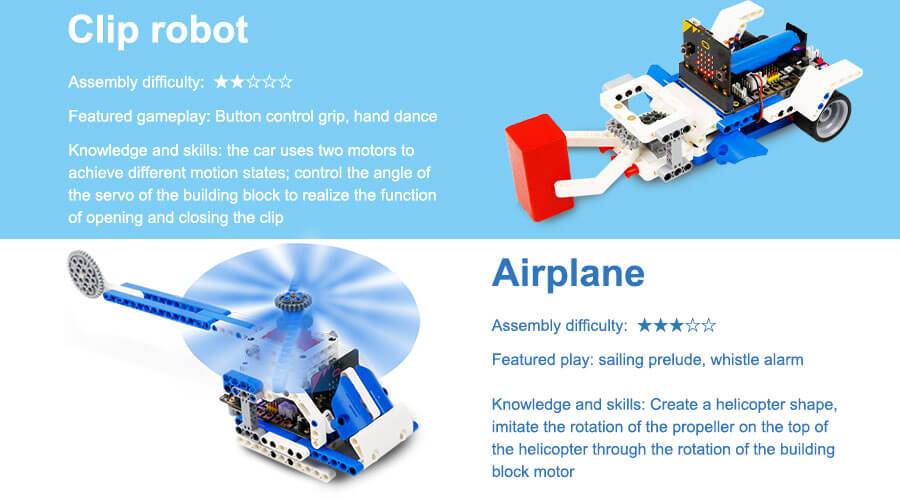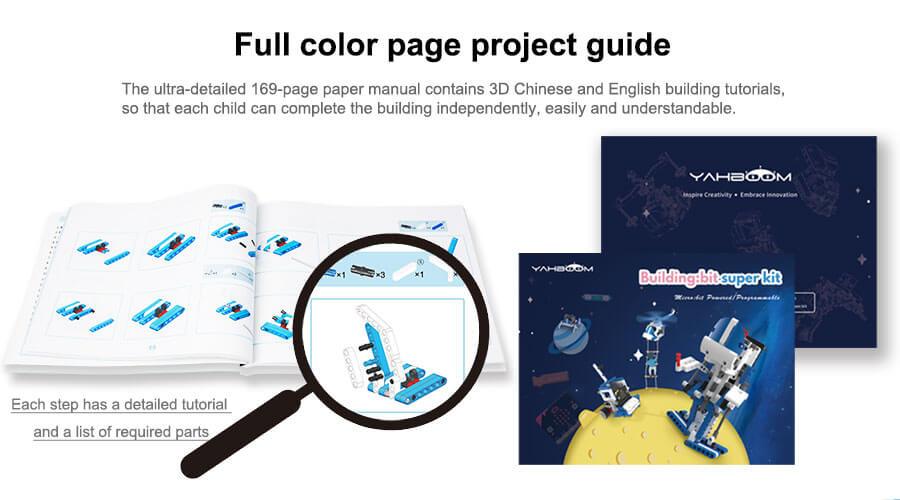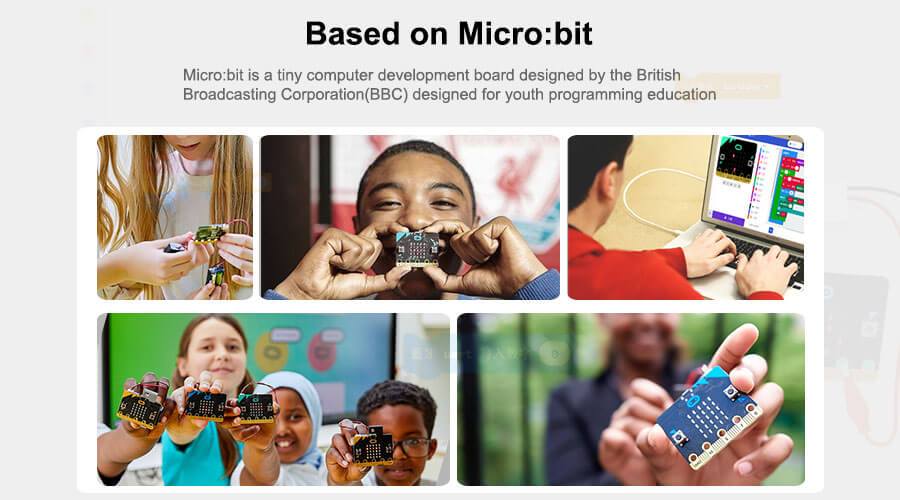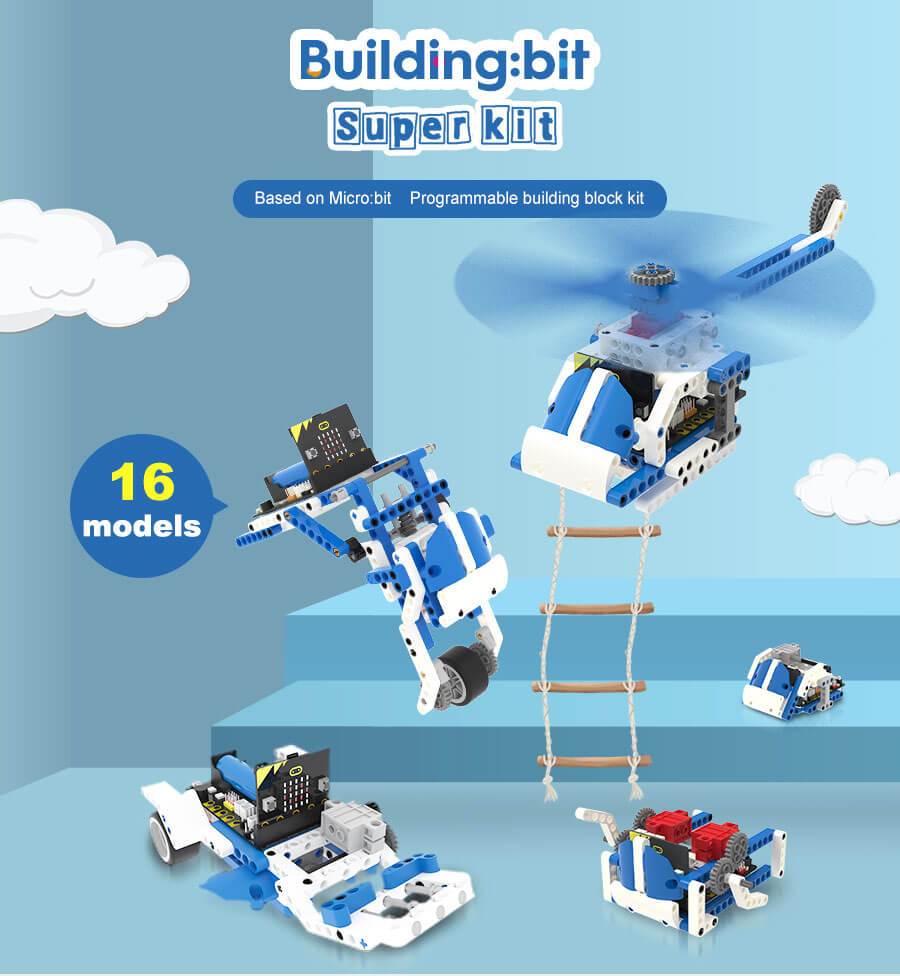 Specifications:
Remote control method: APP/micro:bit gamepad
Main material: ABS
Package Weight: about 1400g
Packing box size: 288 * 213 * 68mm
Battery type: Rechargeable lithium battery
Lifetime: 120 minutes
Battery energy: 3.7V / 1200mAh
Working temperature: 4 ~ 40 ℃
Onboard function: RGB lights, buzzer, etc.
Number of building blocks: 358 high-precision building blocks
Motor / Servo: 2 motors, 1 servo
What's in the box:
1 x 16 in 1 Building:bit kit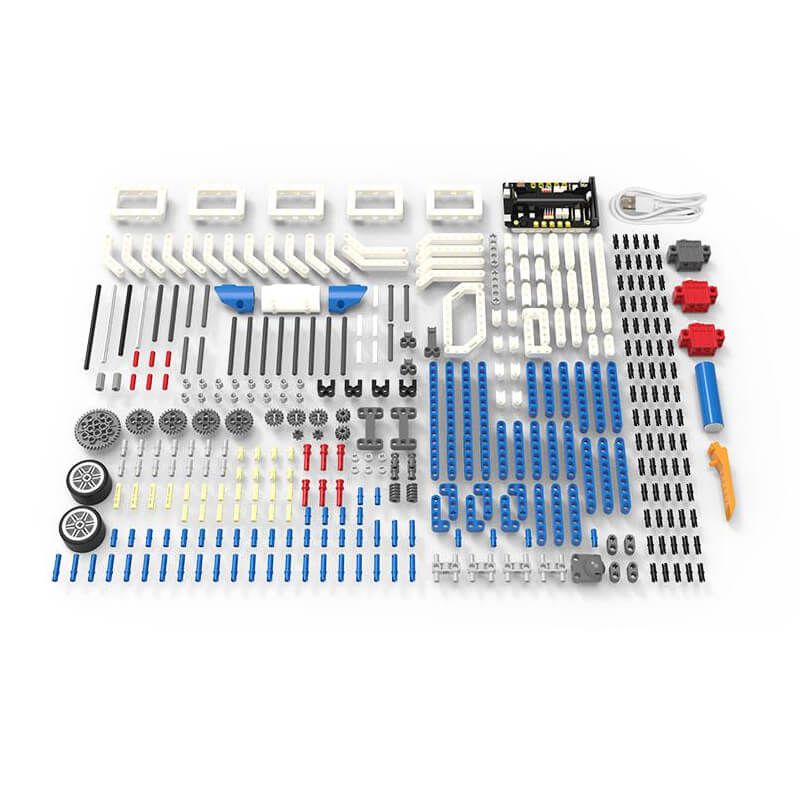 Resources: