2m Flylead RJ45 CAT6 1000Mbps Flat UTP LAN Cable for Gigabit Ethernet Blue
Description


Some questions might pop-out in our head. Can we use Gigabit cable instead of Megabit or CAT-5 cable? Yes! Of course Gigabit cable can work on Megabit or CAT-5 network. It is backward compatible with previous specifications, which means it can be effectively used with CAT-5 network.  These cables use the same end piece known as RJ-45, which is capable of connecting to Ethernet jack on a computer, router, etc. They can be plugged in to the same ports.
Besides, you can use this ethernet cable with Raspberry Pi! We have tested this ethernet cable with
Raspberry Pi 4B
and the result is incredible. Just plug-in and you can use it.
Here is the iperf3 test result with Raspberry Pi 4B as server and another Raspberry Pi 4B as client. It reaches 940mbps, and that if what you expect for Gigabit Ethernet. (WiFi is disabled for both the RPi 4B)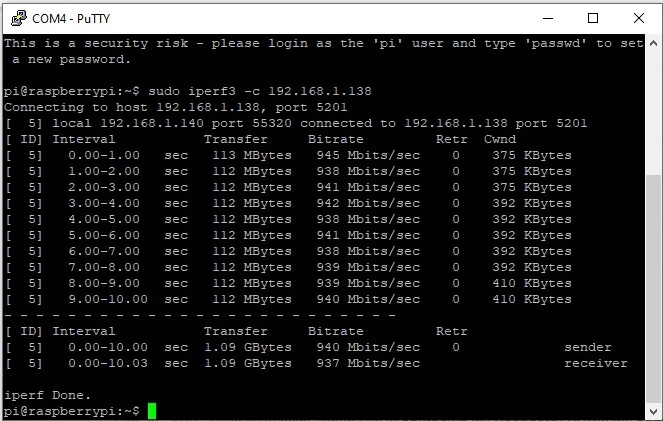 Features:
Has better performance
Designed for home and office network
Backwards compatible with CAT-5e and CAT-5 environment
RJ45 connectors at both ends of the cable
Compatible on most devices. e.g: Computer, router, etc
Specifications:
Type: CAT6 Flat Gigabit Ethernet cable
Data speed: Up to 1 Gbps
Transmission frequencies: Up to 250 MHz
Colour: Skyblue
Length: 2 meters
What's in the box?
1 x RJ45 CAT6 Flat LAN Cable 2m