52Pi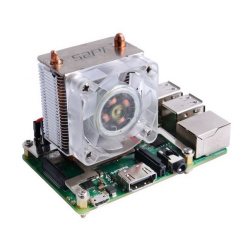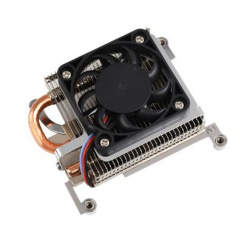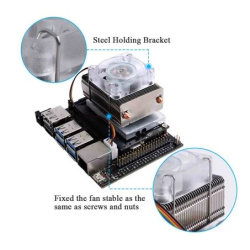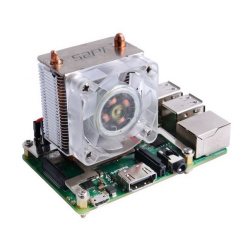 ICE Tower CPU Cooling Fan for Raspberry Pi 3/4 (ICE tower)
Please Note: Raspberry Pi is not included. Picture is for illustration purpose only

Meet this super ICE Tower CPU Cooling Fan for Raspberry Pi! Tower structure, 5mm copper tube, multi-layer heat sinks, 7 blades powerful fan, all the above combinations make this super radiator for Raspberry Pi. In the case of overclocking, it can reduce the temperature of the Raspberry Pi from 80℃ to 48℃. What amazing! Best of all, this cooling fan supports the new Raspberry Pi 4 Model B. In our actual use, we found that Raspberry Pi 4 has a large amount of heat. with the help of this super fan, the powerful performance of the Raspberry Pi 4 will be fully released.

Please Note

In the heat dissipation test mentioned above, the temperature was lowered from 80 ° C to 40 ° C. The test conditions are as follows: 1-Room temperature 25 ° C  / 2- Apply silicone grease directly to the heat sink and processor chip  / 3- Raspberry Pi 4 processor

If you use the thermal conductive tape included, you can reduce the temperature from 80 ° C to 48 ° C under the same conditions. It can be seen that the use of silicone grease is better. If you want to achieve the best heat dissipation, we recommend that you purchase silicone grease.

Video available at https://youtu.be/l5IFD2wq_gA

Features
DC 5V Power in (Can be powered by the Raspberry Pi) 
Ice Tower Structure
5mm copper tube
Super heat dissipation
Rated power 0.4W @5V, 0.08A
What's in the box?


2 x Steel Mounting Fixer (Fit for Raspberry Pi 3B
2 x Steel Mounting Fixer (Fit for Raspberry Pi 4B)
1 x Ice tower CPU fan
4 x M2.5x6 copper columns
2 x M2x4 screws
4 x M2.5x4 screws
4 x Nuts
3 x Thermal Conductive Tape
1 x Screwdriver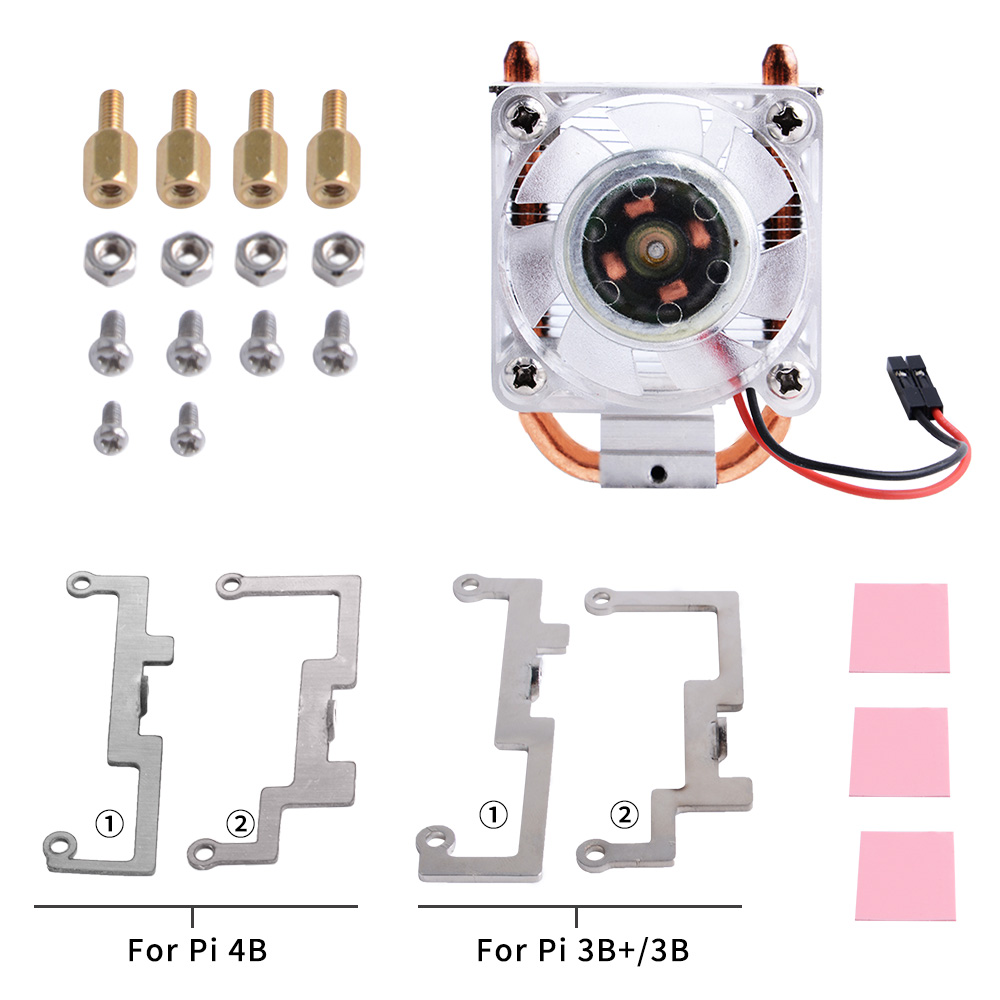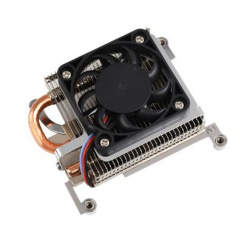 Ultra Thin ICE Tower Cooling Fan For Raspberry Pi 4B, 4.5mm Copper Tube, adjustable speed (Ultra Thin ICE)
Ultra Thin Ice Tower Cooler

for Raspberry Pi 4B
Ultra Thin, Tower-style, Speed-Adjustable Fan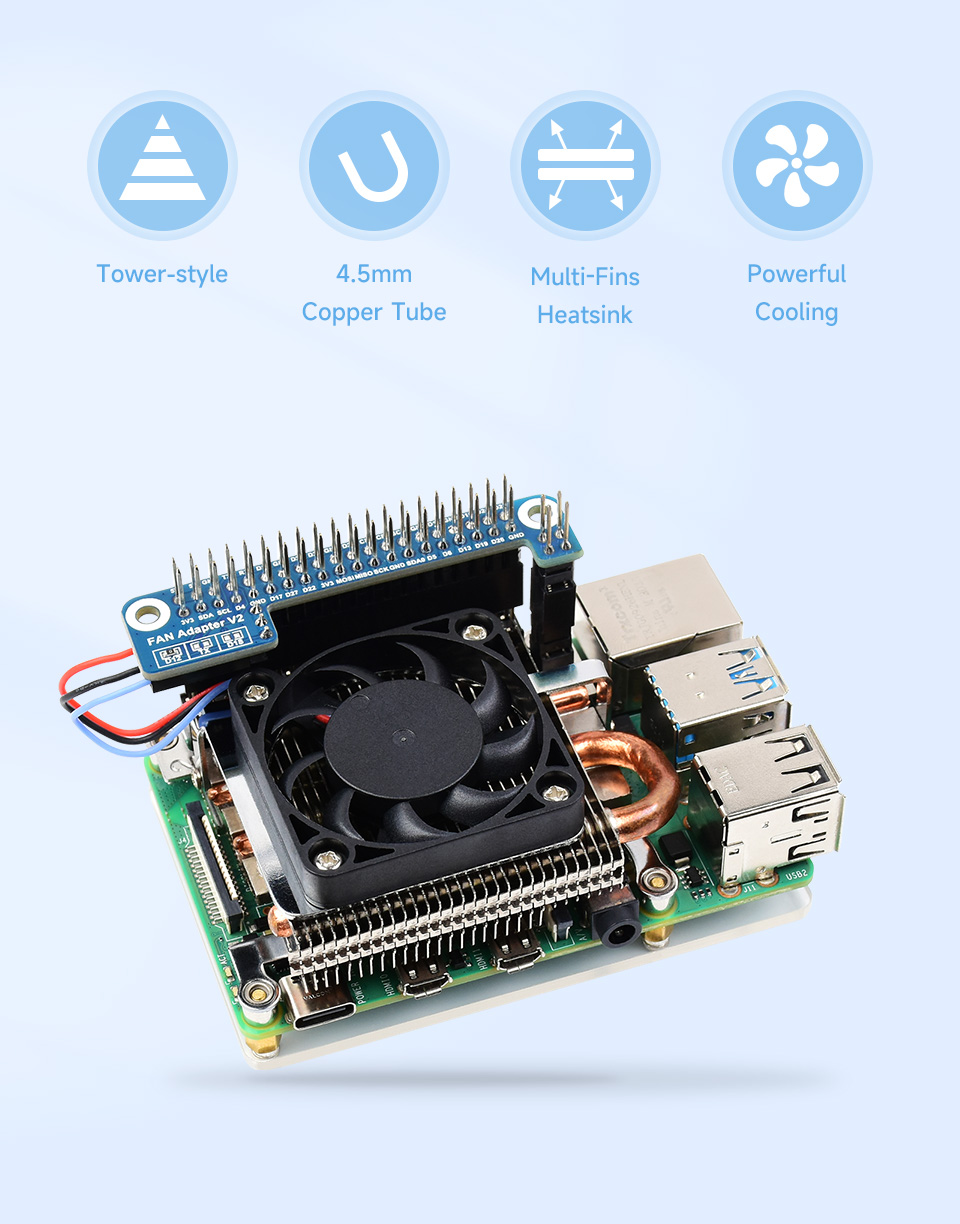 for reference only, Raspberry Pi4 is NOT included. 


Specifications


| | |
| --- | --- |
| Supported Pi | Raspberry Pi 4B |
| Power supply | DC 5V input (can be powered from Raspberry Pi) |
| structure | ICE Tower-style, 3x4.5mm copper tube super heat dissipation |
| rated power | 0.6W @5V, 0.12A |
| Fan | 4007 fan, 5300±10% RPM |
Attaching To The Raspberry Pi 4B
Optional female pinheader and FAN adapter V2 are available to facilitate expansion modules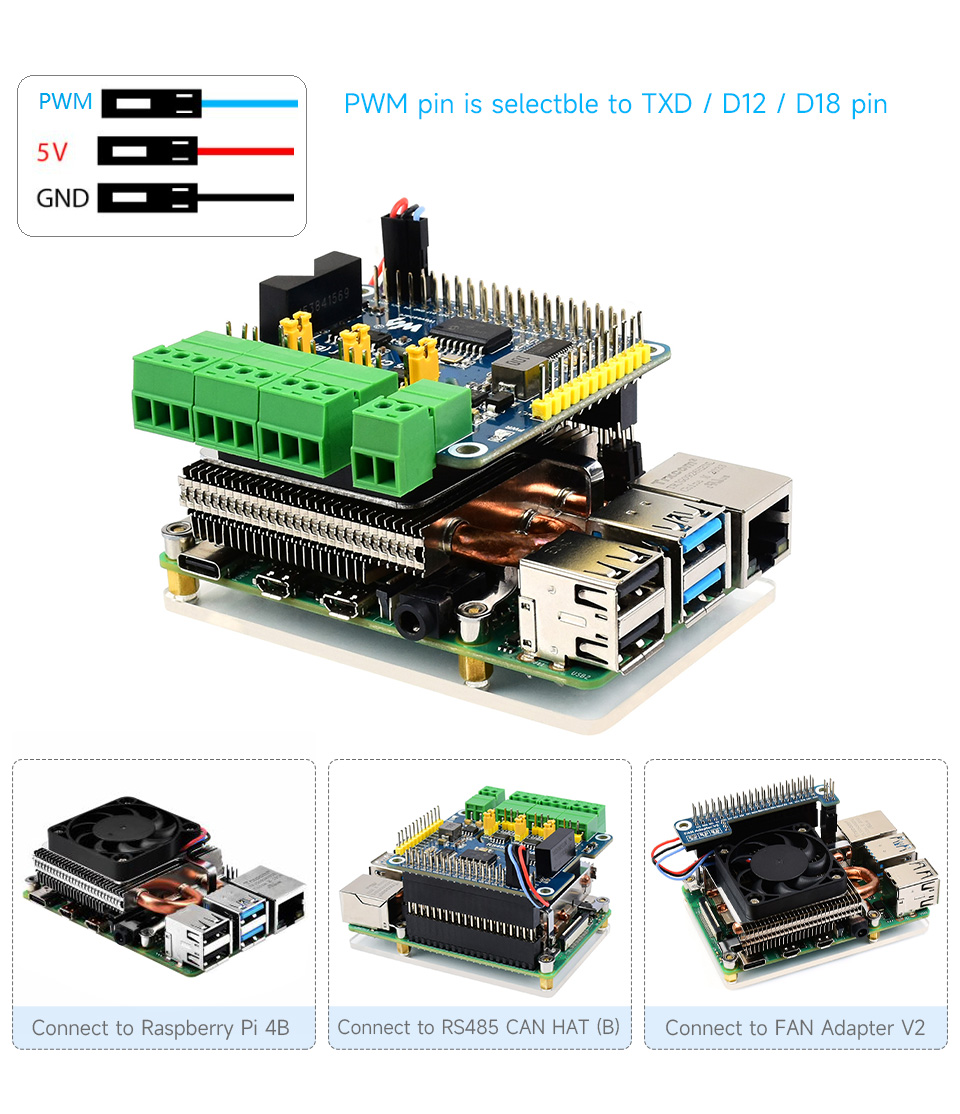 for reference only, Raspberry Pi 4B and RS485 CAN HAT (B) are NOT included. 


Ultra thin, easier to embed
With the same cooling effect, the size is thinner and lighter than
ICE Tower Fan for Pi and ICE Tower Fan V2 for Pi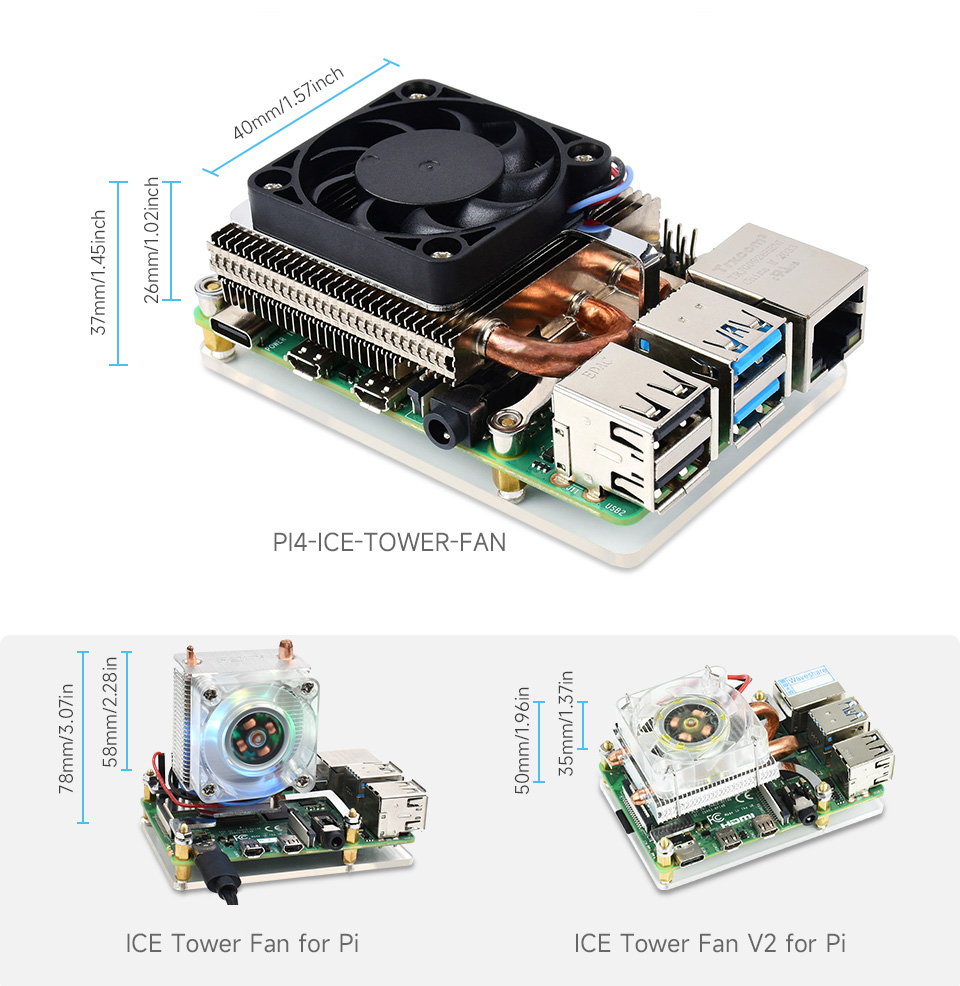 Structure of the heat dissipation system
PWM Speed-Adjustable Fan and 3x4.5mm Copper Heat tube, provide effectively excellent heat dissipation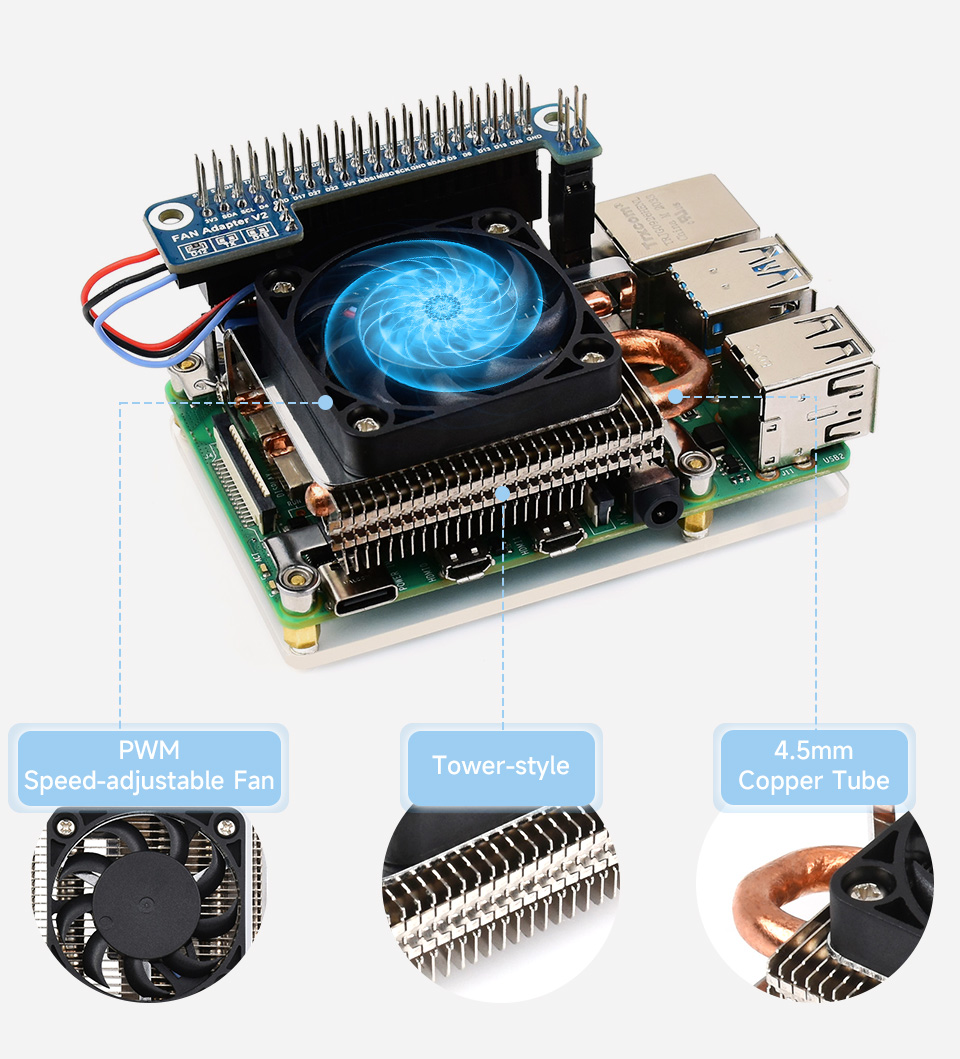 Fast Cooling
Maintain CPU Temperature Below 45°C Even In Extreme Overclocking Conditions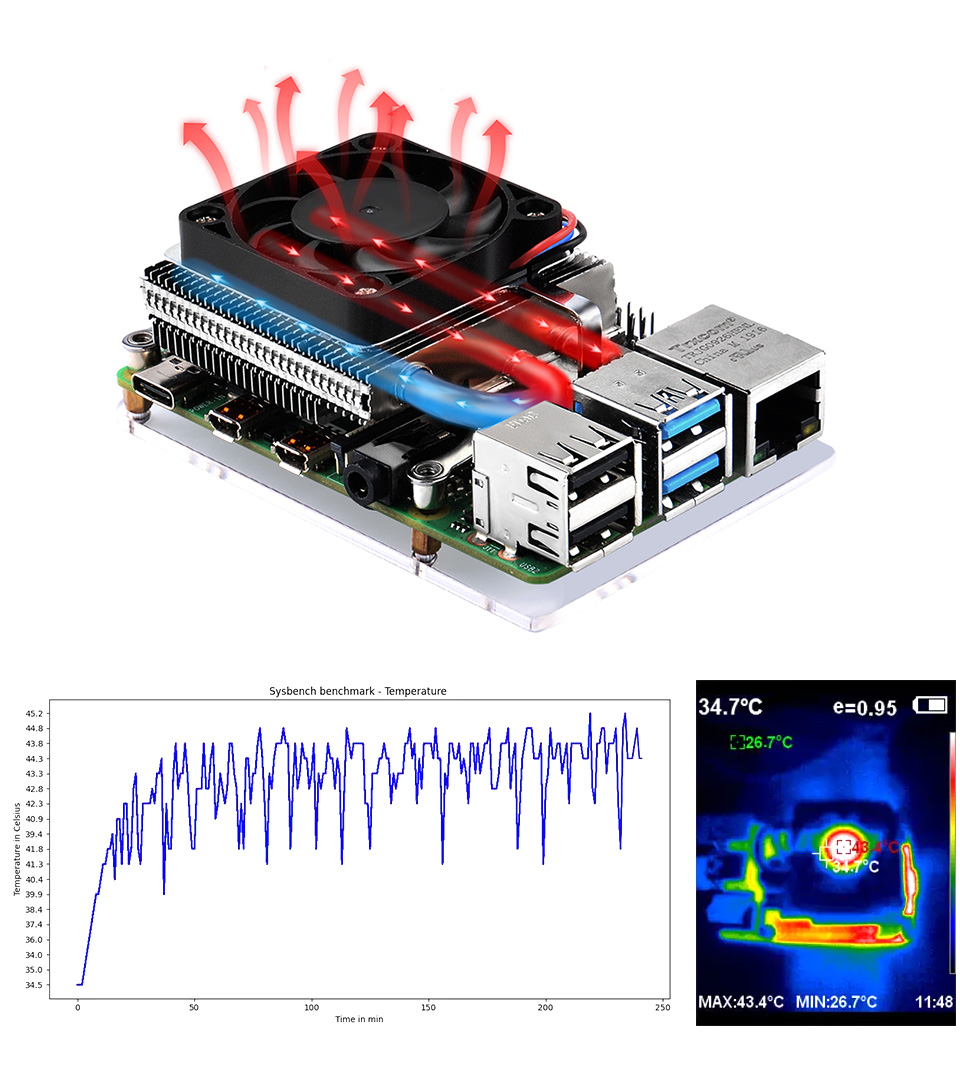 How to install (The fan adapter is included with this product)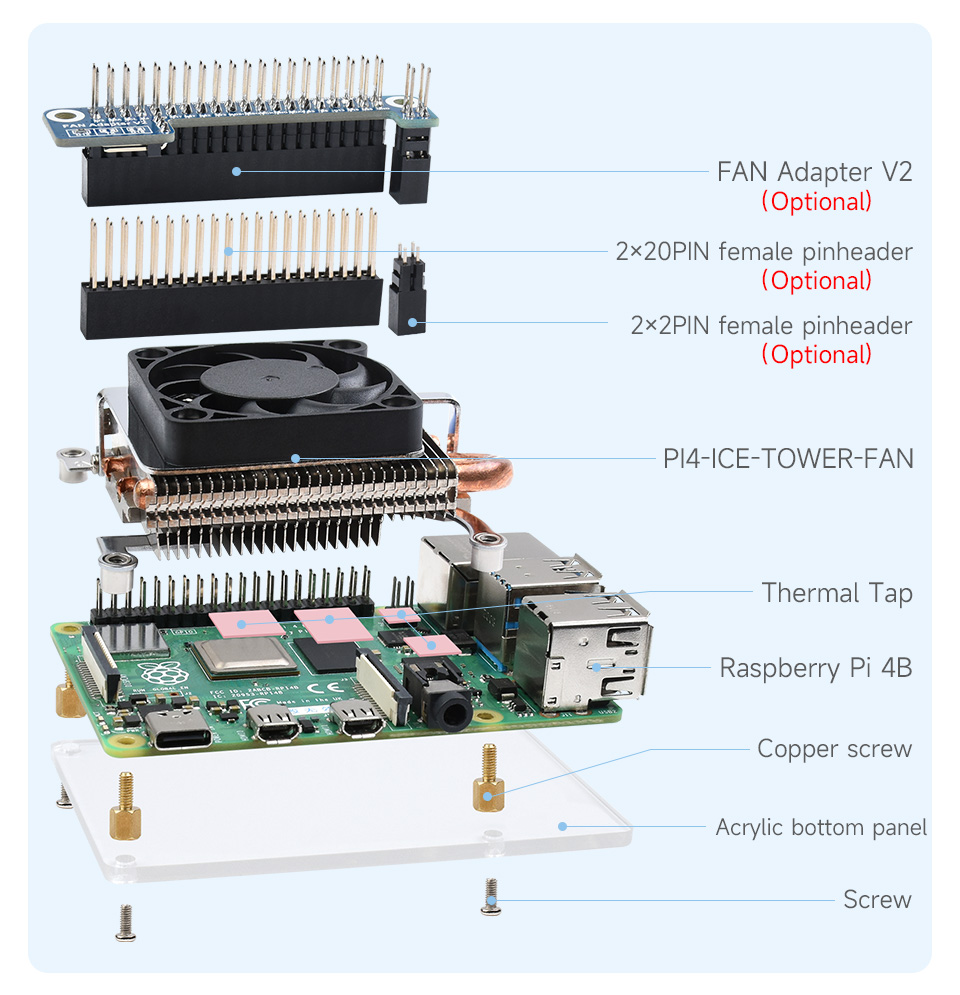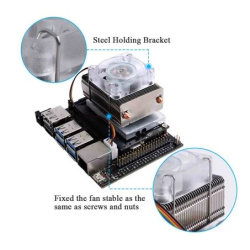 ICE Tower CPU Cooling Fan for NVIDIA Jetson Nano (ICE tower Jetson)
The 52Pi ICE tower cooling fan for jetson Nano is horizontal LED colour fan radiator is a very cool radiator. Its base is made of aluminium processed by CNC, which has fast heat dissipation. It support PWM speed regulator and seven colour led heat dissipation fan.
Extreme heat dissipation
Easy to assemble
What's in the box?
1 x ICE Tower cooling with fan
The Jetson Nano is not included!Resources
Specs and Instructions