Animatronic Head Kit for micro:bit
Description:
This kit contains everything you need (except a micro:bit and batteries) to make an animatronic head with two moving eyeballs and sound from a loudspeaker.
The kit includes software for three simple projects, but we also hope that you will use this kit to write you own programs and you can also add to the basic head mechanism and build it into something even more fun.
Specifications: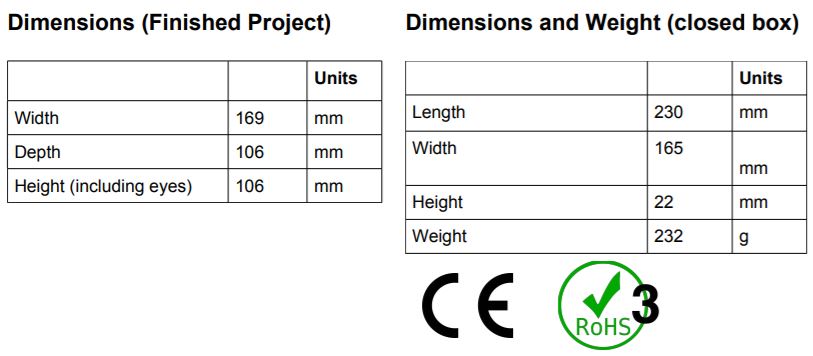 What's in the box ?
1 x Servo for micro:bit
1 x speaker for micro:bit
2 x 9g micro servomotors
1 x 3 AA battery box 
1 x Alligator clip leads (10 Leads)
2 x Ping-pong balls with servo connector
1 x Laser-cut acrylic piece marked A (front)
1 x Laser-cut acrylic piece marked B (back)
1 x Laser-cut acrylic piece marked C (top)
1 x Laser-cut acrylic piece marked F (base)
2 x laser-cut acrylic piece marked D (spacers)
1 x Laser-cut acrylic piece marked E (pegs)
1 x M3 steel nut and bolt pairs
1 x M2 plastic nut and bolt pairs
1 x Small screw-driver
1 x Spanner
(* micro:bit & Batteries NOT INCLUDED)


Resources :

- Instructions (PDF)
- Data Sheet (PDF)
- High Res images (Google Drive)