Dual USB 5V 2.4A Type-C LED USB Mobile Power Bank 18650 Charging Module
Description:
This module is the perfect starting point if you are looking to build your own power bank.
This module is ideal for 18650 batteries, 65mm long with the flat top. In the event that you use:
old batteries
different capacities
differnet brands
Please ensure that they are at least above 3.5V each
Not ideal to be used on batteries that have been too far depleted.
After the battery is installed, plug in the charger to activate the battery before use.
The real world conversion rate of a new "real capacity" battery is about 80%. Because ther is a line loss of the connection line. Estimation of mixed batteries or "budget" batteries are near impossible to estimate.
For peak use, first allow the battery to fully discharge before charging it.
Note: Reversing the polarity of the battery will burn the module.
Specifications:
Switch Charging
Internal 2A charging current
Charging efficiency up to 90% @ 2A
Charging swtch frwquency 1MHz
Trickle/constant current/constant voltage three-stage charging
Charging current Adaptive adapter function
Charging current Temperature adjustment function, charging current automatically decreases with the increase of temperature
C/10 charging terminates
Intergrated charge overvoltage protection and battery overtemperature protection
Synchronous boost output 5.1V
Discharge switch frequency 50OKHz
Discharge efficiency up to 94%
Automatic identifiation of load, load automatically shut off
Original boost output heat regulation function
Protection of over current, short circuit, over voltage and over tepmperature of discharge module
Long press the switch, wake up the motherboard, charge the charging time of the phone, press the switch, the output can be turned off, the motherboards stops working.
MaIn board size: Thickness 9 * Width 25 * length 67 mm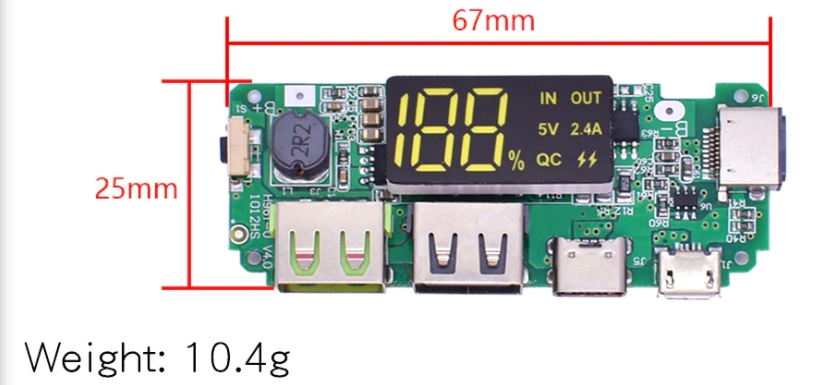 What's in the box?
1 x Power bank type charging module