Ethernet Control Module With 8 CHs Relay Board For LAN WAN WEB Server RJ45
Overview:
This is an Ethernet Controller board based on Imatic system which is compatible with the 8 Channel relay board(included). 
Using the Controller module and the 8 Channel relay board, you can control up to 8 devices remotely on LAN or WAN. 
The Ethernet Controller board has an integrated web server. When you are in your office, you just need to open the page on your computer, pad or smartphone and control your devices eg. lights, air-conditioning or refrigerator in your home.

Features:
Control switches remotely together with 8 Channel relay.

RJ45 interface, via RJ45 telecommunications connection for network control.

Support for 8 Channels relay which means you can control 8 different devices at the same time.

Unique dual TCP connect control, corresponding with above trait, local as TCP server

Accepts client control, when connect to remote server as TCP client

Supply core module detailed information.

Default IP: 192.168.1.4 port:30000       http://192.168.1.4/30000    (You can change the default IP address)
HTTP comments:
http://192.168.1.4/30000/00 : Relay-01 OFF
http://192.168.1.4/30000/01 : Relay-01 ON
http://192.168.1.4/30000/02 : Relay-02 OFF
http://192.168.1.4/30000/03 : Relay-02 ON
http://192.168.1.4/30000/04 : Relay-03 OFF
http://192.168.1.4/30000/05 : Relay-03 ON
http://192.168.1.4/30000/14 : Relay-8 OFF
http://192.168.1.4/30000/15 : Relay-8 ON
http://192.168.1.4/30000/41 : Enter
http://192.168.1.4/30000/40 : Exit
http://192.168.1.4/30000/42 : Next Page
http://192.168.1.4/30000/43 : Next Page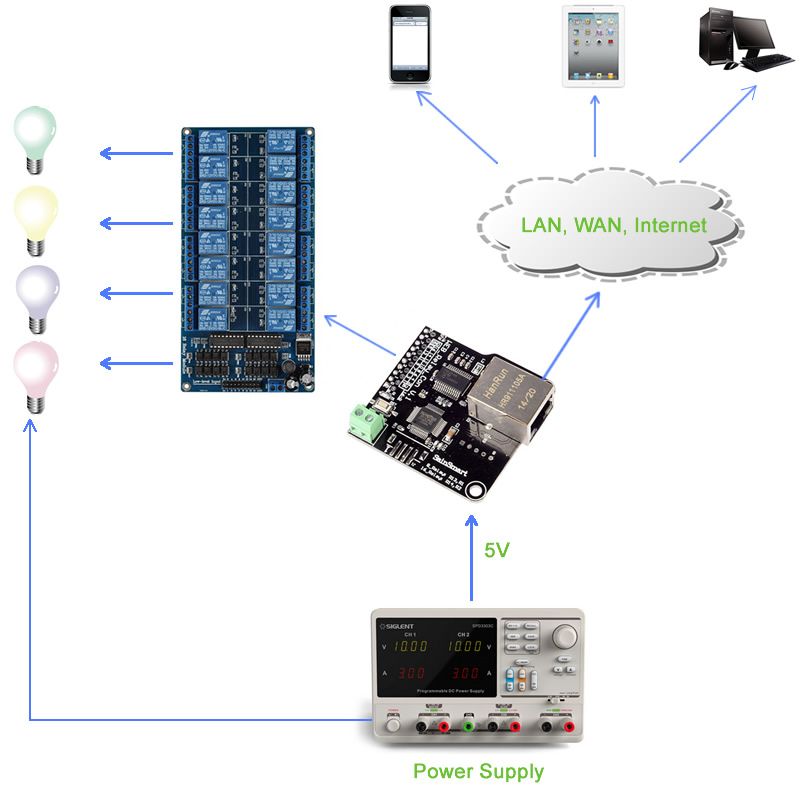 Package includes:

1 x Ethernet Control Module
1 x 8 CH Relay