Gyro/Accelerometer
Gyro/Accelerometer Sensors
GY-BNO055 9DOF 9-axis BNO055 Sensor (9 axis sensor)
Description:
Bosch Sensortec BNO055 Intelligent 9-Axis Absolute Orientation Sensor is a System in Package (SiP), integrating a triaxial 14-bit accelerometer, a triaxial 16-bit gyroscope with a range of ±2000 degrees per second, a triaxial geomagnetic sensor and a 32-bit ARM Cortex M0 microcontroller running Bosch Sensortec sensor fusion software, in a single package. The corresponding chip-sets are integrated into one single 28-pin LGA 3.8mm x 5.2mm x 1.1mm housing. For optimum system integration the BNO055 is equipped with digital bidirectional I2C and UART interfaces. The I2C interface can be programmed to run with the HID-I2C protocol turning the BNO055 into a plug-and-play sensor hub solution for devices.
Features:
Module Model: GY-BNO055
Use the chip: BNO-055
Power supply: 3-5v (internal low voltage regulator)
Communication method: standard IIC / serial communication protocol
Module size: 12mm x 20mm 
Package Includes:
1 x BNO055 Sensor Module
Usage
:
Adafruit learning
Change -> bno = BNO055.BNO055(serial_port='/dev/ttyAMA0', rst=18)
To -> sensor = adafruit_bno055.BNO055(rst=17, address=0x60) # the address obtained with i2cdetect -y 1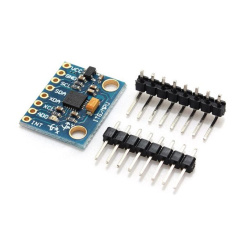 6DOF MPU-6050 3 Axis Gyro With Accelerometer Sensor Controller Module (6DOF MPU-6050 Gyro Accelerometer)
Description:

Name: MPU-6050 module (three-axis gyroscope triaxial accelerometer)
2.54mm pin spacing
MPU-6050 Accelerometer Gyro
The MPU-6050 sensor contains a MEMS accelerometer and a MEMS gyro in a single chip. It is very accurate, since it contains 16-bits analog to digital conversion hardware for each channel. Therefor it captures the x, y, and z channel at the same time.

Specifications:

16bit AD converter-chip, 16-bit data output
Use Chip: MPU-6050
Power supply :3-5v (internal low dropout regulator)
Communication: IIC communication protocol standard
Gyro Range: ± 250 500 1000 2000 ° / s
Acceleration range: ± 2 ± 4 ± 8 ± 16g
Using Immersion Gold PCB, welding machines to ensure quality
Size: 20mm x 16mm x 10mm

Application:

Motion sensing games
Augmented Reality
Electronic Image Stabilization (EIS: Electronic Image Stabilization)
Optical Image Stabilization (OIS: Optical Image Stabilization)
"Zero-touch" gestures User Interface
Pedestrian navigation
Gesture shortcuts

Market:

Smart phone
Tablet device
Handheld games
3D remote controller
Portable navigation devices

What's in the box?

1 x MPU-6050 module
Adafruit 9-DOF Accel/Mag/Gyro Temp Breakout Board - LSM9DS1 (Adafruit 9-DOF Accel)
Description
Inside the chip are three sensors, one is a classic 3-axis accelerometer, which can tell you which direction is down towards the Earth (by measuring gravity) or how fast the board is accelerating in 3D space. The other is a 3-axis magnetometer that can sense where the strongest magnetic force is coming from, generally used to detect magnetic north. The third is a 3-axis gyroscope that can measure spin and twist. By combining this data you can REALLY orient yourself.
Design your own activity or motion tracker with all the data... Adafruit spun up a breakout board that has all the extra circuitry you'll want, for use with an Arduino (or other microcontroller).
The LSM9DS1 is not the same set of sensors as the LSM9DS0. Here are some of the differences:
LSM9DS0 accelerometer has ±2/±4/±6/±8/±16 g ranges. The LSM9DS1 has ±2/±4/±8/±16 g (no ±6 g range).
LSM9DS0 magnetometer has ±2/±4/±8/±12 gauss ranges. The LSM9DS1 has ±4/±8/±12/±16 gauss ranges. So the LSM9DS0 has ±2 gauss low range where-as the LSM9DS1 has ±16 gauss high range.
LSM9DS0 and LSM9DS1 gyros both have the same ±245/±500/±2000 dps ranges.
There are other differences, for example we noticed the LSM9DS1 has slightly worse accuracy. The gyro angular zero-rate (±25 for the LSM9DS0 and ±30 for the LSM9DS1 at the highest sensing range). The accelerometer offset accuracy is ±90 mg for the LSM9DS1 and ±60 mg for the LSM9DS0.
However, these offsets may not matter for most projects and the pricing of the LSM9DS1 is lower than the LSM9DS0.
The breakout board version of this sensor has both I2C and SPI interfaces. Attaching it to the Arduino is simple, power Vin and GND with 3-5VDC, and wire up I2C data on SCL and SDA, and you're ready to go! More advanced users can use SPI, the library has support for both. The breakout comes fully assembled and tested, with some extra header so you can use it on a breadboard. Four mounting holes make for a secure connection, and Adafruit put the popular power data pins on one side, and the interrupt pins on the other side for a nice & compact breakout.
This tutorial will get you started with wiring diagrams, pinouts, assembly instructions and library code with examples!
TECHNICAL DETAILS
Product Dimensions: 33.4mm x 20.4mm x 3.0mm / 1.3" x 0.8" x 0.1"
Product Weight: 2.5g / 0.1oz