Search
Search Criteria
Products meeting the search criteria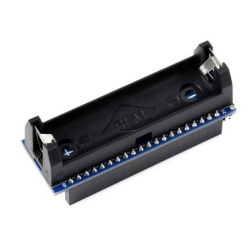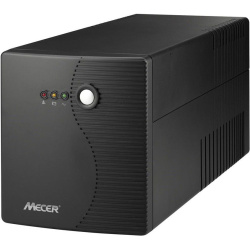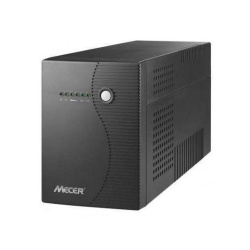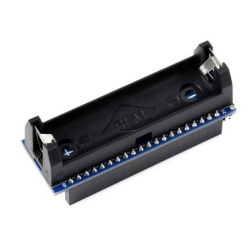 UPS Module for Raspberry Pi Pico, Uninterruptible Power Supply (WS Pico UPS)
Uninterruptible Power Supply

for Pico
Keeps your Pico running while recharging, monitoring battery status via I2C


Features at a glance
The Pico-UPS-A is a dedicated UPS (Uninterruptible Power Supply) module designed for Raspberry Pi Pico. It incorporates Li-ion battery switching charger with power path management, and voltage/current monitoring chip, allows monitoring the battery operating status via I2C bus.
Standard Raspberry Pi Pico header, supports Raspberry Pi Pico series boards
Incorporates Li-ion battery switching charger with dynamic power path management, more stable power supply
I2C bus communication, monitoring the battery voltage, current, power, and remaining capacity in real time
Multi battery protection circuits: over charge/discharge protection, over current protection, short circuit protection, and reverse protection, along with the equalizing charge feature, more safe and stable
Onboard recharging indicator, power indicator, and battery warning indicator to check if the battery is connected correctly
Comes with development resources and manual (Raspberry Pi Pico C/C and MicroPython examples)
Specifications


Recharge voltage    
 5V
Control bus
I2C
Battery support
14500 Li-ion battery

(NOT included)

Dimensions
60 × 21mm

Raspberry Pi Pico header compatibility
onboard female pin header for direct attaching to Raspberry Pi Pico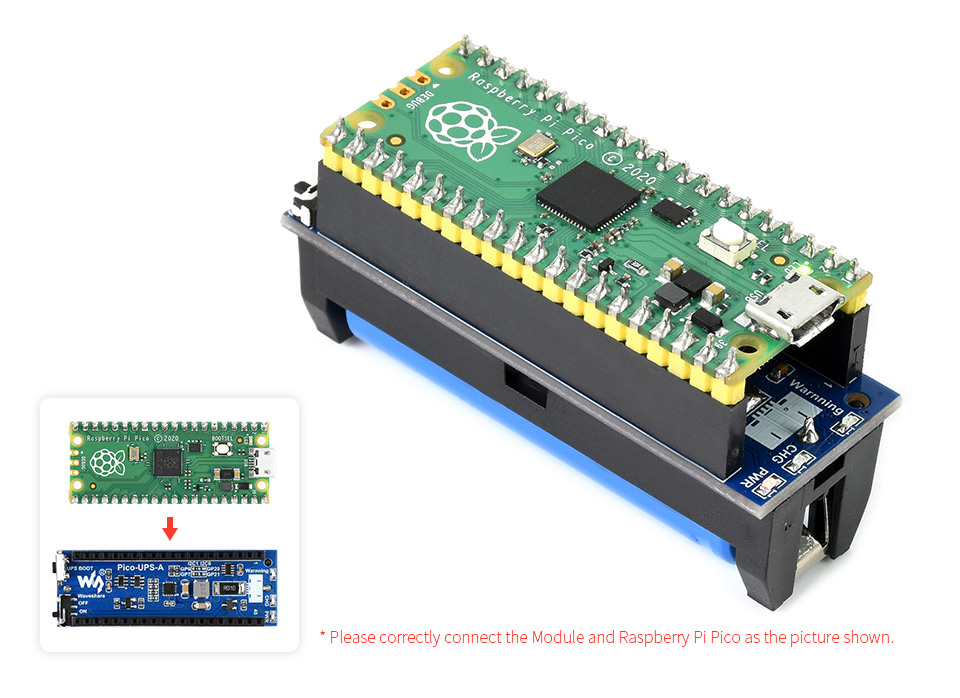 Raspberry Pi Pico and Li-ion battery are NOT included.

What's On Board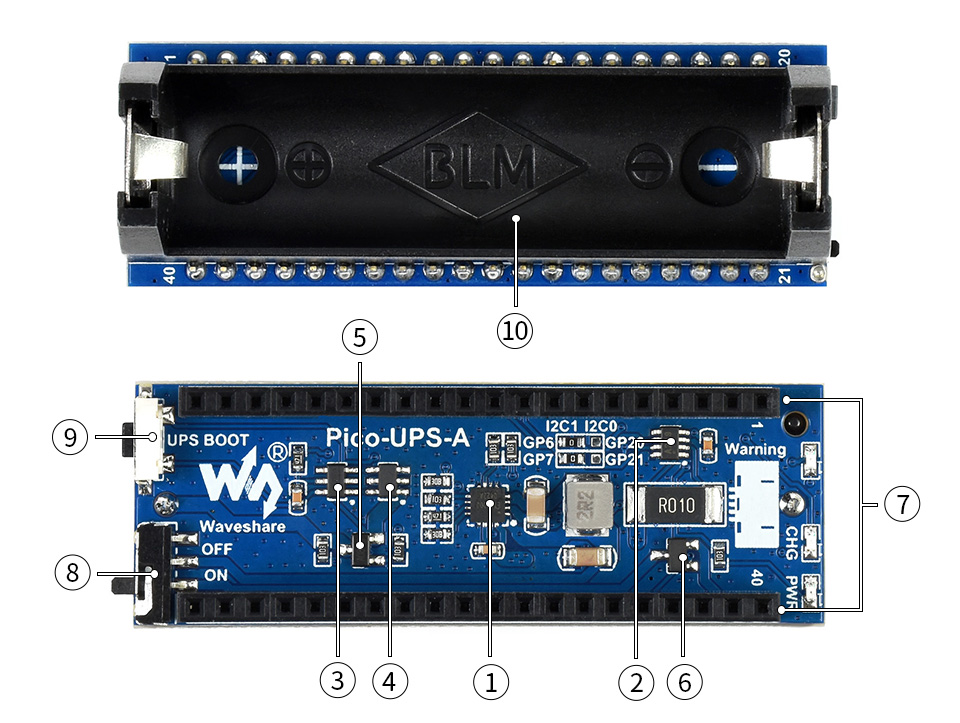 ETA6003
recharger chip
INA219
voltage/current monitoring chip
S8261
Li-ion battery protection chip
FS8205
Li-ion battery protection MOS
AO3400
reverse-proof MOS
SI2305
counter current preventing MOS
Rapsberry Pi Pico header
for direct attaching to Raspberry Pi Pico
Power switch
Activate button
activate the protection circuit after replacing battery
14500 battery holder
Pinout definition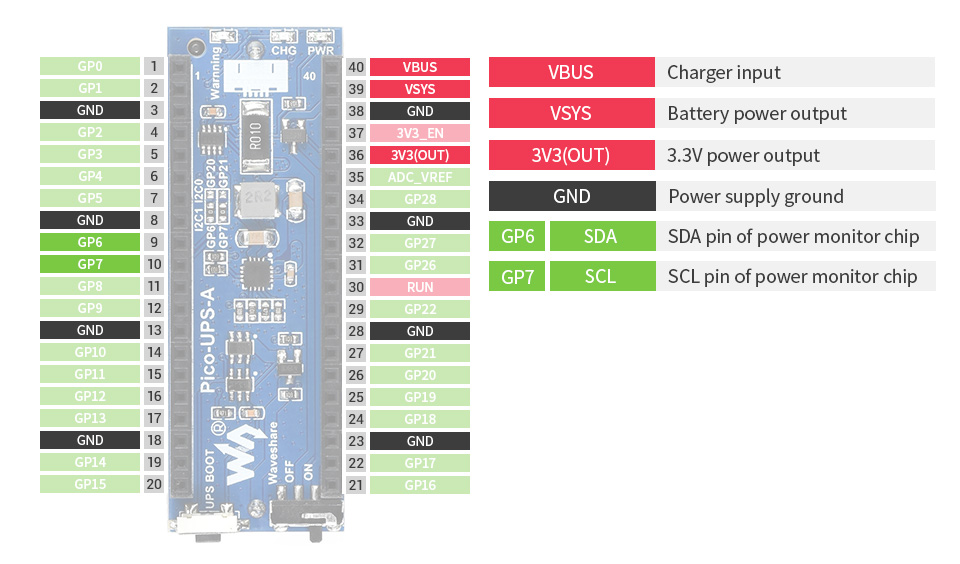 Outline dimensions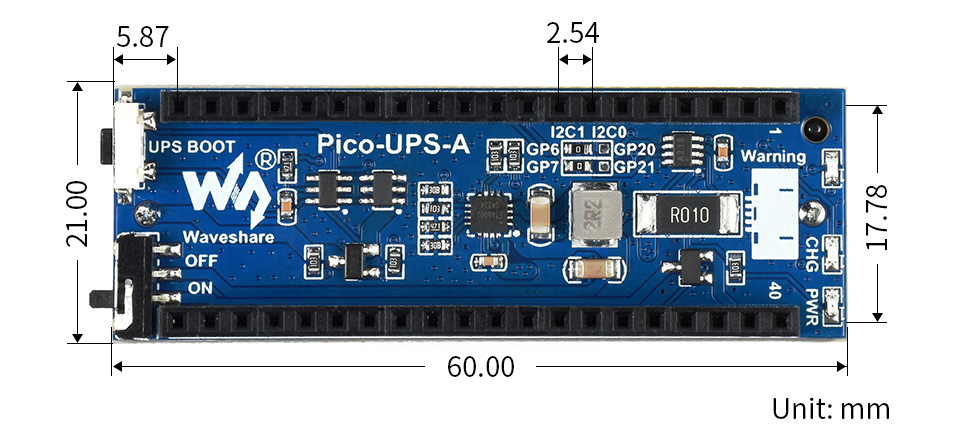 Resources & Services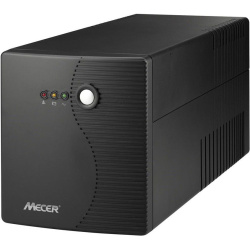 Mecer 850VA OFF-LINE UPS (Mecer UPS 850VA black)
Description:
Mecer 850VA OFF-LINE UPS (with AVR,Monitoring Software Cable & Built-in Surge Protection) - Black
Features:
850VA line interactive UPS
Microprocessor control guarantees high reliability
Boost and buck AVR for voltage stabilization
Auto restart while AC is recovering
Simulated sine wave
Off-mode charging
Cold start function
USB communication port and RJ-11/RJ-45 protection
Overload, discharge, and overcharge protection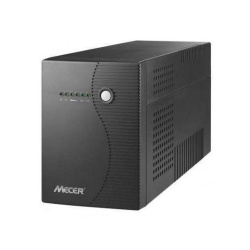 Mecer 2000VA / 1200W OFF-LINE UPS - Black (Mecer UPS 2000VA)
Description:Output:
- AC Voltage Regulation(Batt. Mode): ±10%
- Frequency Range (Batt.Mode): 50Hz or 60Hz ± 1 Hz
- Transfer Time: Typical 2-6 ms, 10 ms max
- Waveform (Batt. Mode): Simulated Sine Wave
Alarm:
- Battery Mode: Sounding every 10 seconds
- Low Battery: Sounding every second
- Overload: Sounding every 0.5 second
- Fault: Continuously sounding
Includes:
- 1x UPS Unit
- 2x Male to Female Extension Power Cord IEC C13-C14 Serial (From UPS to PC)
- 1x USB cable (From UPS to PC)
Specifications:
- Dimensions: 397 x 146 x205
- Weight: 11.5kg
NO Dedicated Power cord with kettle plug (sold separately)Please Note:
A UPS is not designed to provide continuous power, merely a window period that allows a computer or other user to finalise the work at hand and shut down. It's ability to do this is dependent on the number of devices connected to the UPS. 
To establish what you can and cannot connect, calculate the total wattage you need to supply and ensure that the UPS you purchase meets that requirement.
What's in the box?
1 x Mecer 2KVA UPS
2 x Mate to Female Extension Cables
1 x Software Disk
1 x USB Cable
1 x User Manual