Search
Search Criteria
Products meeting the search criteria
500W Spindle motor with chuck, power supply and speed controller for CNC.
This unit is ideal to clamp down your materials on your cnc router/engraver bed
Machifit ER11 Chuck CNC 500W Spindle Motor with 52mm Clamp and Power Supply Speed Governor (500w spindle motor kit)
It only can be used with AC220V±10% 50/60Hz, not110V.



Here are the links of  the CE Certification and the Environmental Certification:



CE Certification: 
https://www.dropbox.com/s/x937yu696g449o2/CE Certification .pdf?dl=0
Environmental Certification: 
https://www.dropbox.com/s/38ncgzktlsxlhvw/Environmental Certification .pdf?dl=0
Description:
If your project is not aiming to be the most heavy duty CNC machine out there, but is meant to be easy and inexpensive to build so that anyone can get a hand on a precise CNC, machining in many materials including metal. Then this is the perfect starting point for you.
Specifications:


Brand: Machifit
Dimensions
140mm×110mm×48mm (L*W*H)
Input
AC220V±10% 50/60Hz
Spindle Motor
500w
Spindle Speed
3000-12000r/min
Motor Diameter
52mm
Motor Length
208mm
Operating Voltage
100V DC
Current
6A
Speed
Up to idle up to 15,000 rev / min
Torque
5000G/CM
Insulation Resistance
> 2 megohms
Dielectric Strength
400V
High precision spindle runout 0.01-0.03
Chuck size:
Style: ER11
Material: High Grade 45 Carbon Steel
Total height: 18mm
Outer diameter(Max.): 11.5mm
Gripping Range: 3mm
Small diameter: 7.8mm
Fits metric shank size(s): 3mm metric shank
Nut Size: 
Inner Diameter: 8.7mm
Height: 13mm
Hex Diameter: 17mm
Outer Diameter:19mm
The Usage of "Don't pipe":
Its function is to inhibit the switched source. If they are open, the source does not give tension. 
If the short circuits, for example with a relay, the source generates the voltage to which it is regulated with the potentiometer.
There will be no problem in controlling the motor using these pins. 
Package Includes:
1 x 500W Spindle Motor
1 x Power Supply
1 x 52MM Mount Bracket
1 X ER11 Collect
4 x Screws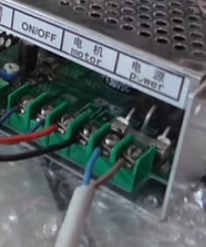 500W Spindle motor with chuck, power supply and speed controller for CNC.
45x30x11mm CNC Router/Engraver Quick Clamp Chuck (CNC table clamp)
Description:
On CNC machining centers or through feed machines, tool changing is usually a time consuming task. As a consequence, drilling stations often become a production bottleneck due to the resulting down-times. The use of quick-clamping drill chucks reduces machine downtime considerably. Drills can be changed quickly, easily and without additional tools directly on the machine. The high concentricity accuracy of the system also enables perfect drill holes.
Specification:

Material: Metal
Size(Length x Width x Height): about 45 x 30 x 11mm (1.77 x 1.18 x 0.43" )
Usage Steps
Regulate the height of the front end of the screw, press the red handle and start carving, convenient and quick.
Package Includes:
1 x Quick clamp
This unit is ideal to clamp down your materials on your cnc router/engraver bed