Search
Search Criteria
Products meeting the search criteria
This unit is ideal to clamp down your materials on your cnc router/engraver bed
45x30x11mm CNC Router/Engraver Quick Clamp Chuck (3D3 CNC table clamp)
Specification:
Material: Metal
Size(Length x Width x Height): about 45 x 30 x 11mm (1.77 x 1.18 x 0.43" )
Usage Steps
Regulate the height of the front end of the screw, press the red handle and start carving, convenient and quick.
Package Includes:
1 x Quick clamp
This unit is ideal to clamp down your materials on your cnc router/engraver bed
Creality3D Laser High-Power 1Pcs 12V Blue-Violet Light Laser Engraving With Focusing For 3D Printer (creality laser)
The laser can work with the 12V printer, such as CR-10 CR-10S CR-10S4 CR-10S5 Ender-2 Ender-4, Software, and Instruction download: http://bit.ly/2HqyAlK
The laser can't directly use to ender 3, while the Youtuber Garage Makezone modify and use it, below is the reference. 

https://youtu.be/K7X78C0qoxc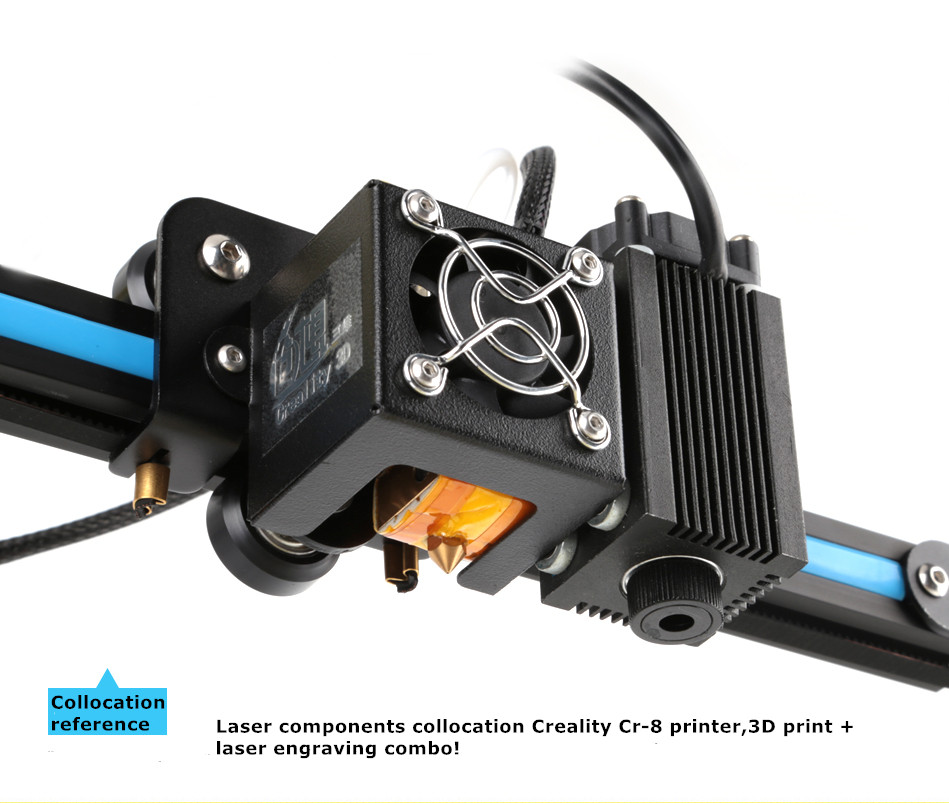 Wavelength: 405NM (Blue)
Power: correspondence course 500mW  
Operating voltage: 12V (DC)
Working current: 2100mA
Idemitsu form: dot
Lens Material: dedicated optical coated glass
Cooling: Forced air
Shell material: aluminum anodized black
Input: 2.1 / 5.5 DC seat


EleksMaker® A3 Pro including 2500mW Laser CNC Engraving Machine (WH laser engraver kit)
Specifications:
General Specification
 Brand
 EleksMaker®
 Model 
 EleksLaser-A3 pro 2.5W
 Material
 Aluminum Profile and Acrylic
 Packaging Size
 58x40x14cm / 22.83x15.75x5.51inch (L*W*H)
 Assembled Product Size
 60x46x18cm / 23.62x18.11x7.09inch (L*W*H)
 Package Weight
 4.60kg
 Can Engrave
 Wood, Plastic, Paper, Bamboo, Ox Horn, Leather, Sponge Paper, etc.
 Can not engrave
 Metal, Stone, Ceramics, Glass, Reflective or Transparent Material
 Technical Parameters
 Laser Power
 2.5W / 2500mW (laser included)
 Laser Wavelength
 445nm
 Control Board
 EleksMana SE
 Communication Port
 MircoUSB
 Laser Quick Replace
 Supported
 Stepper Motor
 42H34S-1304A
 Power Input
 AC100-240V
 Working Voltage
 DC 12V
 Working Current
 DC 4-5A
 System Support
 Win XP/7/8/10
 Engrave Mode
 Photo, Word, Scan, outline, Pixel Laser Engraving
 Supported Formats
 jpg, bmp, svg, G-code
 Control Software System
 EleksCam, T2-Laser, GrblController, LiteFire, Laser GRBL, etc.(

Can NOT use Benbox

)
 Engraving Accuracy
 0.01mm
 Engraving Area
 30x40cm / 11.81 x 15.75inch (maximum)
 Engraved Object Height limitatiion                
 No Limitation
 Function
 Ideal for amateur laser engraving, equipped with low light positioning and freedom positioning functions.
 Features
 30X38cm 

ultra large engraving area,gantry shape design, no engraving height limitation.

 Three stepper motor drive providing faster moving speed.
 2500mW violet laser module with heatsink, high laser engraving power and long term use.
 can print any pictures easily
Tips:
Laser machine installation, software downloading, software setting ,operating instructions and FAQ: http://wiki.eleksmaker.com/doku.php?id=elekslaser_a3_pro
Laser module self-checking tips link: https://www.dropbox.com/s/nuuu98e3einfee4/Laser%20Tips.pdf?dl=0
Please Note:
1. Please wear laser goggles during usage and avoid touching the laser directly with your eyes or skin!
2. The

red cord is DC12v(+),black cord is GND(-), yellow cord is signal(S)

. Please make sure you know the wire position and connect to the ManaSE board correctly!
3. Do not use the laser module for more than 30 minutes at a time

Packaging List:
1 x DIY 2500mW Laser Engraving Machine(assembly needed)
FAQ:
1. How to assemble the kit?
    The whole assembly and operating manual link is here:http://wiki.eleksmaker.com/doku.php?id=elekslaser_a3_pro
    You can also watch the video to do it:https://www.youtube.com/embed/_1ypts5489Y
2. What software can support this machine? And what image format? Engrave Mode?
    Supported Software:

EleksCam

,T2-Laser,  GrblController, LiteFire, Laser GRBL, etc.
    EleksCam can be found at http://wiki.eleksmaker.com/doku.php?id=elekscam
    Supported Image Format: jpg, bmp, svg, G-code
    Supported Engrave Mode: Photo, Word, Scan, Outline, Pixel Laser Engraving
3. What systems can the EleksCAM support?
    PC Windows XP/7/8/10
4. My laser doesn't work, what should I do?
    If the machine does not work, it might be due to:
① The wire connection is wrong.Please check the connection like the picture shown.
② Your computer could not support the software.Please use Win XP 7/8/10 to check it.
③ Software problem.Please check whether wires are inserted rightly. And then check your data settings.


④ The kit misses some accessories.Please compare with the instructions


⑤ Laser module/ driver board/power supply is faulty.

⑥ Laser module self-checking tips link at http://www.dropbox.com/s/nuuu98e3einfee4/Laser%20Tips.pdf?dl=0
5: My software shows: Not data, what should I do?


    There might be two reasons.
     ① You did not open  Administrator privileges to run the software.
     ② Your computer architecture is incomplete:check whether VC ++ and .Net and directX are installed
6. Can I regulate the laser power or is the laser power is adjustable?
     Our new Mana SE controller board can adjust the power. Please download our ElekesCAM software to do it.

7. Can I upgrade stronger power laser module by myself? Can I extent rail frame?
   Yes,you can. A DC12V laser module can be installed on this machine. The red is positive.You can also extent the frame by yourself, but we do not stock the rails.
 
8. When I click arrows to control the motors, it works. But when I begin to make it work with EleksCAM software,
    it does not move. What should I do?
    The EleksCAM could move by hand but could not move when focus.The problem is the area and language inside the system control panel.
    Please set the format to English and United States.Then it will be ok. Detail is shown in the wiki link above.



9. My laser module is always on and could not turn off.What should I do?


    Please try to connect the Signal(S) and GND(-).
    If the laser module turn off, that means the laser module is ok, the problem might be the ManaSE board or a software setting.