Search
Search Criteria
Products meeting the search criteria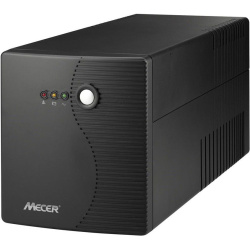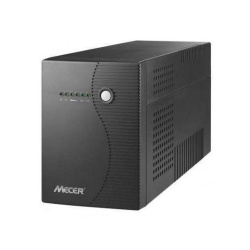 DC UPS Mecer 3500mAh battery On-line UPS (For WiFi / 3G / 4G Router) (DC 3500mAh UPS router)
Mecer 350000mAh battery On-line UPS (For WiFi / 3G / 4G Router), Built-in Li-ion battery
Features:
Built-in Li-ion battery

Microprocessor control guarantees high reliability

Manual power off switch

Auto start when plugged in

Multi-color indicator

Overload, short-circuit, over-charge and over-discharge protection
MODEL ePower
AC INPUT
Voltage Range 90 VAC ~ 264 VAC

Frequency 50 or 60 Hz

Surge protection 1.5KV (Optional K.21 enhanced, 6KV)
DC OUTPUT
Voltage 12VDC ± 5%

Max. Power 25W (2.1A)
Battery
 Type Lithium-ion Battery

 Voltage 3.7VDC

 Capacity 3500mAh

 Typical Charging Time 3 hours recover to 90% capacity
Protection
 Battery Deep Discharge, Over-charge and Short Circuit Protection

 Input/Output Fuse for Short Circuit and Overload Protection
INDICATORS
LED Full Battery Green lighting

Battery Charging Constant flashing on Green LED
Battery
Discharging Quick flashing on Green LED

Fault Red lighting
PHYSICAL
Input Plug Mounted on the housing (NEMA/UK/Schuko)

Ouput Cable 1m Length (DC Male Jack, OD 4mm, ID 1.7mm or OD 5.5mm,

ID 2.5mm)
Dimensions
 L X W X H (mm) 68 x 42 x 74

 Net Weight (g) 280
Backup Time Table : (For Reference only)
 12V/1A Router 150 mins

 12V/1.5A Router 120 mins

 12V/2.0A Router 90 mins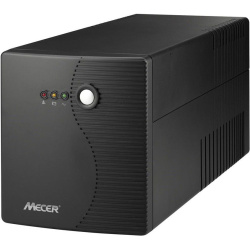 Mecer 850VA OFF-LINE UPS (Mecer UPS 850VA black)
Description:
Mecer 850VA OFF-LINE UPS (with AVR,Monitoring Software Cable & Built-in Surge Protection) - Black
Features:
850VA line interactive UPS
Microprocessor control guarantees high reliability
Boost and buck AVR for voltage stabilization
Auto restart while AC is recovering
Simulated sine wave
Off-mode charging
Cold start function
USB communication port and RJ-11/RJ-45 protection
Overload, discharge, and overcharge protection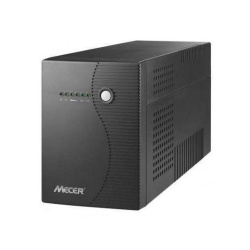 Mecer 2000VA / 1200W OFF-LINE UPS - Black (Mecer UPS 2000VA)
Description:Output:
- AC Voltage Regulation(Batt. Mode): ±10%
- Frequency Range (Batt.Mode): 50Hz or 60Hz ± 1 Hz
- Transfer Time: Typical 2-6 ms, 10 ms max
- Waveform (Batt. Mode): Simulated Sine Wave
Alarm:
- Battery Mode: Sounding every 10 seconds
- Low Battery: Sounding every second
- Overload: Sounding every 0.5 second
- Fault: Continuously sounding
Includes:
- 1x UPS Unit
- 2x Male to Female Extension Power Cord IEC C13-C14 Serial (From UPS to PC)
- 1x USB cable (From UPS to PC)
Specifications:
- Dimensions: 397 x 146 x205
- Weight: 11.5kg
NO Dedicated Power cord with kettle plug (sold separately)Please Note:
A UPS is not designed to provide continuous power, merely a window period that allows a computer or other user to finalise the work at hand and shut down. It's ability to do this is dependent on the number of devices connected to the UPS. 
To establish what you can and cannot connect, calculate the total wattage you need to supply and ensure that the UPS you purchase meets that requirement.
What's in the box?
1 x Mecer 2KVA UPS
2 x Mate to Female Extension Cables
1 x Software Disk
1 x USB Cable
1 x User Manual