Search
Search Criteria
Products meeting the search criteria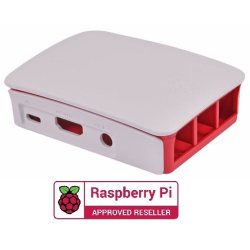 Raspberry Pi 2 - Model B (Pi2 B)
Description:
The Raspberry Pi 2 Model B has landed at PiShop! The  ultra-low-cost, deck-of-cards sized Linux computer has had yet another  makeover, this time the Raspberry Pi Foundation have gone all out! The Raspberry Pi 2 Model B is on a completely new level to its predecessors by being a staggering 6x faster than the Raspberry Pi Model B+.
Back-Compatibility note: The Raspberry Pi 2 Model B has the same footprint and layout as the previous Model B+ version, so will fit all Model B+ items.
Raspberry Pi 2 Model B Features:
6x Faster - Broadcom BCM2836 ARMv7 Quad Core Processor powered Single Board Computer running at 900MHz
Double Memory - 1GB RAM so you can now run bigger and more powerful applications
Identical  board layout and footprint as the Model B+, so all cases and 3rd party  add-on boards designed for the Model B+ will be fully compatible.
Fully HAT compatible
40pin  extended GPIO to enhance your "real world" projects. GPIO is 100%  compatible with the Model B+ and A+ boards. First 26 pins are identical  to the Model A and Model B boards to provide full backward compatibility  across all boards.
Connect a Raspberry Pi camera and touch screen display (each sold separately)
Stream and watch Hi-definition video output at 1080P
Micro SD slot for storing information and loading your operating systems.
Advanced power management:
You  can now provide up to 1.2 Amp to the USB ports – enabling you to  connect more power hungry USB devices directly to the Raspberry PI.  (This feature requires a 2Amp micro USB Power Supply)
10/100 Ethernet Port to quickly connect the Raspberry Pi to the Internet
Combined 4-pole jack for connecting your stereo audio out and composite video out
Specifications:
Broadcom BCM2836 ARMv7 Quad Core Processor powered Single Board Computer running at 900MHz
1GB RAM
40pin extended GPIO
4 x USB ports
4 pole Stereo output and Composite video port
Full size HDMI
CSI camera port for connecting the Raspberry Pi camera
DSI display port for connecting the Raspberry Pi touch screen display
Micro SD port for loading your operating system and storing data
Micro USB power source
Contents:
1 X Raspberry Pi 2 - Model B
Resources: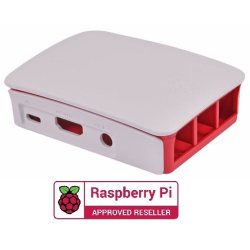 Official Raspberry Pi3B and Pi3B+ Red & White Case (official case Pi3 Red/White)
PLEASE NOTE: Rapsberry Pi not included.

The Official Raspberry Pi 3 Model B Case is now available! Specially made and beautifully crafted, this nifty and tactile snap-together case is designed to protect your RPi 3! Side pieces can be individually removed to enable access to the GPIO, and the top can also be removed to enable the addition of HATs or other GPIO periphery! There's even LED lights pipes to top it all off!
Features of the Official Raspberry Pi Case
Fabulous Raspberry Red and White Colour Combination

5 Part "Snap-Fit" Enclosure

Cut-outs for all connection points

Micro SD card cut-out

Plastic LED light protector

Stick on rubber feet for case stability