Search
Search Criteria
Products meeting the search criteria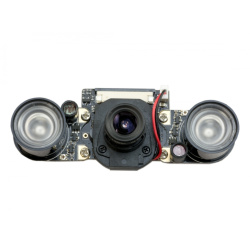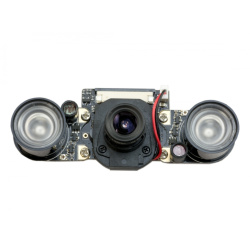 WS Raspberry Pi Night Vision Camera (IR-CUT) (Night Vision IR-CUT)
Description:
Raspberry Pi IR-CUT Night Vision Camera plugs directly into the CSI connector on the Raspberry Pi (requires an
adapter
for use with a Pi Zero), and features two high-intensity Infrared LED spotlights for night time recording!
Features
Raspberry Pi Camera, supports all revisions of the Pi
Embedded removable IR-CUT filter, eliminating color distortion in the daylight
Comes with infrared LED, supports night vision
5 megapixel OV5647 sensor
Adjustable focus distance
Camera specifications

CCD size : 1/4inch
Aperture (F) : 1.8
Focal Length : 3.6mm
Angle of View (diagonal) : 75.7 degree
Sensor best resolution : 1080p

4 screw holes

Used for attachment
Provides 3.3V power output
Supports connecting infrared LED and/or fill flash LED

Dimension: 31mm × 32mm
Note: to use the camera with Raspberry Pi Zero / Zero W / Zero WH, you need to buy a specific cable: Raspberry Pi Zero v1.3 Camera Cable

How to use Picamera with Raspberry Pi OS Bullseye: https://www.youtube.com/watch?v=E7KPSc_Xr24&list=WL&index=2


Development Resources
Getting started with PiCamera
Wiki : www.waveshare.com/wiki/RPi_IR-CUT_Camera


Pro Mini Camera Mount for Raspberry Pi Zero (pro mini cam mount zero)
Description:
Raspberry Pi, Camera, cables and tripod not included!
We designed this mount to create an affordable, tripod-compatible solution to help you monitor "things" with your Pi Zero and Official Raspberry Pi Camera Module - great for keeping an eye on 3D prints, monitoring rooms, access points, timelapsing plants and more!
You don't need to mount it on a tripod as it will happily sit on a desk or shelf, but it has a 1/4" hole ready in case you do (you'll need a nut as this isn't threaded).
There are some great ready-to-go software/OS options out there for these kinds of projects, such as OctoPrint for 3D printers and MotionEyeOS for turning your Pi and camera module into an IP camera. Both of these options allow viewing on your smartphone too!
The mount comes as a kit which requires some simple assembly.
Other Parts Required
This listing is for the mount only which includes the laser-cut Perspex parts and fixings. You will also need:
Optional Parts
Fancy mounting this on a tripod? You'll need the following parts:
What's in the box:
2 Perspex layers and a bag of fixings
Resources