Search
Search Criteria
Products meeting the search criteria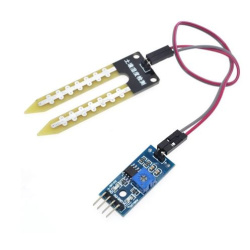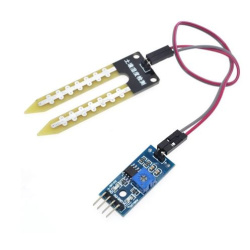 Soil Hygrometer Humidity Detection Moisture Sensor (moisture probe hygrometer)
Description:
This is a summary of the soil moisture sensor that can be used to detect moisture, when the soil is dry, the module outputs a high level. Use this sensor to build an automatic watering system.
Specifications:

Operating voltage: 3.3V~5V.
Adjustable sensitivity (blue digital potentiometer adjustment)
Dual output mode,analog output more accurate.
A fixed bolt hole for easy installation.
Power indicator (red) and digital switching output indicator (green).
LM393 comparator chip, stable.
PCB Dimension: 3cm x 1.5cm.
Soil Probe Dimension: 6cm x 2cm.
Cable Length: 21cm.

VCC: 3.3V-5V.
GND: GND.
DO: digital output interface (0 and 1).
AO: analog output interface.

Setup with Raspberry Pi

Package Includes:

1 x Soil moisture detector module
1 x Probe
5 x Jumper Cables
LCD Digital Multimeter AC/DC 750/1000V With Probe (LCD Digital Multimeter)
LCD Digital Mini Handheld Multimeter AC/DC 750/1000V With Probe


Description :


LCD Digital Multimeter AC/DC 750/1000V Handheld multimeter for voltmeter, ammeter Ohm tester meter with probes.

Specifications:


Brand Name: Rainwayer
DIY Supplies: ELECTRICAL
Certification: NONE
Origin: CN(Origin)
Model Number: Digital Multimeter
AC Current: /
Is Smart Device: No
AC Voltage: 200-750V
Measuring Resistance Range: 20k-2000k
Operating Mode: Manual
Measuring Inductance Range: /
Display Type: Digital Display
DC Current: 200u-2000u-20m-200m-10A
DC Voltage: 200m-2000m-20-200-1000V
Measuring Capacitance Range: /
Dimensions: 126 x 70 x 24mm
Operating Temperature: 0 - 40 ℃
Colour: Black
What's in the box ?


1 x Digital Multimeter
2 x Probe Cables
1 x Manual