Search
Search Criteria
Products meeting the search criteria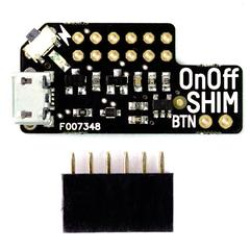 Add a tiny yet convenient power switch to your Pi with OnOff SHIM!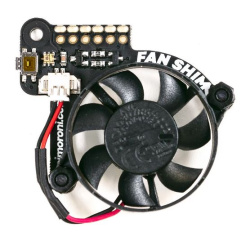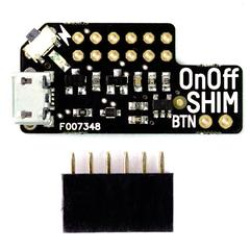 OnOff SHIM (On/Off Shim)
Description:
Our SHIMs (Shove Hardware in the Middle) are a new range of boards designed to be small, affordable, and handy. They're just 1mm thick (the bare board, not including mounted components) and designed to be soldered straight onto the GPIO pins of your Pi, if you wish, so that you can use them with HATs and pHATs on top.
Usage
Just plug your micro-USB power supply into the micro-B connector on OnOff SHIM, and then press the button once to switch on power and boot up your Pi. After installing our software (details below), you can press the button again to initiate a clean shutdown and completely cut the power to your Pi.
Features
super-small SHIM-format board
1mm thick PCB
can be used with HATs and pHATs
corner-mounted push button for on/off
micro-B connector for power supply
red status LED
optional breakout pins to connect an external momentary button
2x6 female header included
software daemon to shutdown cleanly
requires soldering
Software
We've put together a one-line-installer to install the clean shutdown daemon. It watches the state of BCM pin 17 and, when pulled low (pressed), it initiates a clean shutdown. Last thing, just before your Pi shuts down, BCM pin 4 is pulled low to completely cut power to your Pi.
To install the software, open a terminal and type curl https://get.pimoroni.com/onoffshim | bash to run the one-line-installer.
Add a tiny yet convenient power switch to your Pi with OnOff SHIM!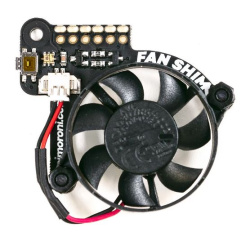 Fan SHIM for Raspberry Pi (Fan Shim)
Description:
Make your Raspberry Pi seriously cool with Fan SHIM! This 30mm no-solder, controllable CPU fan with RGB LED and tactile switch will give your Raspberry Pi significantly better thermal performance.
Fan SHIM uses a friction-fit header, so it just slips onto your Pi's pins and it's ready to go, no soldering required! Note that, due to the height of the fan, if you want to use HATs or pHATs with Fan SHIM, then you'll need to use a booster header.
The fan can be controlled in software, so you can do crafty things like toggle it on when the CPU reaches a certain temperature. Use the LED as a handy visual indicator to show fan status, CPU load/temperature, whatever! The tactile switch can also be programmed, so you can use it to toggle the fan on or off, or to switch between temperature-triggered or manual mode.
Oh, and it's compatible with our new Pibow Coupé 4 case for Raspberry Pi 4!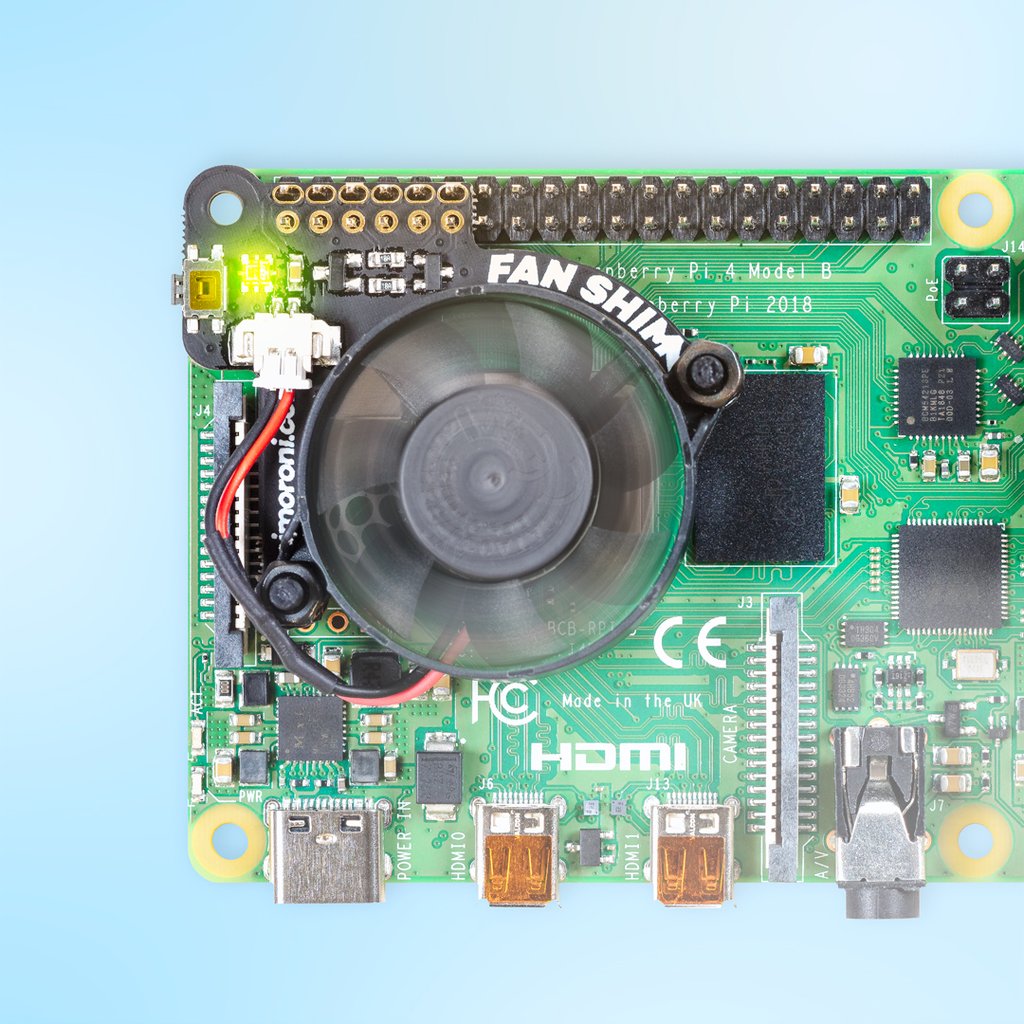 Features
30mm 5V DC fan
4,200 RPM
0.05 m3/min air flow
18.6 dB acoustic noise
Friction-fit header
No soldering required
RGB LED (APA102)
Tactile switch
Basic assembly required
Compatible with Raspberry Pi 4 (and 3 B , 3 A )
Python library and daemon
Kit contains
Fan SHIM PCB
30mm 5V DC fan with JST connector
M2.5 nuts and bolts
Assembly
Assembly is really easy, and will take less than two minutes.
With the component side of the PCB facing upwards, push the two M2.5 bolts through the holes from below, then screw on the first pair of nuts to secure them and act as spacers.
Push the fan's mounting holes down onto the bolts, with the cable side of the fan downwards (as pictured) and the text on the fan upwards. Attach with another two nuts.
Push the fan's JST connector into the socket on Fan SHIM.
Software
Our Python library lets you control the fan (on/off), RGB LED, and switch. There's a handful of examples to show you how to use each feature, and a script to install a daemon (a service that runs in the background) that runs the fan in automatic mode, triggering it on or off when the CPU reaches a threshold temperature, with a manual override via the tactile switch.
Notes
When mounting or detaching the fan, or assembled Fan SHIM, do not push on the fan itself, as it is liable to break.
Not heatsink-compatible!
Dimensions: 45x39x11mm