NVIDIA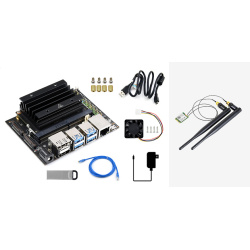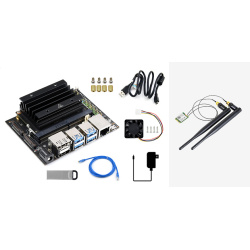 NVIDIA Jetson Nano 4GB Development / Expansion Kit (Jetson nano 4GB dev kitA)
Jetson Nano Developer Kit

NVIDIA Jetson Nano Developer Kit is a small, powerful computer that lets you run multiple neural networks in parallel for applications like image classification, object detection, segmentation, and speech processing. All in an easy-to-use platform that runs in as little as 5 watts.
Jetson Nano delivers 472 GFLOPS for running modern AI algorithms fast, with a quad-core 64-bit ARM CPU, a 128-core integrated NVIDIA GPU, as well as 4GB LPDDR4 memory. It runs multiple neural networks in parallel and processes several high-resolution sensors simultaneously.
Jetson Nano is also supported by NVIDIA JetPack, which includes a board support package (BSP), CUDA, cuDNN, and TensorRT software libraries for deep learning, computer vision, GPU computing, multimedia processing, and much more. The SDK also includes the ability to natively install popular open source Machine Learning (ML) frameworks such as TensorFlow, PyTorch, Caffe / Caffe2, Keras, and MXNet, enables the developers to integrate their favorite AI model / AI framework into products fast and easily.
Supports 2-lanes CSI Camera
Upgraded 2-lanes CSI, instead of the previous 1-lane, easily play around with binocular vision

Introduction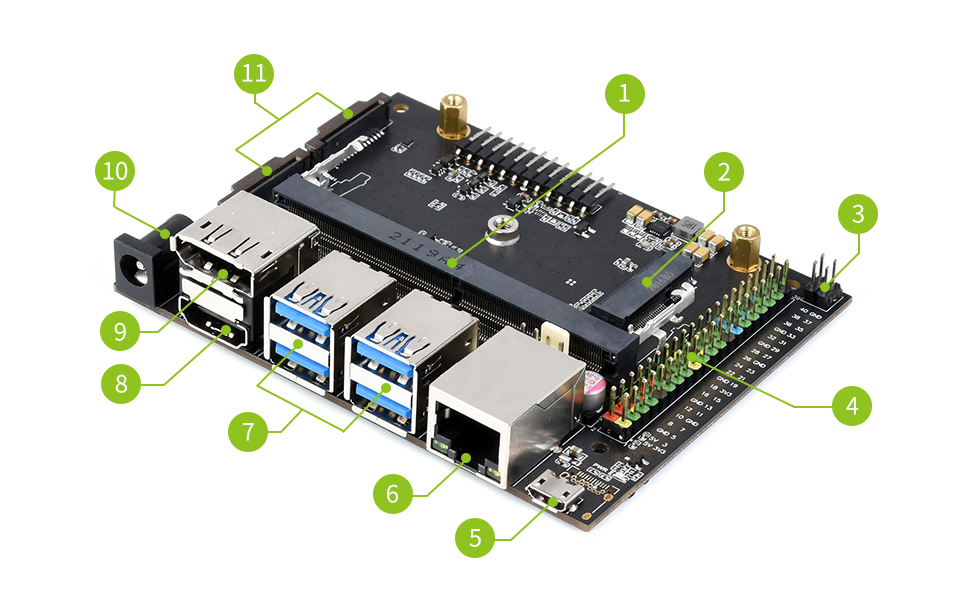 Core module socket
M.2 Key E connector
PoE pins: PoE module is not included
40PIN GPIO header
Micro USB port: for 5V power input or for USB data transmission
Gigabit Ethernet port: 10/100/1000Base-T auto-negotiation, supports PoE if external PoE module is connected
4x USB 3.0 port
HDMI output port
DisplayPort connector
DC jack: for 5V power input
2x MIPI CSI camera connector
Specifications
| | |
| --- | --- |
| GPU | 128-core Maxwell |
| CPU | Quad-core ARM A57 @ 1.43 GHz |
| Memory | 4 GB 64-bit LPDDR4 25.6 GB/s |
| Storage | 16GB eMMC |
| Video Encoder | 4K @ 30 | 4x 1080p @ 30 | 9x 720p @ 30 (H.264/H.265) |
| Video Decoder | 4K @ 60 | 2x 4K @ 30 | 8x 1080p @ 30 | 18x 720p @ 30 (H.264/H.265) |
| Camera | 2x MIPI CSI-2 DPHY lanes |
| Connectivity | Gigabit Ethernet, M.2 Key E expansion connector |
| Display | HDMI and DP |
| USB | 4x USB 3.0, USB 2.0 Micro-B |
| Extension Interfaces | GPIO, I2C, I2S, SPI, UART |

What's in the box?


JETSON-NANO-DEV-KIT (carrier + Nano + heatsink)
AC8265 dual-mode NIC
32GB USB drive
Cooling fan
USB cable (~1.2m)
Ethernet cable (~1.5m)

EU

5V 4A power adapter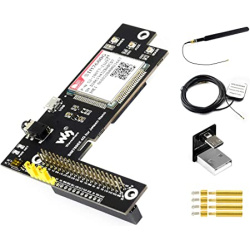 SIM7600G-H 4G / 3G / 2G / GNSS Module for Jetson Nano, LTE CAT4, Global Applicable (Jetson Nano Gnss Module)
Description:
4G/3G/2G/GNSS Expansion Board For Jetson Nano, Based On SIM7600G-H, Global Applicable.


This is a 4G/3G/2G communication and GNSS positioning module designed for Jetson Nano, it supports global LTE CAT4 up to 150Mbps for downlink data transfer, with pretty low power consumption.
Just attach it onto the Jetson Nano Developer Kit, easily enable functions like 4G high speed connection, wireless communication, remote video monitoring, making telephone call, sending SMS, global positioning, and so on.
Specifications:


40PIN GPIO extension header for connecting Jetson Nano
Supports dial-up, telephone call, SMS, mail, TCP, UDP, DTMF, HTTP, FTP, etc.
Supports GPS, BeiDou, Glonass, LBS base station positioning
Onboard USB interface, to test AT Commands, get GPS positioning data, and so on
Breakout UART control pins, to connect with host boards like Arduino/STM32
SIM card slot, supports 1.8V/3V SIM card
Onboard 3.5mm audio jack with earphone and mic support, for making telephone call
2x LED indicators, easy to monitor the working status
Onboard voltage translator, operating voltage can be configured to 3.3V or 5V via jumper
Baudrate: 300bps ~ 4Mbps (default: 115200bps)
Autobauding baudrate: 9600bps ~ 115200bps
Control via AT commands (3GPP TS 27.007, 27.005, and V.25TER command set)
Supports SIM application toolkit: SAT Class 3, GSM 11.14 Release 99, USAT
Comes with development resources and manual (examples for Jetson Nano/Raspberry Pi/Arduino/STM32)
What's in the box ?


SIM7600G-H 4G for Jetson Nano x1
LTE Antenna x1
GPS External Antenna (B) x1
Jetson Nano USB Adapter x1
Screws pack (2pcs) x1
Communication Specifications: 
 
LTE
WCDMA / TD-SCDMA / CDMA 2000
 
 
EDGE
GSM/GPRS
Band
LTE-TDD B34/B38/B39/B40/B41
LTE-FDD B1/B2/B3/B4/B5/B7/B8
/B12/B13/B18/B19/B20/B25/B26/B28/B66
UMTS/HSDPA/HSPA+ B1/B2/B4/B5/B6/B8/B19
GSM/GPRS/EDGE 850/900/1800/1900MH
Emitting power
0.25W
[email protected]
[email protected]
[email protected]
[email protected]
Data Speed
LTE CAT 4
Uplink≤50 Mbps
Downlink≤150 Mbps
UMTS
Uplink≤384Kbps
Downlink≤384Kbps

HSPA+
Uplink≤5.76Mbps
Downlink≤42Mbps
TD-SCDMA
Uplink≤128Kbps
Downlink≤384Kbps

TD-HSDPA/HSUPA
Uplink≤2.2Mbps
Downlink≤2.8Mbps
CDMA2000/EVDO
Uplink≤1.8Mbps
Downlink≤3.1Mbps
EDGE
Uplink≤236.8kbps
Downlink≤236.8kbps
GPRS
Uplink≤85.6kbps
Downlink≤85.6kbps
SIM Card
Normal SIM (Not Included)
Applicable Region
Global 4G/3G/2G
GNSS Specifications:


Receiver type
Sensitivity

Tracking: -159 dBm (GPS) / -158 dBm (GLONASS) / TBD (BD)
Cold starts: -148 dBm

Time-To-First-Fix (open air)

Cold starts: <35s
Hot starts: <1s

Accuracy
SMS and Audio Specifications:


SMS

Supported types: MT, MO, CB, Text, PDU
Storage: USIM card and ME (default)

Audio feature

Supports echo cancellation
Supports noise reduction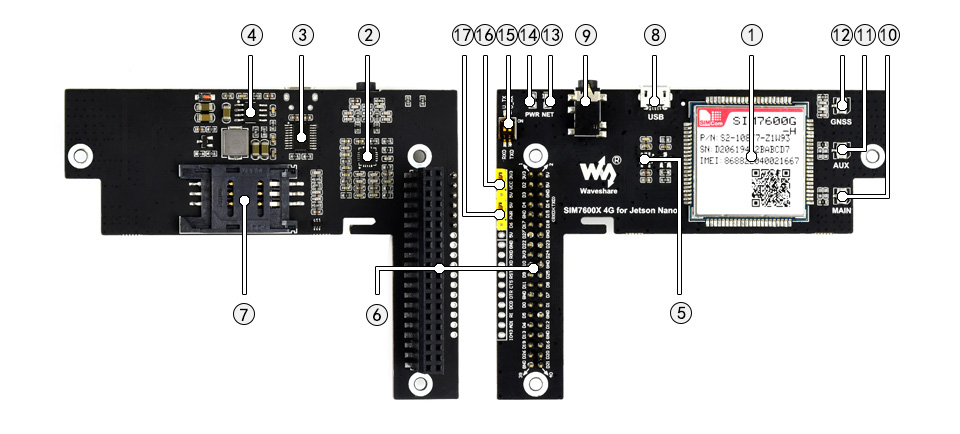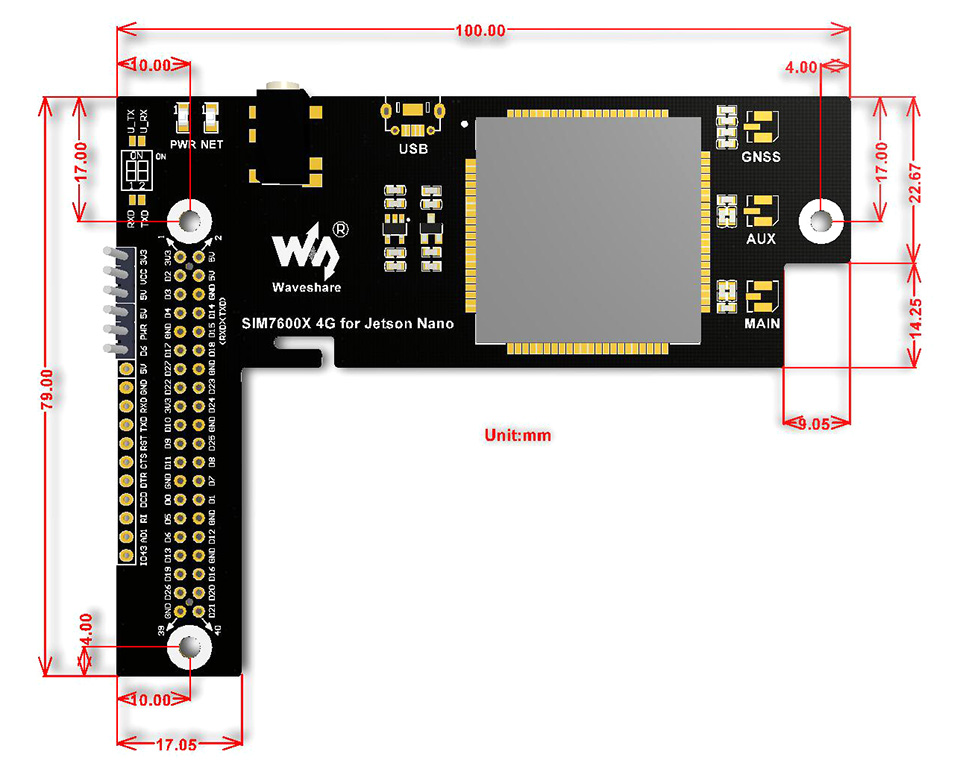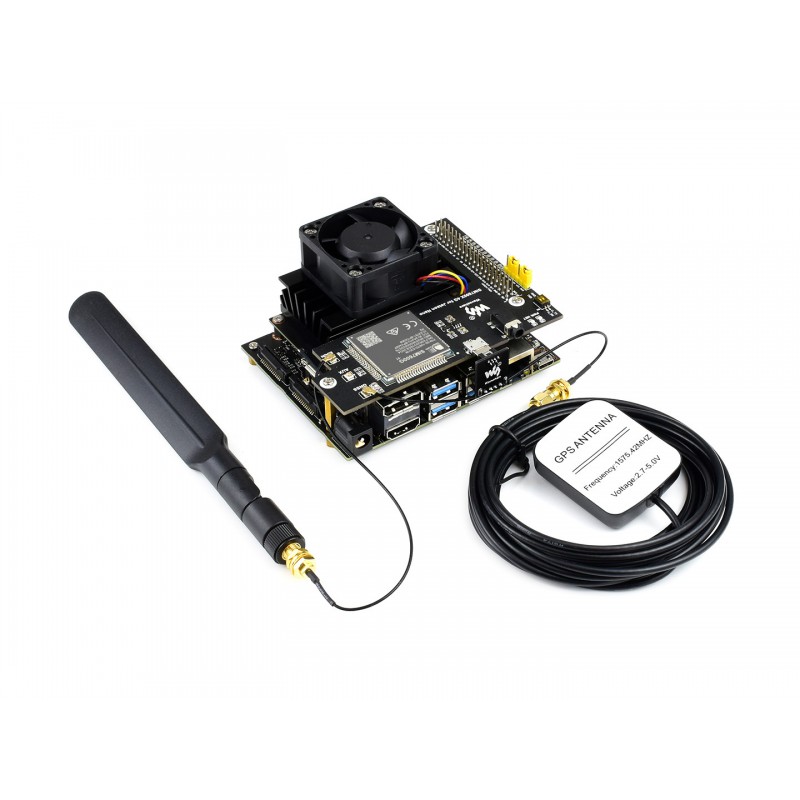 * Jetson Nano not included
, only Sim7600G-H GNSS Module. Please refer to "What's in the box" to see contents of item displayed.