Product Description
This is a versatile relay board kit that can easily be configured via jumpers and trimmer potentiometers to do a range of tasks.
Most sensor and switches can be connected to the input of the board and the trigger level set for the input device. This can be inverted if required, then there is the option to feed this straight to the relay or a timer of up to 25 minutes can be used. Irrespective of the state of the invert jumper whenever the sense LED goes from off to on the timer restarts.#
The board can run off any voltage from 4.5 to 6 volts.
The output cans switch DC or mains.
This datasheet details what the board does and how to use it along with some worked examples. A more detailed set of information including the build instructions & how to configure the kit can also be downloaded.
Click here to download the full teaching notes
WARNING: Using mains electricity can be dangerous and should only be attempted by qualified electricians.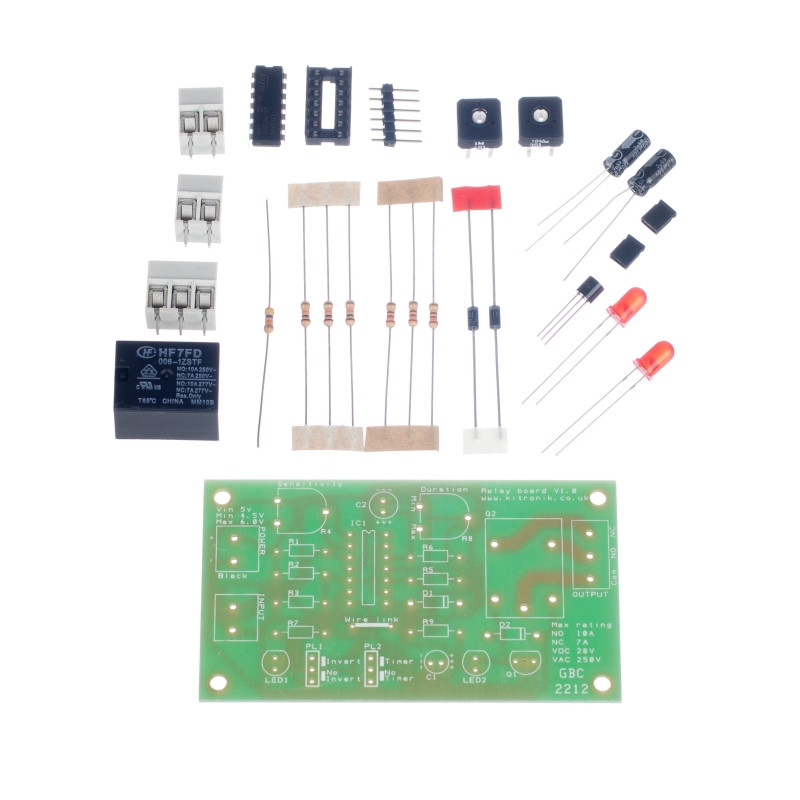 This kit includes:
3 x 100Kohm resistors
3 x 220ohm resistors
1 x 47Kohm resistors
1 x 1Mohmpotentiometer
1 x 10Mohm potentiometer
2 x 1N4001 diodes
2 x 5mm red LEDs
1 x 100uF capacitors, electrolytic
1 x 4.7uF capacitors, electrolytic
1 x 2N7000 n-channel FET
2 x 2 way terminal blocks
1 x 3 way terminal blocks
1 x LM324 operational amplifier IC
1 x 14 pin IC holder
2 x 3 way pinstrip
2 x Jumpers
1 x Relay
1 x Relay board PCB
PCB dimensions: 86.5mm x 49mm.


This kit is supplied as a pack of parts and requires soldering.