Vibration
Vibration Sensors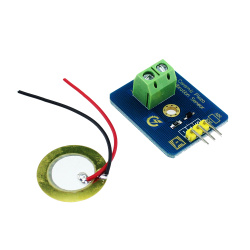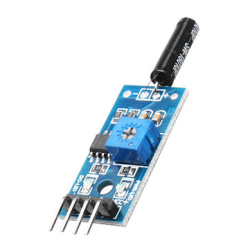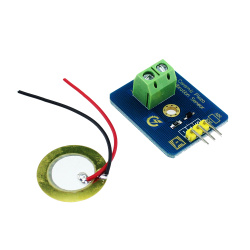 Analog Ceramic Piezo Vibration Sensor (ceramic vibration sensor)
Description:

This vibration sensor is based on piezoelectric ceramic chip analog vibration. It makes use of the anti-conversion process that piezoelectric ceramic vibration will generate the electric signals.
When vibrating the piezoelectric ceramic chip, the sensor's signal terminal will generate electrical signals. 

Specifications:
Working Voltage: 3.3V or 5V
Working Current: <1mA
Operating Temperature Range: -10 ~ 70
Interface Type: Analog Output
Item Size: 30mm x 23mm
GPIO: S; signal output, ; power supply (VCC), -; ground (GND)
Input: Positive electrode of the piezoelectric ceramic
GND: Negative electrode of the piezoelectric ceramic
Package includes:
1 x Ceramic Piezo Vibration Sensor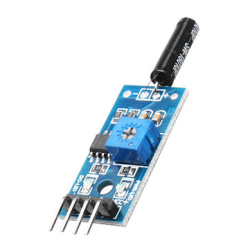 3.3-5V 3-Wire Vibration Sensor Module (3 wire vibration sensor)
Description:
This module has a component that is able to detect the vibrations. Depending on the strength of the vibrations, using the built-in comparator on its outputs gives either digital (HIGH / LOW) or analog (0V-5V) signal.
Features:
Comparative output, clean signal, good waveform, strong driving ability, more than 15mA.
Working voltage: 3.3V to 5V
Output form: digital switch output (0 and 1)
Equipped with fixed screw hole, easy to install
PCB board size: 32mm x 14mm
Uses the LM393 wide voltage comparator

When the VCC and GND are connected, the power indicator will light up.

Put the module on the desktop, adjust the blue potentiometer on the board until the on-board switch indicator lights up, and then slightly turn back the potentiometer untill the indicator light turns off. Hit the desktop with your hand so the vibration shocks the sensor, the indicator light will go on. Vibration stops, indicator light will turn off.
Module connection details:
1. VCC: connect power positive
2. GND: connect power negative
3. DO: digital signal output
It is used for all kinds of vibration triggering, theft alarm, intelligent car, electronic building block.....
Please note that the trigger time is short when small vibration is induced, not enough to drive the relay.

Raspberry Pi Python example
Package includes:
1 x Vibration sensor module