3D Printers
3D Printers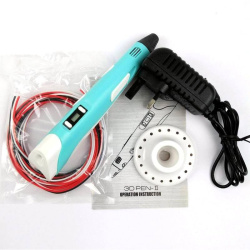 Creality3D silently released the Ender 3 Pro, an improved version of the popular Ender 3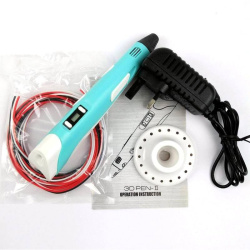 12V 3D Pen V2 with PLA Filament & Adapter - Blue (3D Pen 12v Blue)
12V 3D Pen V2 with PLA Filament & Adapter - Blue


Description:

Have some fun with this 3D printing pen, this 3D printing pen is also suitable and safe for kids. They can now develop their hands-on skills and mental development ability.
By using the 3D pen can actually help kids developing their artistic skills, spatial thinking, and can be a great creative outlet that engages their minds as they create. Besides, this 3D printing pen has a stable performance. It is more stable, safe and reassuring. Let your child fall in love with 3D printing.


Specifications:


Electrical Parameter:

 

12VDC 2A
Comes with UK Plug, Universal (AC voltage and frequency) Adapter
Can be used everywhere
3D printer for hand use
Compatible with ABS and PLA filaments
Diameter of filaments: 1.75mm
Nozzle diameter: 0.7mm
Heating Temperature:

160ºC - 210ºC (PLA)
210ºC - 235ºC (ABS)

LCD for display filament type and temperature
Adjustable filament feeding speed
Ergonomic design, lightweight design, easy to operate
Dimensions: 184mm x 31mm x 46mm
What's in the box ?


1 x 3D Printing Pen with PLA filament - Blu
1 x 3D Printing Pen stand
1 x UK Plug 12V 2A AdapterPLA
1 x Packet filament (3 random colors, 3 meters in total) 
1 x User Manual/Operation Instruction
Check this link out to see what some people come up with :
3D printing pen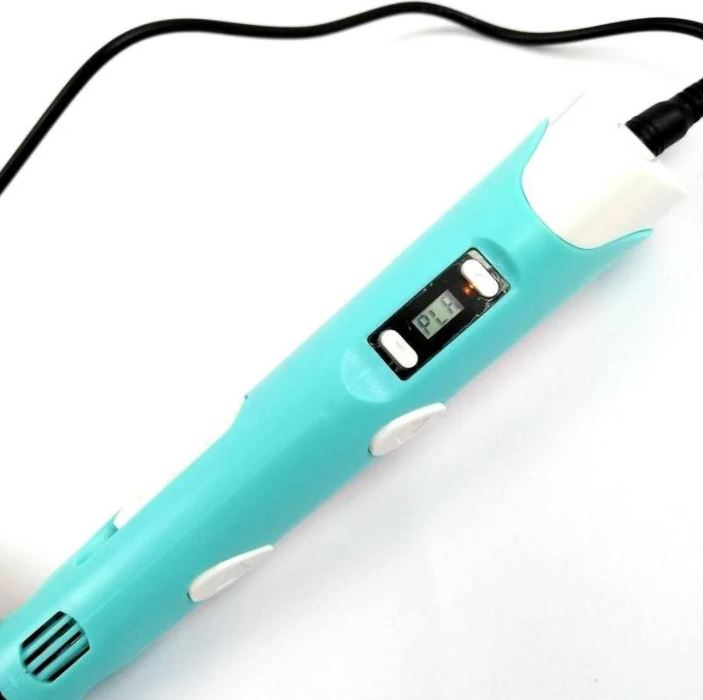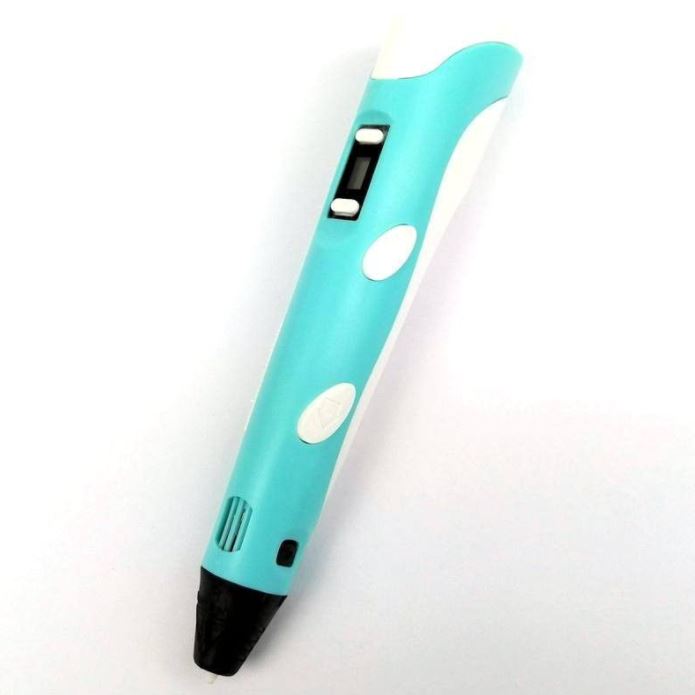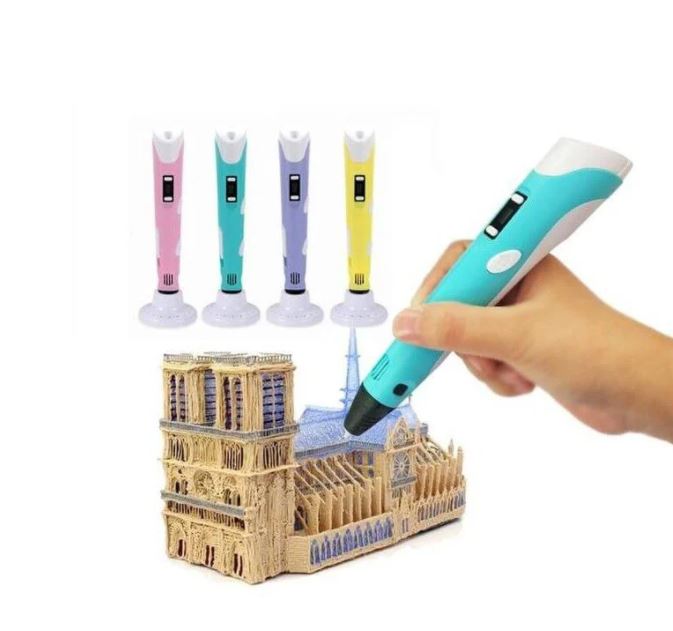 SunLu 3D Printing Pen with PCL filament - Blue (SunLu 3D Pen)
Description:
We now stock this high-quality 3D Pen from SunLu, a well known 3D Pen manufacturer. If you need a long-lasting 3D Pen for maker lab, tuition center or school skill activities, we would recommend this 3D Pen!

Developing kids' artistic skills, spatial thinking and creative imaginations, ideal for children 5 years old and above, artists, hobbyist or creative lovers with endless creations.


Specifications / Features: 
Product: Intelligent 3D PEN
Model: M1
Cable Type: Micro-B USB
Net Weight: 45g
Nozzle: 0.7mm Diameter
Pen Size: 157 (L) x 24 (W) x 42 (H) mm
Input Voltage: AC 100-240V 50/60Hz 0.35A
Rated Voltage: 5V 2A 10W
Power Supply: 5V USB
Working Temperature:

 

PLA

 

170°C,

 

PCL

 

55°C
Plastic Feeding: 1.75mm Diameter
Extruding Mode: Click or double-click the operating key
Colour:

 

Blue
Note: It comes with USB Micro B cable to USB A, so you will need a power adapter or power bank to power it. We recommend getting this 5V 2.0 A micro B power adapter for it.


This 3D printing pen is suitable for children

 

over 5 years

 

and should be used under adult supervision.
Please do not touch the nib when using or place it on things that can be burned easily soon after it is used. Cool it down before storing it.
Please unload the filament after use and turn off the power.
Do not touch the nozzle before the 3D printing pen cooling.
The colors deviation might differ due to different camera settings.
The power adapter or power bank is

 

NOT

 

included, Micro B USB cable is included.
What's in the box ?


1 x SunLu 3D Printing Pen - Blue Color
1 x High-quality Micro B USB Cable for power, ~ 1 meter
1 x User Manual (English and Mandarin)
2 x Finger Guards
2 x PCL Filament (random colors), 3 meters each
(*NB - POWER SUPPLY NOT INCLUDED*) you can also get one  ------>  here !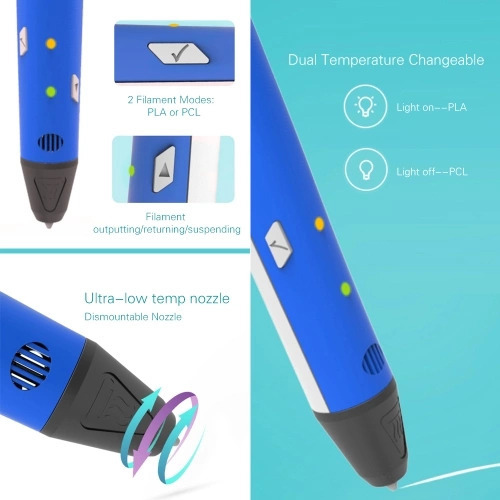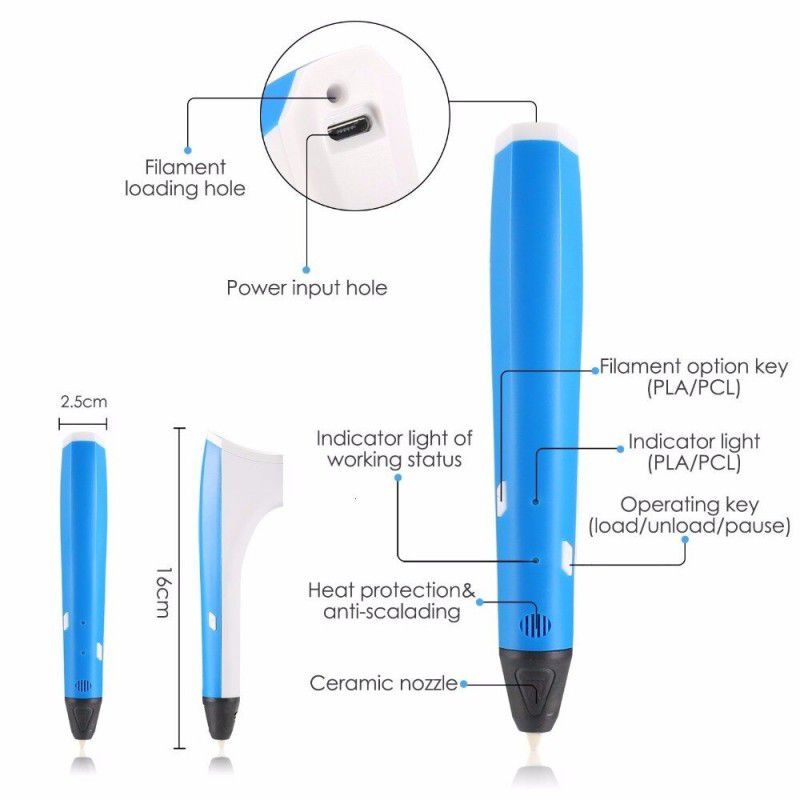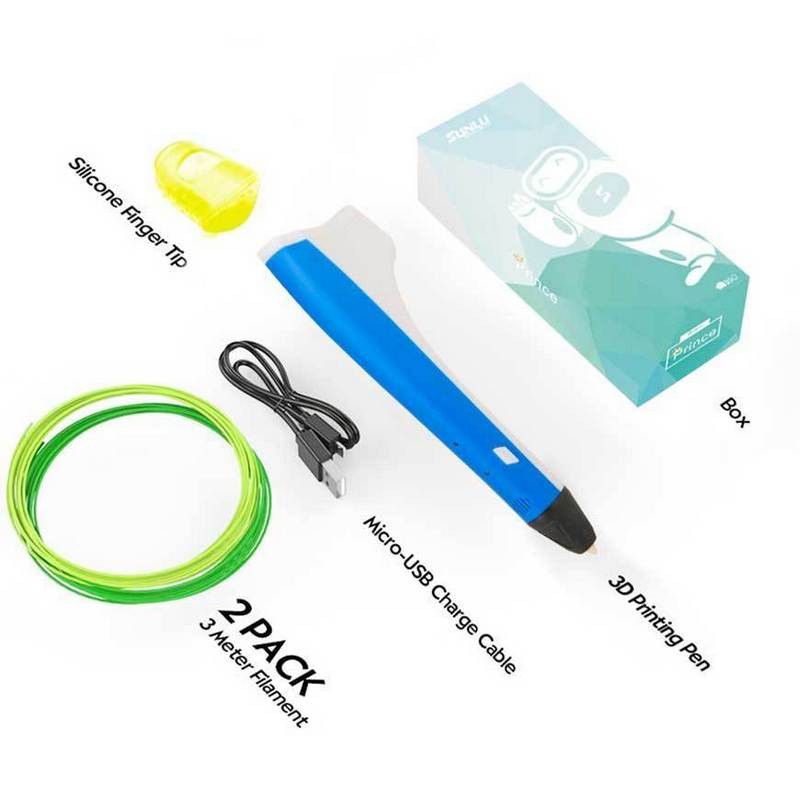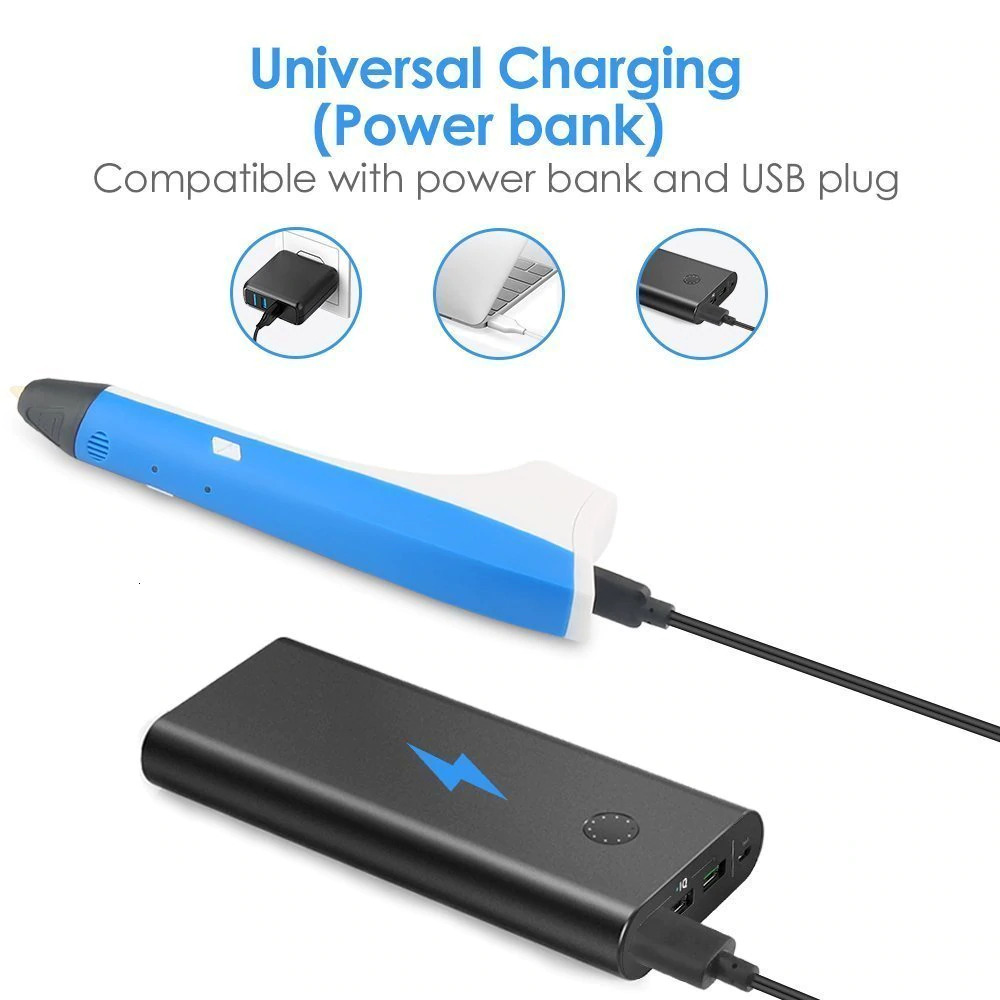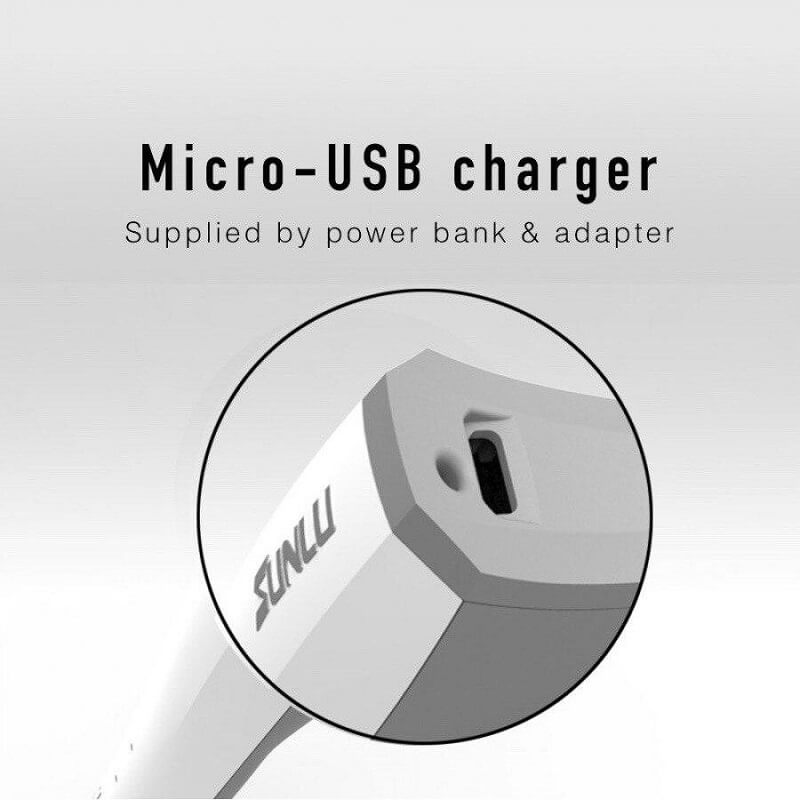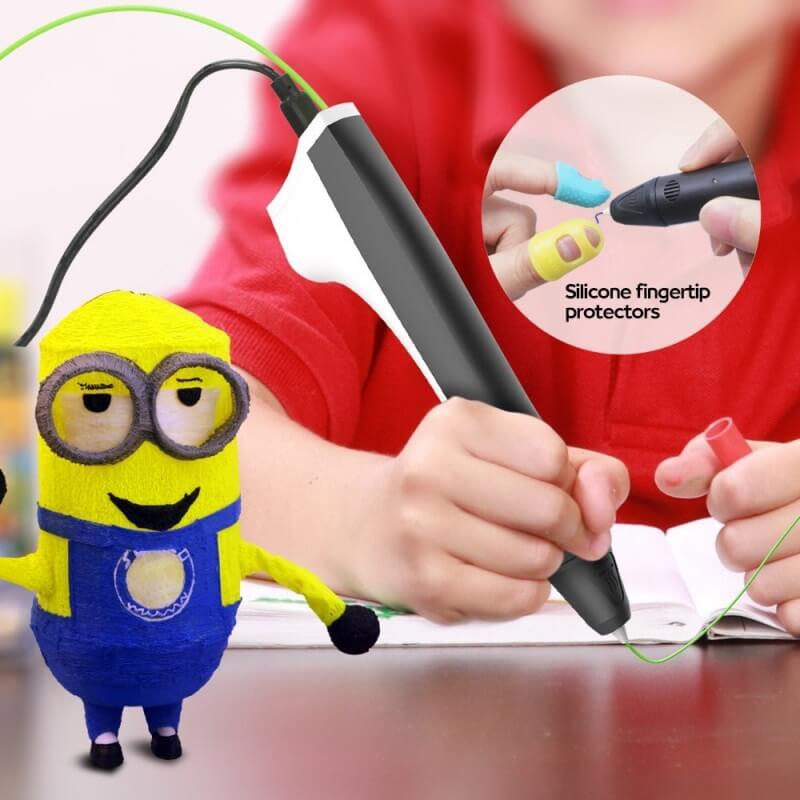 Creality Ender 3 Pro DIY 3D Printer (Ender 3 Pro)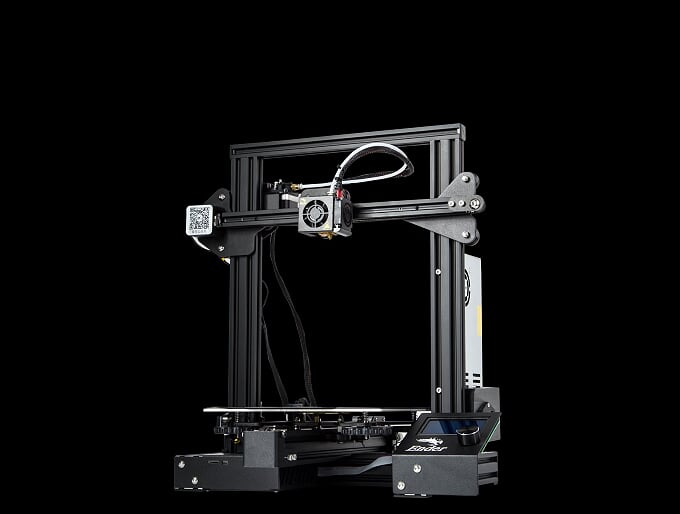 What's new in the Pro model?
1. Improved Mechanical Properties
The Ender 3 Pro has been redesigned with a more sturdy, 40×40 aluminum extrusion for the Y-axis base. This should improve the overall stability of the printing surface.
Also, better bearing wheels deliver more stiffness, reduce friction, give better dimensional stability – and also help to reduce the overall noise level.
2. Improved Extruder
According to their press release, Creality also exchanged their extruder to an "MK-10" version. The company boasts it should "greatly reduce the risk of clogging and uneven extrusion".
3. New Magnetic Printing Surface
Last, but not least, the Ender 3 Pro now comes equipped with a "C-MAG" magnetic printing bed. The sheet is removable and flexible, so the prints can be plucked off the build plate more easily. According to Creality, their textured surface adheres to all types of filament better than traditional methods such as tape, glue, or hairspray.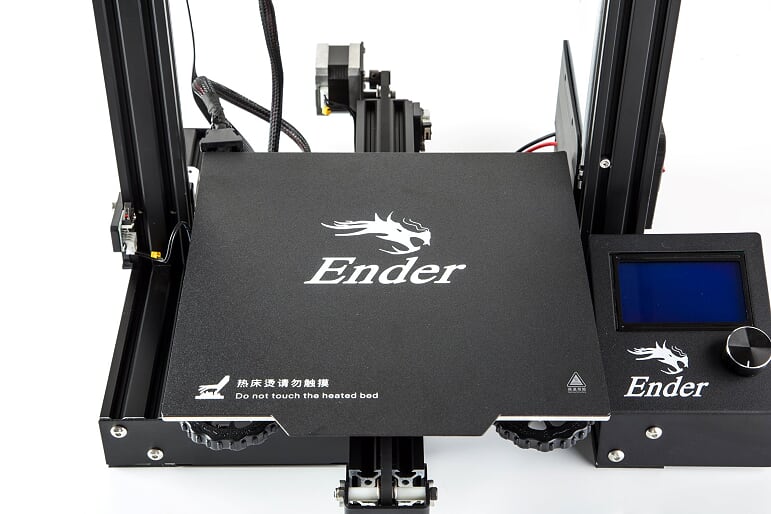 4. Improved Power Supply


Power supply was replaced with better Meanwell power supply


5. Vent changes


The Vent on the controller move to the bottom of the enclosure to prevent dust and other particles from falling in

Creality3D Ender 3 Pro DIY 3D Printer Kit 220x220x250mm Printing Size with Power Resume Function/MK10 Extruder.

Video available on this model at https://youtu.be/a8Z-9ncYsps

Ender 3 quick start guide available at https://s3-us-west-2.amazonaws.com/3dprintersbay/ender-3-deliverables/Ender+3+quick+start+guide.pdf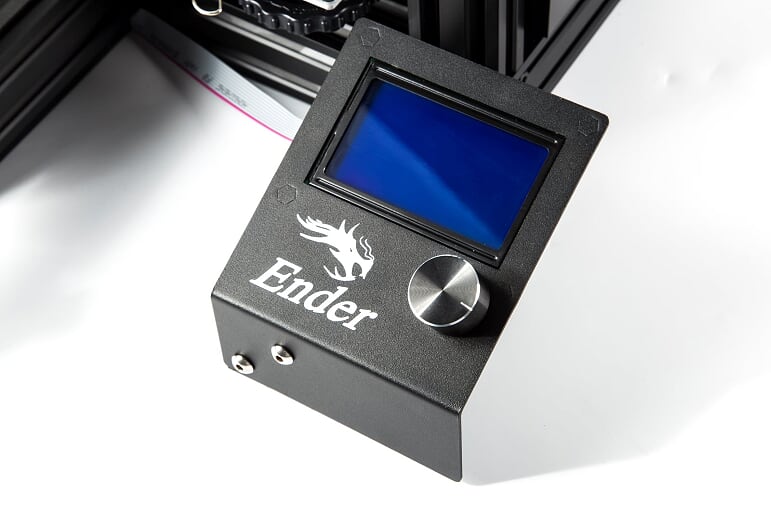 Machine advantages

1.Split type design: the electronic control host and the mechanical structure are separated, open your mind, help create a variety of print-outs at will.
2. Shipment of the kit: Solving the problem of large-kit transportation, installation takes only 5 minutes.
3. Industrial grade circuit board: The technology is quite mature and stable, it can work continuously for 200 hours without pressure.
4. Linear pulley system: Patented technology, V-profile+precision pulley, runs more smoothly, more wear-resistant. Effectively reduces noise.
5.MK10 Extrusion Mechanism:A brand-new patented infrastructure that effectively reduces the risk of plugging and poor spillage and can print almost all filaments on the market.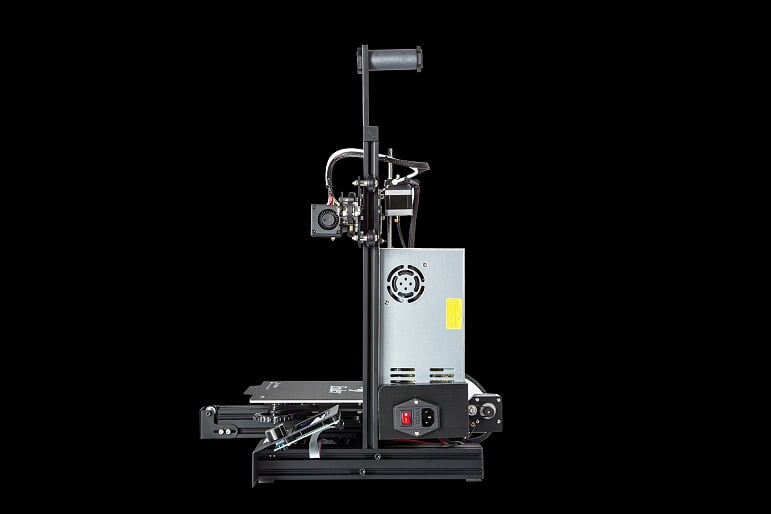 Specifications


Modeling Technology

FDM

(

Fused Deposition Modeling

)

Printing Size

220*220*250mm

Machine Size

440*410*465mm

Net Weight

8kg

Printing Speed

180mm/s

Filament

1.75mmPLA, TPU, ABS

Power Supply

100-265V 50-60HZ

Output

24V 15A 360W

Layer Thickness

0.1-0.4mm

Nozzle Diameter

  0.4mm

Printing Accuracy

±

0.1mm

File Format

STL,OBJ,G-code

Working Mode

Online or SD offline

Nozzle Temperature

255

℃

Hot bed




Temperature

110℃


Creality3D silently released the Ender 3 Pro, an improved version of the popular Ender 3