FLIRC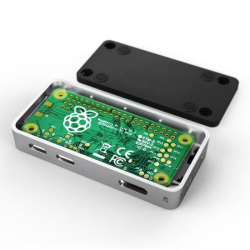 FLIRC V2 - RPi USB XBMC IR Remote Receiver (Flirc IR receiver)
Description:

The FLIRC USB dongle allows the use of any remote control with your Raspberry Pi. Configure the device on your desktop PC, then simply plug into your Pi for a perfect media centre companion! Amaze your friends and family when the tiny box stuck to the back of your TV controls your entire media collection using an old DVD remote!
New Flirc Version 2 is smaller, lighter and much more professional!
FLIRC learns from any remote control, not caring about different vendor protocols. Just walk through the super simple setup - pairing individual remote buttons with 'Media Centre Buttons' and you're done. It's basically a universal IR receiver, so can be used with any remote you choose, old, new or Universal! The best part about FLIRC is that it can be used to mimic a keyboard so every media center application understands it without any drivers. You can map all keyboard functions to a remote using FLIRC - it's very cool! FLIRC runs across all platforms including the Raspberry Pi, so you can use it on your PC, laptop or Mac!
Tutorials
We've written an entire step by step guide for FLIRC which includes:
Setting up OSMC (XBMC) media operating system on the Raspberry Pi.
Setting up your FLIRC module and porting it to any remote.
Putting it all together!
More advanced FLIRC programming - porting an entire keyboard to a remote!
FLIRC Raspberry Pi 4 Case (FLIRC Pi4 case)
WHAT IS THE FLIRC RASPBERRY PI CASE?
The perfect home for your new Raspberry Pi 4. We will ensure our case is adjusted to fit the latest Raspberry Pi specifications. Our case is made of a beautiful aluminum core heat sink that is sandwiched between two black, soft touch shells that feel amazing in your hands. But once it's out of your hands, it blends in with your entertainment system.
WHATS NEW?
This is the first affordable Raspberry Pi case made out of aluminum. We wanted to ensure we didn't sacrifice form over function, so we used the aluminum housing of the case to provide a built in heat sink. Supplied with the case is a thermal pad and 4 screws for the simplest Raspberry Pi case assembly on the market. It only takes seconds to drop your Raspberry Pi into it's amazing new home and show it off on your counter top. .
THERE'S MORE..
.
We included rubber feet to raise the enclosure so it just hovers underneath your television. In addition to the built in heat sink, small ventilation slots on the bottom help keep the Raspberry Pi cool. GPIO pins are accessible through the slot on the bottom of the case and there is no need for disassembly to get to the SD card. We know you will love the attention to detail we put in throughout the case.
FAQs
Does the case support the Raspberry Pi 4?

Yes, designed, proven, and tested only for the Raspberry Pi 4B

Can I see the Raspberry Pi's LEDs?
Why did you make a Raspberry Pi case?

Flirc is one of the best selling items for the Raspberry Pi. We haven't only been concentrating on Flirc, we've been concentrating on enhancing media centers and their experiences. We've got more coming.

What does the case come with?

The case comes partially assembled. All you need to do is put your thermal pad on the CPU, drop your Raspberry Pi inside the case, and screw the bottom of the case on with the included screws.

Does the case come with a Raspberry Pi?

The case does not come with a Raspberry Pi.

Can I access the SD Card?

Yes, the SD card is accessible through a slot on the front of the case.

How do I attach the Thermal Pad?

Take off the plastic force fields from both sides and place it on the CPU.

Does this case support the Raspberry Pi 3B , 3B, or 2?
What kind of thermal pad do you use?

ARCTIC Thermal pad (1.5mm thick)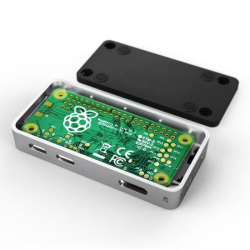 FLIRC Raspberry Pi Zero Case (Zero Flirc Case)
Description:
The FLIRC Raspberry Pi Zero Case is finally here - overly engineered, affordable and adorable!
The FLIRC Zero shares the same genetics as the original FLIRC case with some added features. FLIRC have kept everything that makes the original case great, shrunk it down, and added some nice elements that make this mini PC for every day carry.
The familiar aluminium casing with a core heatsink and smooth top is there, offering silent, passive and efficient cooling combined with great looks.
The SD Card is enclosed inside the case so it won't slip out or get stolen. The case needs to be disassembled before the SD card can be removed. There's even a pre-installed lanyard included in the box in case you want to take your Zero somewhere other than the home.
Two top covers are included with the FLIRC Zero – allowing you to hide away and protect your GPIO, or leave it exposed for prototyping your projects. You can even add a pHAT without worrying about your Zero's temperature.



What's in the box


1 x FLIRC Zero Aluminum Case
1 x Thermal pad
1 x Two top covers (sealed and GPIO access)
1 x Lanyard (pre-installed, removable)
Notes

1 x The Raspberry Pi Zero's LEDs are not visible with this case
1 x Lanyard is removable (but fiddly to get back on)
1 x Ships with a thermal pad – fit this to the case heatsink core before fitting your Raspberry Pi Zero