Raspberry Pi cases
Raspberry Pi cases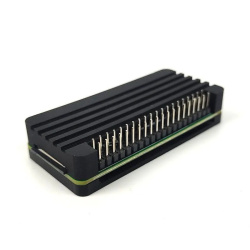 Pro Mini Camera Mount for Raspberry Pi Zero (pro mini cam mount zero)
Description:
Raspberry Pi, Camera, cables and tripod not included!
We designed this mount to create an affordable, tripod-compatible solution to help you monitor "things" with your Pi Zero and Official Raspberry Pi Camera Module - great for keeping an eye on 3D prints, monitoring rooms, access points, timelapsing plants and more!
You don't need to mount it on a tripod as it will happily sit on a desk or shelf, but it has a 1/4" hole ready in case you do (you'll need a nut as this isn't threaded).
There are some great ready-to-go software/OS options out there for these kinds of projects, such as OctoPrint for 3D printers and MotionEyeOS for turning your Pi and camera module into an IP camera. Both of these options allow viewing on your smartphone too!
The mount comes as a kit which requires some simple assembly.
Other Parts Required
This listing is for the mount only which includes the laser-cut Perspex parts and fixings. You will also need:
Optional Parts
Fancy mounting this on a tripod? You'll need the following parts:
What's in the box:
2 Perspex layers and a bag of fixings
Resources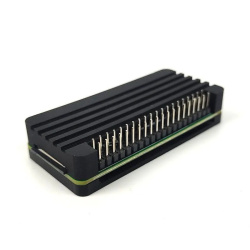 Raspberry Pi Zero/2 W Heatsink Enclosure (pi 0/2 W heatsink enclosure)
Note

:
The Raspberry Pi board is NOT INCLUDED. Please get them separately.
Description:
Say hello to yet another passive cooling aluminum case for Raspberry Pi Zero W and Raspberry Pi Zero 2W boards! This beautiful black anodized aluminum case features a heatsink design on top and passively cools the Pi using embedded solid aluminum cores and a thermal pad located on top of the processor.
With incredible silent passive cooling performance, no fan noise, full port access, WiFi window, striking heatsink-like design, and full aluminum construction for the top cover, it is a perfect enclosure to keep your Pi Zero cool and running smoothly even while running on full load! :)
Ports Configuration:
Raspberry Pi Zero W/2W Heatsink Enclosure for Straight Headers
Features:
Use high-quality materials to provide the best protection for your Raspberry Pi.
The aluminum alloy shell is sturdy and durable, and the heat conduction is fast.
The upper cover of the casing is designed with thermally conductive columns to achieve overall heat dissipation through the thermally conductive adhesive and chip bonding.
Small size and beautiful appearance.
The bottom of the shell is made of acrylic material, smooth and beautiful.
Does not affect WiFi and Bluetooth-compatible signals.
Note: If you do not want to use the GPIO function, it is recommended to choose the enclosure for right-angle headers. 
Specifications:
Compatible with Raspberry Pi Zero W and Raspberry Pi Zero 2W
Dimension: 65mm x 13mm x 30mm
Packing List:
1 x RPi Zero Heatsink Enclosure
1 x Thermal paste
1 x Straight headers
4 x Screws