Solar Project Kit - Fan Edition
Description:

Once again, Cytron Technologies presents the in-house selected and packed do-it-yourself (DIY) Solar Project Kit. The kits are specially designed for Malaysia Primary School students and teachers who have to undergo a new subject known as Reka Bentuk & Teknologi (RBT). RBT is also a compulsory tech subject introduced to Secondary schools to enhance learning through practicality and hands-on. 
A couple of things you should know about the Solar Project Kit:
NO

 

Hot Soldering Gun nor Hot Glue Gun is needed to complete the project!
NO

 

Screwdriver to connect components or wires! Press-fit terminals are included.
Everything you need in one box - The box is part of the project too!
Comes with an instruction manual - Sync to Standard 5 school textbook!
Designed to fuel creativity! - When combined with basic materials.
Cytron Simplify the digital making :)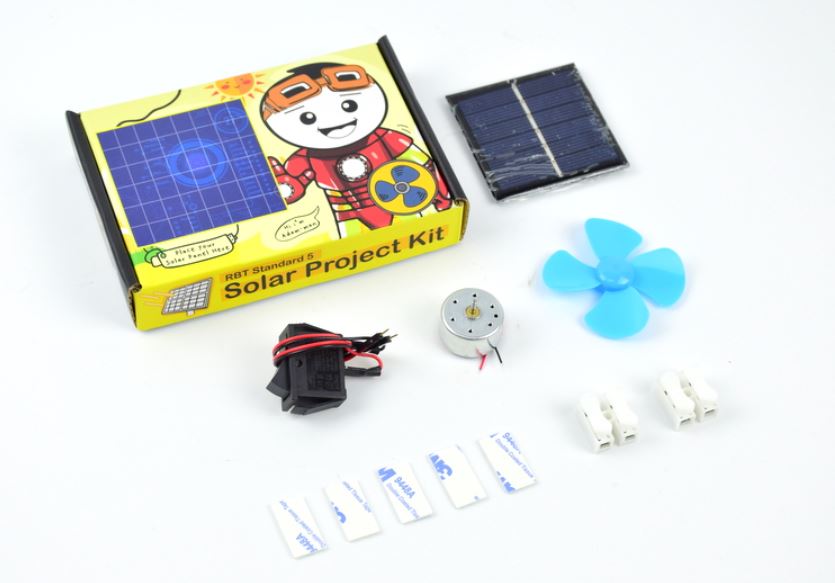 Solar Project Kit -
Fan Edition
Take a closer look at what's in the box and how easy it is to get started with the Solar Project Kit - Fan Edition:

The fan will cool you under the hot sun. The energy to drive the fan is renewable, no carbon emission and is green! We should embrace and appreciate renewable energy. Together, let's make a better world and conserve the environment for our future generation.


What's in the Box ?
Solar Project Kit - Fan:

1 x

 

Solar Cell/Panel 3V 160mA (0.48W) Wire Soldered
1 x 300C 1.5-6VDC 7mm Shaft Motor with Wires
2 x CH-2 Quick Wiring Terminal Press Type
1 x DIY 4 Blades 56mm Motor Propeller (Blue)
1 x Rocker Switch with Wire-20CM
1 x Double Sided Tape 12 x 24 x 1mm (5 pcs)
1 x Instruction Manual for RBT 5 Solar - Fan
2 x 5mm Red LED *added for kit shipped after 19th March 2021*


Resources: