Solar Project Kit - Light Edition
Description:
Here is another edition of the solar project kit, the Light Edition Solar Project Kit. Here's a video showing how you can set up a Moser Bottle Lamp easily
Once again, Cytron Technologies presents the in-house selected and packed do-it-yourself (DIY) Solar Project Kit. The kits are specially designed for Malaysia Primary School students and teachers who have to undergo a new subject known as Reka Bentuk & Teknologi (RBT). RBT is also a compulsory tech subject introduced to Secondary schools to enhance learning through practicality and hands-on.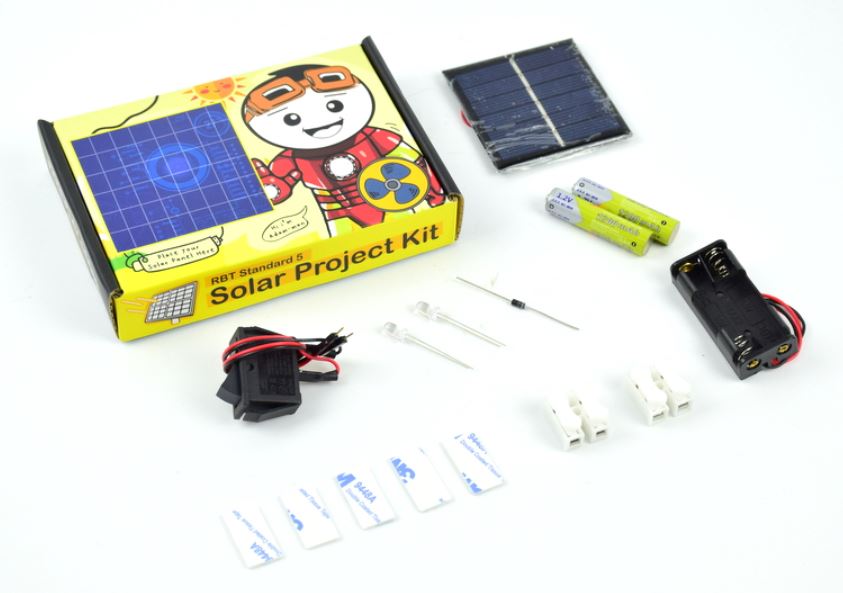 A couple of things you should know about the Solar Project Kit:
NO

 

Hot Soldering Gun nor Hot Glue Gun is needed to complete the project!
NO

 

Screwdriver to connect components or wires! Press-fit terminals are included.
Everything you need in one box - The box is part of the project too!
Comes with an instruction manual - Sync to Standard 5 school textbook!
Designed to fuel creativity! - When combined with basic materials.


What's in the box ?
Solar Project Kit - Light:

1 x

 

Solar Cell/Panel 3V 160mA (0.48W) Wire Soldered
2 x CH-2 Quick Wiring Terminal Press Type
1 x Rocker Switch with Wire-20CM
1 x Double Sided Tape 12 x 24 x 1mm (5 pcs)
2 x

 

LED Super Bright 5mm Red
1 x Diodes 1N4007
1 x

 

AAAx2 Battery Holder
1 x

 

PKCELL NiMH Rechargeable AAA 1200mAh Battery (2 Pcs)
1 x Instruction Manual for RBT 5 Solar - Light
Resources: